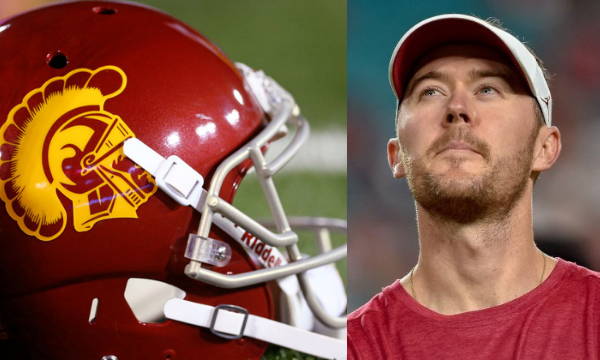 College Football

Here Are Reasons Why USC May Lure Lincoln Riley Away from Oklahoma
While the NFL may be the likely destination for Lincoln Riley if he decides to leave the University of Oklahoma, USC may be a dark horse candidate for his services. Riley is one of the brightest offensive minds in all of football. Many NFL teams highly covet him because of the success he has had with his offenses and quarterbacks.
However, the jump from college to NFL is not an easy one. Most college coaches have been unsuccessful. Also, Riley has stated that he does not have a goal of coaching in the NFL.
While Lincoln Riley has one of the best jobs in football, he has not committed long term via his words that he will stay. Look, he has every right to have that stance because things change, and he does not want to commit to staying and potentially leave and have that used against him.
Coach Riley enters a pivotal year at the University of Oklahoma. If he fails to win a playoff game, he may think he has peaked at the University of Oklahoma.
The University of Oklahoma may continue to extend him because they want him to stay. Riley may get an offer he cannot afford to turn down.
An NFL team would be taking a substantial risk to offer him a long, expensive contract. The risk may be worth the reward, but with Kliff Kingsbury struggling with the Arizona Cardinals, it will make an NFL team less likely to take a chance hiring Riley.
On the other hand, desperate college football programs would be willing to give him a long-term contract.
Texas A&M was willing to give Jimbo Fisher a 10-year 75-million-dollar contract. The Aggies believe they should be a championship contender, and so they hired a coach who knows how to build a championship program.
USC could be the following program to make a significant commitment to a coach like that. While Riley has not won a national title, he is very close, and maybe a school that can help attract marquee players would help.
Norman, Oklahoma, is a beautiful place to live, but it is not Los Angeles, California. And if USC offers Riley a deal like the Raiders showed Jon Gruden, he will have a tough time passing that up.
Finally, the most critical position in college football is the quarterback position, and the state of California is loaded with them. Imagine pairing one of the best offensive minds in college football with the quarterback talent in California. Riley could work wonders.
Support the Strike 7 Sports platform's growth by heading over to Fanatics.com and purchasing officially licensed gear from the NFL, NBA, and much more. Each purchase made through the text link below goes into the funding of the Strike 7 Sports brand. To proceed, click on the link below and enjoy shopping over at Fanatics.
Licensed Fan Apparel from Fanatics

Photo courtesy of the USA Today.