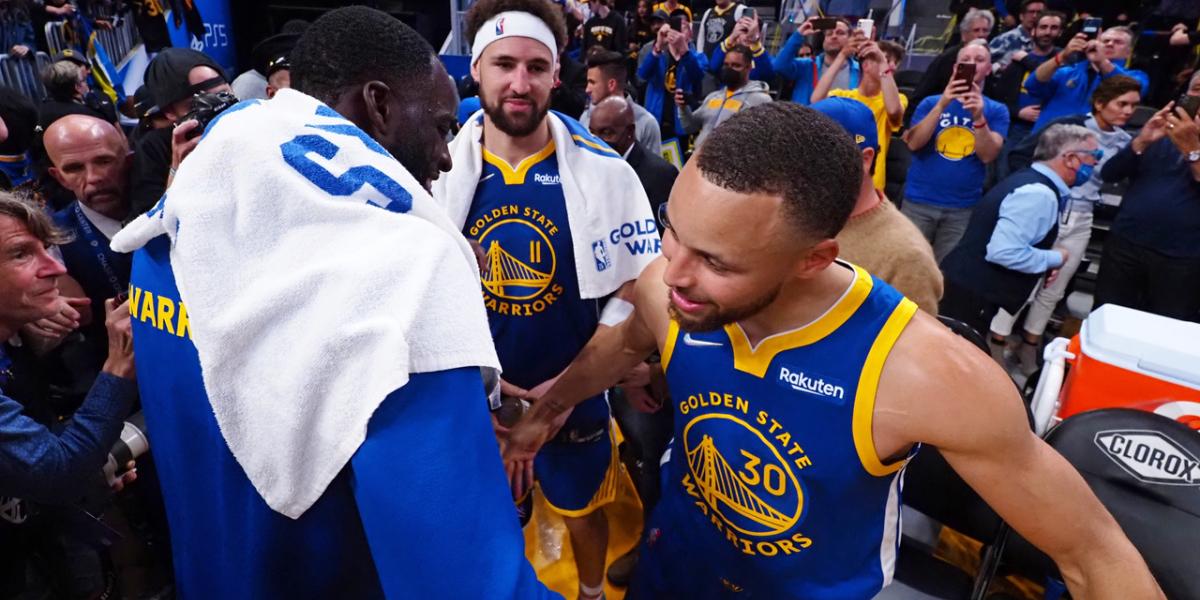 The incredible run of the Golden State Warriors never faded; they were just hurt for the past two seasons. "None of these people really removed us from this space," Draymond Green told ESPN's Ohm Youngmisuk of the team missing the playoffs the previous two years. "Toronto beat us, but no one really came and said, 'All right, the Golden State Warriors' time is up.'"
It all started in 2019 when the team was on the verge of winning a third straight championship until a rash of injuries occurred. First, Star players such as Kevin Durant and Klay Thompson suffered season-ending injuries that would sideline them for the following year. Then, Durant decided to take his talents to the Brooklyn Nets, while cornerstone players such as Klay Thompson, Steph Curry, and Green decided to remain with the organization.
Then, at the start of the 2020-2021 campaign, Thompson suffered another season-ending injury to keep him out for another year. With the core three in Curry, Thompson, and Green not being together, the Warriors would struggle for superiority in the West. As a result, Golden State would finish the 2020-2021 season as a participant in the NBA's play-in tournament.
Still, it would not qualify for a playoff spot after being eliminated by the Memphis Grizzlies. "There were some pivotal turnovers that bit us a little bit, but I think the intentions were right, and we were trying to make the right play, and sometimes it doesn't go your way," Curry said. "That is something to nitpick for sure. It's a part of the game; you have to have solid possessions and get solid shots. I loved our aggressiveness and our intentions. … It didn't go our way."
Heading into the 2021-2022 campaign, the Warriors made no splash moves to improve their roster. Instead, Golden State signed veteran forward Otto Porter to a contract in August. Porter had playoff experience during his time with the Wizards and proved to be a solid addition to the Warriors roster.
However, these are the not Warrior teams that we are accustomed to seeing in the previous playoff games. They have dominated their opponents in many ways compared to other years.
There have been instances where Golden State has struggled from behind the three-point line to close out games. However, they have done the job by playing solid defense and attacking their opponents on the inside. The Warriors' previous two games against the Dallas Mavericks are a testament to how well-coached the team is now. However, in Game 2, Green was in foul trouble, and Kerr needed to adjust.
Green sat on the bench while Kevon Looney saw action. Looney stepped in and had one of his best games as a Warrior. He finished the night with a career-high 21 points and 12 rebounds. In the next game against Dallas, Andrew Wiggins made significant contributions. He recorded a career-playoff-high 27 points that included a dunk on Mavericks star Luka Donic. It was one of those dunks that went viral on social media. Curry has consistently made his presence known in the past three games against Dallas by scoring at least 30 plus points.
While they have not obliterated opponents with a barrage of three-pointers, the Warriors are finding other ways to show that they are championship-contending material. It may not be what we are used to, but stacking postseason wins is their top priority, no matter how it is accomplished. Tonight, they have an opportunity to clinch their sixth NBA Finals berth in nine years. They are currently leading the series against Dallas 3-0.