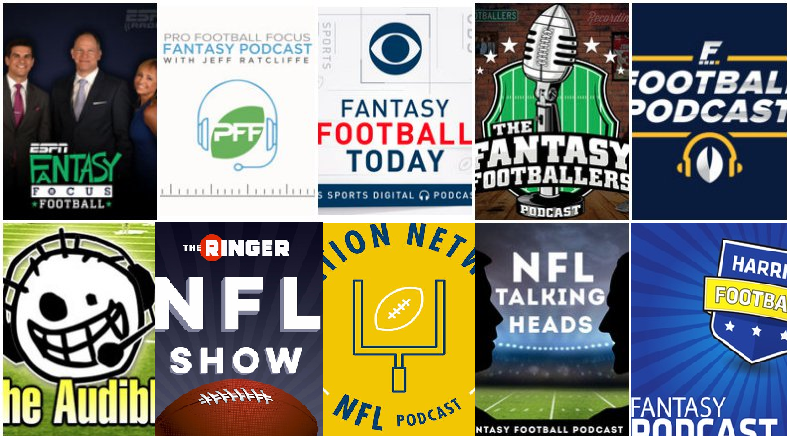 You want to win your fantasy football league no matter what. Whether you are playing casually on a simple online website or participating in a paid high tier league where all team owners are incredibly active, your goal is always to be the best among all. Fantasy football has been top-rated for a couple of decades.
The popularity of fantasy football was the reason for the Fox Network TV show "The League," which ran for seven seasons and was extremely popular among football fans. There is little to no doubt that the popularity of fantasy football will keep on increasing. So, whether you are a casual fan or a highly competitive enthusiast, you may want to spare a few minutes to read this unique article. It will help you before and during your fantasy football season.

Due to the immense popularity of fantasy football sports, there are tons of websites offering their in-depth analysis of the fantasy sports, so sometimes it can be hard to differentiate between which sites are excellent vs. which are bad. Some websites are offering their services completely free without any fees, some are paid or subscription-based, and some websites are in-between.
We are listing the best ten sites which, according to us, will help you gain valuable insight into drafting your best possible NFL fantasy football team and after that which players to pick and which to drop during waiver wire weeks. We are listing these websites in random order. If you think we have missed a great site which in your opinion should be on our list, please tell us by commenting below.
Technically, it's not the start of the top 10 list, but we have to include ourselves in the mix. Although we are a relatively new startup compared to other websites, we have been covering every American sport with a specific focus on NFL and fantasy football.
Make sure to keep visiting our website for the latest updates with regards to the NFL and other games. We research our subject extensively and write in-depth articles and give our analysis. This will help you analyze your fantasy team in the best possible way.
1. NFL (https://www.nfl.com/)
Well, you can't talk about the NFL or fantasy football without the NFL.com. This website is the go-to website for all your football news. If you have heard about any latest news, go to NFL.com, and you'll find the details of that news. Whether it's trades, new rules, uniform changes, or who is going to perform in the next super bowl, this website https://www.nfl.com/ will provide you with every detail.
From a fantasy football's perspective, you can get the latest information on this website. They have an app for both iPhone and Android phones, which works well. The lead fantasy football host, analyst, and the person who gives the best football advice is Michael Fabiano (@Michael_Fabiano). He has been with NFL.com for a while now, and he has a good reputation in the fantasy football community. 
Dave Dameshek (@Dameshek) is another analyst at the NFL website who primarily advises fantasy football. There is also Matt Smith, Adam Rank, Jason Smith, who are good fantasy football analysts on NFL Network and NFL.com website. But perhaps the most famous analysts who break all the major news stories is Ian Rapoport (@RapSheet). Now he doesn't exclusively provide stories on fantasy football, but most of the time, Rapoport's news stories do have a significant impact on the fantasy football world. So, following his news stories will only benefit you.
2. YAHOO SPORTS AND YAHOO FANTASY (https://sports.yahoo.com/fantasy/)
Yahoo has been around since many of us were just kids and teens and haven't even been born yet. Yahoo has been consistently evolving according to the needs of the time, which is why Yahoo is still one of the top-ranked websites in the world.
The best part about fantasy sports at Yahoo is that their projections and predictions are much more accurate than the others. However, one slight drawback is that since Yahoo covers all major sports, they have slightly fewer analysts than the other websites.
Yahoo's best work in terms of NFL fantasy football is their show Fantasy Football LIVE which covers all matchup on the game days. You can watch it live on your computer, laptop, TV or phone. Yahoo fantasy football best analysts are Matt Harmon (@MattHarmon_BYB). Matt writes exclusively for Yahoo sports. There are only a handful of female analysts who have extensive knowledge of fantasy football, and Liz Loza (@LizLoza_FF) is a handful of analysts.
She mainly appears on Fantasy Football live with her analysis and prediction. Another good Yahoo fantasy football writer is Dalton Del Don (@daltondeldon), who writes exclusively on fantasy sports. Andy Behrens (@andybehrens) and Scott Pianowski (@scott_pianowski) are also excellent Yahoo-based analysts.
3. CBS FANTASY FOOTBALL (https://www.cbssports.com/fantasy/football/)
CBS is a significant network in the USA. CBS football has a significant contribution to expanding the NFL to a more and broader number of viewers throughout the years. CBS has been showing NFL games since 1956. So, it's no wonder the TV channel and later the website have to evolve itself with the latest trends of the NFL.
CBS fantasy football is comparatively hard to play for casual players. However, it's fun, nonetheless. They do write intensely researched and contain all the information. They regularly update their cheat sheets and draft guides before the season, and they continue to write articles covering fantasy football as the season progresses.
CBS has a vibrant team of talented teams of analysts who primarily take an interest in talking about fantasy football. Jamey Eisenberg (@JameyEisenberg), Heath Cummings (@heathcummingssr), and Dave Richard (@daverichard) are the leading fantasy experts at CBS. Their detailed explanation of fantasy football will give you useful insights with the latest NFL news, which surely will help you.
4. ESPN FANTASY FOOTBALL (https://www.espn.com/fantasy/football/)
I don't think anyone can talk about sports and not mention ESPN. ESPN is an excellent network for sports enthusiasts, and football is no exception. Fantasy football at ESPN has a considerable fellowship. Millions of people opt to play at ESPN fantasy football every year.
They have enriched content with specific tools and research services, which will help you get ahead in your matchups every week. Although ESPN's insider is a paid subscription service that offers more significant tools, there is still a ton of advice available for free.
Matthew Berry (@MatthewBerryTMR) is a leading fantasy football analyst at ESPN. He has written the best seller book called Fantasy Life, which is all about fantasy sports. One thing is guaranteed, when you are listening to Matthew Berry, you'll never get bored. Apart from Matthew, some analysts are a joy to watch. Mike Clay (@MikeClayNFL), Stephania Bell (@Stephania_ESPN), and Field Yates (@FieldYates) are best to view, read, and listen to ESPN.
5. FOOTBALL GUYS (https://www.footballguys.com/)
Moving out of the significant corporation, let's talk about some websites which are specifically directed toward fantasy football. Although this list is being compiled in random order, if we had to choose the site of football, Football Guys would be in the top 3. Football guys started primarily with a focus on writing about fantasy football and nothing else. They start talking about fantasy football the next day after the super bowl. They are a bunch of guys who love this sport.
Football Guys have a vast number of experts. It would be tough to list them all. There are three experts there whose first name is "Jeff," so yeah, talk about having it all. Most prominently there is
David Dodds (@fbg_dodds), Sigmund Bloom (@sigmundbloom), and Andrew Garda (@Andrew_Garda), are very active all year long. If you want to win your fantasy football league, make sure to develop a habit of checking football guys (https://www.footballguys.com/) every other day and every day during your ongoing season. Trust me; it'll help you much.
6. ROTOWORLD (https://www.rotoworld.com/)
Another excellent fantasy football website. They talk about all major sports in the USA and fantasy sports, but during NFL season, they offer well-researched content on fantasy football. Sometimes their content is more fantasy football-oriented than the actual NFL news.
Adam Levitan, Rich Hribar (@LordReebs), and Raymond Summerlin (@RMSummerlin) are the leading experts of Roto world sports and fantasy news.
7. 4 FOR 4 (https://www.4for4.com/)
Just like the Football Guys website, 4 for four is only talking about football. They offer free services as well as premium content, which comes at a small cost. The best thing about this website is that whenever there is a big news break in the world of the NFL, the experts of 4 for 4 will take a look at it from a fantasy perspective. Although many websites do, you will find significant detail in the content by 4 for 4 staff. They have a podcast that has a considerable following.
Joshua Moore (@4for4_Josh), John Paulsen (@4for4_John), Mike Woellert (@Mike_Woellert), and Jennifer Eakins (@themondaymommy) are the four prominent experts of 4 for 4. John Paulsen projects closer to accurate predictions. If you are in a tough competitive league, make sure to visit 4 for 4 websites regularly.
8. DYNASTY LEAGUE FOOTBALL (https://dynastyleaguefootball.com/)
Dynasty League Football is the oldest dynasty fantasy football website. This is where passion comes to life. I am sure most of you already know about this website, but just in case some newcomers don't know. In dynasty fantasy football leagues, you only act like a real manager, coach, or owner of an actual football team. There is a minimum period where dynasty league owners usually take time off. Otherwise, they have to keep themselves updated with everything happening around them. There is a lot more discussion when something abrupt occurs in the NFL. Like when Andrew Luck suddenly retired, who was a QB1 on many of these dynasty leagues or when Antonio Brown was suspended indefinitely last year. The dynasty leagues get impacted a lot because of the real-world incidents of the NFL.
So, for real fantasy football fans, Dynasty League Football (or DLF in short) is https://dynastyleaguefootball.com/ is perhaps the most crucial website. Dynasty league's content is based on long-term projections and decisions. In the dynasty world, a Quarterback who has been drafted in the 5th round of the 2020 NFL draft may have more value than 6-time super bowl champion Tom Brady. That's why most of the content deals with the outcomes which have the power of your dynasty league in the future.
Not surprisingly, DLF has a very high number of analysts who are experts in this field. Most of these analysts are putting out content throughout the year. You can follow any one of them, and you'll know how much information each individual is carrying. Ryan McDowell (@RyanMc2) is one of the lead analysts of DLF. He is the co-owner of the DLF website, and he is a real fantasy football enthusiast.
If you think you are an expert in football fantasy, try to dive into the world of the Dynasty Football League, it will test your knowledge.
9. FANTASY PROS (https://www.fantasypros.com)
We have to include this website on our list because even if you have just started playing fantasy football, you must've known about fantasy pros. Whether it is the comparison between two elite QB's on a particular week or you want to test whether to play an RB or WR on a flex position, this website will tell you all. The algorithm of this website is straightforward. This website takes every expert's opinion and makes a list of different players based on that opinion. This is a great help for someone who is just starting and doesn't know much about research. You can just follow mass expert opinion and go with that. Most of the time, it will work best for your team.
This website has one drawback, and sometimes, this website fails to take into account other factors that may have an impact on a player's performance. There are instances when a number 7th player on an expert's list could be on number 37th on another's list. This is a massive variation when you compare the two scenarios. That's why for experienced fantasy football owners and managers, it is advised not to rely on the number and straight details wholly. Do your research by checking out each week's match and go with what you think is best.
In the end, just try to enjoy the game. Make sure to tell us what you think about our list and tell us about your ways of researching in the comments below. Keep following our website for the latest fantasy football news.
10. FOX SPORTS FANTASY FOOTBALL
Just like CBS, Fox Sports has been part of the NFL for some time now. Fox Sports fantasy football does have some good content during the season, but most of the best advice you'll be getting from experts at Fox will be during the season. Their content related to drafting and preseason are not that satisfactory. The only good thing about them is that they do offer good content during the ongoing season, which will help you get better waiver wire picks every week.
DJ Foster and Jason McIntyre are premier analysts at Fox Sports Fantasy Football Network. Foster writes a well-researched article all along the season. Fox Sports fantasy football is not great, but it's not bad either. It's worth checking their websites once a while.
Photo courtesy of Medium.