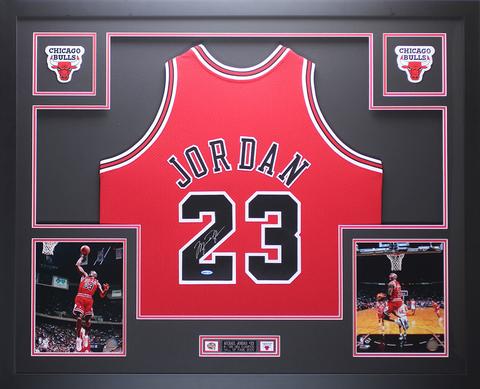 Michael Jordan has been retired from playing basketball for over 19 years. But his memorabilia remains one of the top-selling items in the industry. The price of Jordan's memorabilia ranges from $100,000 to $1 million. As the years go by, MJ's memorabilia will continue to grow. The demand to possess his apparel will always have the attention of consumers interested in sports collector items. Popular Michael Jordan memorabilia items are his jerseys, shoes, and collector cards.
Let's look at four outlets that Strike 7 Sports deems as the best websites to buy Michael Jordan memorabilia. These sites are recognized as the go-to sources when it comes to purchasing sports memorabilia items. All sites listed have their standards for certificates of authenticity.
The Sports Memorabilia.com website was ahead of its time when it first debut in the early 2000s. The site quickly became the premier source for consumers wanting to sports collector items online. Sports Memorabilia.com currently has 11 pages worth of Michael Jordan collector items listed.
You can take advantage of the promotions listed on the website regarding purchasing Michael Jordan collector items. Sports Memorabilia.com was Amazon for the collector items industry before the popular online retail outlet gains its popularity.
Steiner Sports was founded in 1987 by Brandon Steiner. The company was initially formed as an athlete marketing company. The company would later expand into selling sports collector items. In 2005, Steiner Sports reached a deal with the New York Yankees to become the club's special distributor of game-used items. Later on, they made similar agreements with the Boston Red Sox, Dallas Cowboys, Notre Dame, Syracuse, and other entities.
Steiner Sports has the same amount of traction that Sports Memorabilia.com has regarding purchasing Michael Jordan collector items, which means that the inventory goes fast, especially around the holiday shopping season.
Fanatics has now become the number one source for purchasing fan apparel in leagues such as the NFL, NBA, MLB, soccer, and much more. But now, they have crossed over into the sports memorabilia industry as well. Similar to Sports Memorabilia.com, the site offers countless opportunities to receive discounts on purchasing high-value items such as collectors signed by MJ. At the moment, there is only one page of Michael Jordan collector items. However, they tend to sell out fast.
Over the year's Amazon grew from being just an online retailer to an American multinational innovation business concentrating on e-commerce, cloud computing, electronic streaming, and artificial intelligence. But e-commerce remains the focal point of the brand. What is unique about Amazon is that sports memorabilia buyers have various options to choose from when purchasing collector items.
Another factor that enhances the strength of the Amazon brand is the ability to read countless reviews on items that have been purchased. If you decide to purchase Michael Jordan-related memorabilia from Amazon, please make sure that the item has a certificate of authenticity along with an Upper Deck hologram.
Disclaimer Statement: If you decide to purchase any Michael Jordan memorabilia from link listed above, I shall receive a percentage of the sale generated. The revenue generated from those products goes into the funding of the Strike 7 Sports platform.
Photo courtesy of Super Sports Center.