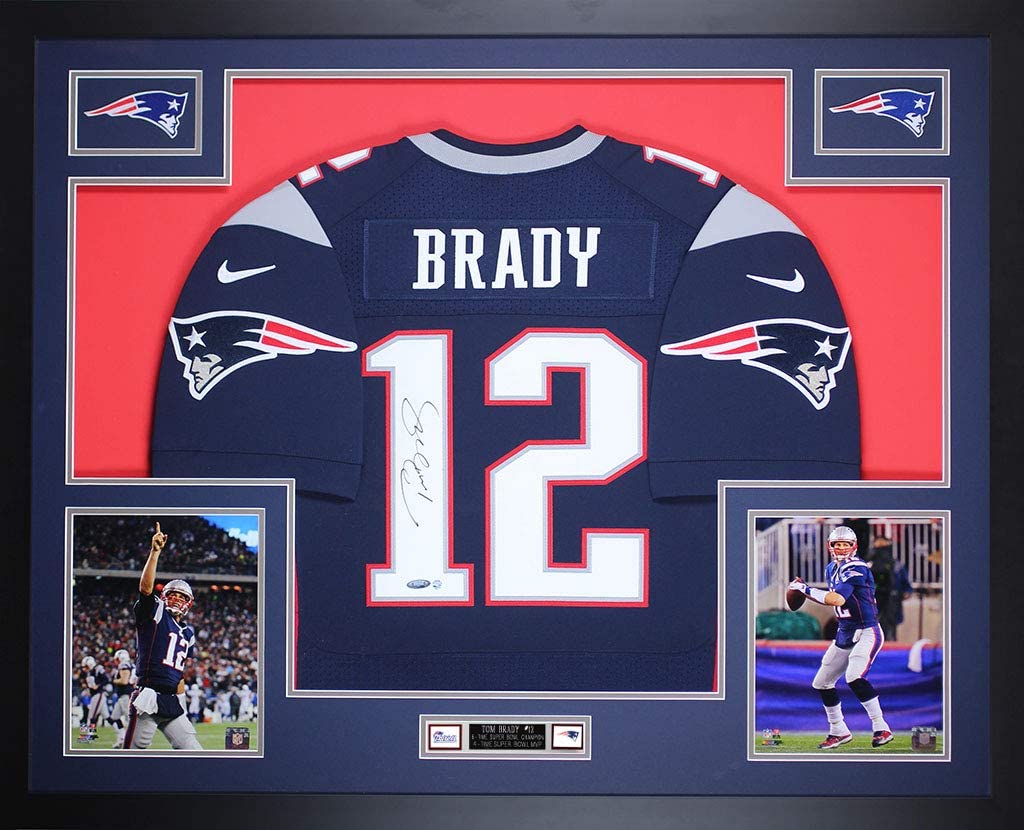 Owning a Tom Brady autographed jersey is one of the country's most sought-after sports collector items. However, be prepared to spend a lot of money on that item because it will not be listed at a price that you can bargain with, especially if it's an officially licensed product by the National Football League. At the minimum, a legitimate autographed Tom Brady jersey will cost about 3,099.99 dollars.
That price is based on the various research conducted on sports collector websites such as Sports Memorabilia.com, Steiner Sports, and Fanatics. So if you ever got into a situation where you met Brady in person, and you wanted him to sign your jersey, the price of what he is going to charge for it to be done will cost about 1,000 dollars.
The report of Brady charging 1,000 dollars is based on a story from SB Nation that was written after he won his fifth Super Bowl title against the Atlanta Falcons. High-profile athletes such as Tom Brady charge fees to sign autographs for many reasons, such as possibly raising money for charity, covering the cost of the autographed session, and so much more. Either way, if you have the funds necessary to pay for the price of having an autographed Tom Brady jersey, then go ahead and weigh your options. It is a gift that would be a great sports collector item to own as a consumer.
Here are a few things to consider after purchasing an autographed Tom Brady jersey. First, please ensure that the product is authenticated and licensed by the National Football League. We recommend three reputable companies to get your sports collector items authenticated.
Those outlets are Professional Sports Authentication (PSA), James Spence Authentication (JSA), and Beckett Authentication Services. If you decide to purchase an autographed Tom Brady jersey, we recommend the following sports collector websites to make that decision.
Founded in 2006, Sports Memorabilia.com has grown into one of the world's top online outlets to purchase sports collector items. The company sells a variety of things such as autographed jerseys, custom display pieces, and memorabilia that can be framed.
Steiner Sports, the leading producer of authentic hand-signed memorabilia items, has spent 32 years building relationships with numerous athletes and national relationships with the major sports leagues such as the New York Yankees, NFL, and the NBA. Whether you are a long-time collector or just a die-hard sports fan, Steiner Sports is your go-to source for the best game-used items and signed collectibles. They also provide the ultimate fan experiences with our player signings and events throughout the year.
By far, Amazon is the biggest and most known online retailer in the eCommerce industry. Just about every shopping category is listed on Amazon. What is unique about purchasing an autographed Tom Brady jersey is that you can choose from various brands that have the item in stock. In addition, outlets such as Sports Memorabilia, Steiner Sports, Sports Frames, and Fanatics sell their merchandise through Amazon. However, please verify that a trusted, reliable third-party service authenticates any autographed item you purchase through Amazon.
Disclaimer Statement: If you decide to click on one of the links above and purchase an item, I shall receive a percentage of the sale generated. The sales generated from this post go into the funding of the Strike 7 Sports platform.