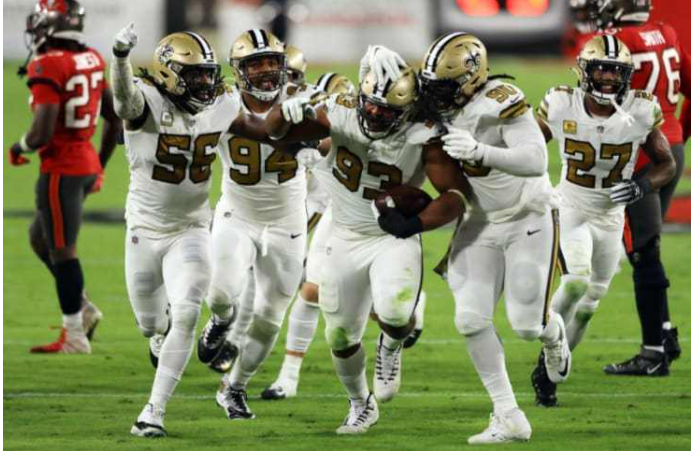 With the huge possibility of Saints quarterback Drew Brees retiring at the end of the season, the Saints will be searching for a new signal-caller under center for 2021. Based on the remarks made today by executive vice president and General Manager Mickey Loomis, the team will not be going into rebuilding mode because the future Hall of Famer Brees is retiring and potential salary cap hurdles.
"We've got a great roster, and I can't foresee a circumstance where we're not going to say, 'We're going to do everything we can to win, win now and compete for a championship,'" Loomis said. Regardless of what Loomis said today, the Saints roster will look very different from what we have seen in previous seasons.
However, if Loomis and the Saints brass expect the team to remain competitive beyond Brees' years no longer with the team, other positions may need to be addressed. Today, Saints Discussions will examine three positions that the team may have to retool going into the 2021 regular season.
Secondary
After cutting down on the mental errors present at the beginning of the season, the Saints secondary performed like an elite unit. Cornerbacks Marshon Lattimore and Janoris Jenkins were able to minimize the big play ability of numerous wide receiving groups last season.
Safety Malcolm Jenkins proved to be a significant free-agent signing by how he played during the middle to later part of the 2020 campaign. However, with the Saints impending salary cap dilemma, Jenkins may be asked to restructure his contract once again or be released from the team.
If Jackrabbit is released, the Saints could be in a difficult situation to find a viable replacement. Fellow corner Patrick Robinson has proven that he is a reliable defender to step in if he is called upon. But he is 33-years old and has battled with numerous injuries over the past two seasons. If you do not know by now, a mediocre quarterback at best will test the Saints' pass defense if he notices a weak spot. If there's a cheaper option on the open market, then you can expect Loomis and Payton to fill this void immediately.
Linebacker
Unlike the Saints secondary, mental breakdowns were not an issue for the team's linebacker group. They could not be effective in certain situations, such as covering tight ends and other assignments that involved the passing game.
Especially Alex Anzalone, his deficiencies exposed a Saints defense dealing with multiple issues at the beginning of the season. But things would get better after the team acquired Kwan Alexander from the San Francisco 49ers.
Alexander, paired with Demario Davis, transformed the Saints linebacker group into a more versatile unit. However, it did not last long due to Alexander missing the remainder of the season with a torn ACL injury that he suffered against the Minnesota Vikings. Like Janoris Jenkins, Kwan Alexander may have to restructure his current deal to remain with the Saints. If Alexander is released, New Orleans can address his void in two ways. They can allow rookie Zach Bahn to show that he is a versatile linebacker or go back into the draft and evaluate who is the best at the position.
Defensive Line
Defensive end Cam Jordan did not lead New Orleans in sacks this season. It was the guy that lines up on the opposite side of him, Trey Hendrickson. The former third-pick out of Florida Atlantic tied for second in league with 13.5 sacks in 2020. Based on Hendrickson's production last season, his market value has gone up as an unrestricted free agent. According to Spotrac.com, Hendrickson's market value for his next contract is at $10.3 million.
Loomis has stated that he would like to keep Hendrickson in a Saints uniform, but the price may be too steep due to the salary cap constraints. New Orleans can go out and find an affordable option at Hendrickson's position, or they can insert the highly talented Carl Granderson into the starting lineup. These are the three positions outside of quarterback that the New Orleans Saints may need to address once the offseason period begins.
Photo courtesy of Mike Ehrmann/Getty Images.