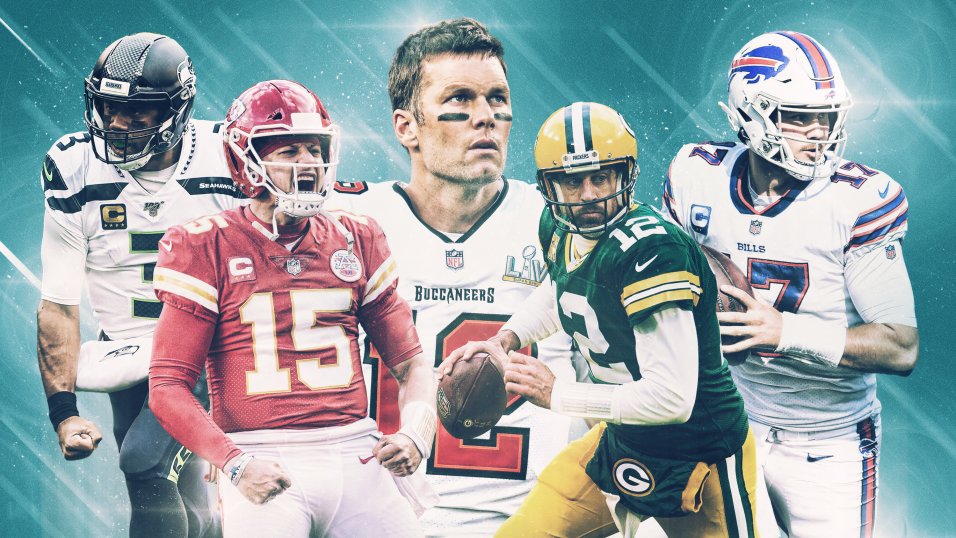 The quarterback position is, without a doubt, the most valuable position in the NFL. The whole franchise often restructures themselves based on their quarterbacks. The same is very true for fantasy football. However, most of the time, it highly depends on the circumstances. The position-to-value ratio of drafting a quarterback in the earlier rounds is often not that much when comparing other options at the same position. 
Furthermore, it mainly depends on the kind of fantasy league you are in. There are many quarterback options in the case of standard  10 or 12 teams' leagues. Still, if it's a customized league like two quarterbacks in one team, then the whole scenario changes, and you have to reevaluate your draft position. Typically, it would be best to draft your quarterback in later rounds, not in the first two rounds but the following circumstances. You can change your picking strategy and pick quarterback(s) in earlier rounds. 
1. Customized Leagues 
In customized leagues, the fantasy league managers can set their own rules and regulations, including average team players. There are customized fantasy leagues with just one player, while in some  IDP customized leagues, the active roster size can go above 30 players with enough room on the bench.  So, for example, even in a standard format with two quarterbacks per team, you may want to draft a good  QB (QB1 to QB5) in earlier rounds because, with two active QBs and 1 or 2 on the bench, the standard league is going to have all quarterbacks even in 10 teams league. Therefore, having two elite QBs will benefit you greatly. 
2. Deep Leagues (20+ Team Leagues) 
Similarly, if you play in a league with 20+ teams, it's worth getting a good quarterback in the first or second round. You can get two elite quarterbacks and trade the second quarterback for a  good option after the season. Usually, the reason you never draft quarterbacks in initial rounds in a standard 10/12 teams league is that the difference between the top 3 quarterbacks and the 8th to 10th ranked quarterbacks is not that much when comparing the difference between the top 5  wide receivers and running backs with a 25th to 30th ranked wide receiver or running back. Far less than the difference between the top 5-7 RBs/WRs and the 30th ranked players at those positions. But in a  deep league, that changes because a 20+ ranked quarterback is not even average in terms of his position to value. 
So, Should You Draft a Quarterback Early?  
Other than the scenarios mentioned above, there aren't any significant reasons to go for a QB in the early round. There were a total of 11 quarterbacks in the 2020 regular season who scored above 300  fantasy points. Wide receivers and running backs score far less than that. Only three running backs –Derrick Henry, Alvin Kamara, and Dalvin Cook– scored more than 300 points and Davante Adams of the Green  Packers was the only WR to go above 300 points.
So, keeping that in mind having any of the above running backs and wide receivers with an 8th ranked quarterback would have benefitted more to a fantasy team than having a first ranked quarterback along with low tier running backs and wide receivers. Moreover, in 2020 the average loss in fantasy points per game from top 3 ranked QBs to 4 to  6 ranked QB was just 1.2 fantasy points and from 4 to 6th ranked QB to 6th to 9th was 2.2.
So, a mere 3.4  points average point difference between QB1 to QB9. That's why it can neglect while choosing the quarterback. Therefore, unless you are participating in any specific and customized league, it would benefit you more if you could wait. However, our analysis shouldn't bar you from making your own choices. You can draft whoever you want but keep the following pros and cons in your mind while making your choices. 
Pros of Drafting a Quarterback Early. 
• First and foremost, you will be getting an elite quarterback of your choice in the first or second round. After all, most fantasy players play fantasy football for enjoyment, and most leagues are played without any cash or prizes involved. By drafting the QB of your choice, you will enjoy it more since you have drafted your favorite quarterback.  
• You will also be stress-free by selecting a quality QB early on since you will not have to worry about matchups and streaming new QB every week. Sure, even elite players have off-days, but that doesn't mean they shouldn't be on the active roster. You'll not have to worry about the QB position apart from the bye week by selecting your QB early on.  
• You will also have a scoring consistency. Elite quarterbacks can score on average of 22+ points every week, which means QB will be the one position you'll mostly have the upper hand on your opponent.  
Cons of Drafting a Quarterback Early 
• By drafting a quarterback early, you will lose a very valuable position on a somewhat small margin of better scoring since in a standard ten teams league, your opponent will be playing a top 10 QB as well.  
• You'll take competition and deep strategy out of your matchups every week. Streaming and selecting a specific QB every week involves a lot of strategies, and that's an enjoyable experience on its own.  
• You will surely lose an elite running back or wide receiver using your earlier rounds' draft picks. You will need to be way more active in the earlier week to pick the best possible waiver wire and free agents.  
• Based on research, the teams with late-round quarterback picks end up reaching fantasy playoffs more often. 
Best Strategy for Draft a Quarterback
To summarize everything, the drafting of a quarterback depends on your personal preference, your opposing players, your level of desire, and how much time you can spend on your fantasy lineups every week. Generally, it's not recommended to select the quarterback in the very first round, where you have the chance of picking a potentially elite player. Of course, the only exception is if you are playing in a 2QB league or deep league where there are more than 20 teams in your league.
It also depends on your position in your draft. You will also have the same position in the third-round pick if you have early to mid-round choices. If you already have a good pair of RB or WR, you can opt for anyone in QB1 to QB3; that way, you'll have a good and strong foundation in your lineup with players who will perform consistently. You can also select another WR or TE in the earlier third round and wait for the fourth round to pick your QB.
If you have gotten a late first-round pick, you must wait for the fourth round to make your QB pick or wait until the sixth round and draft any best available QB then. That way, you'll have a combination of the best RBs/WRs/TE, and you will also have a top 7 QB which isn't a bad deal. However, most importantly, try to do your research according to your league's settings and scoring format.