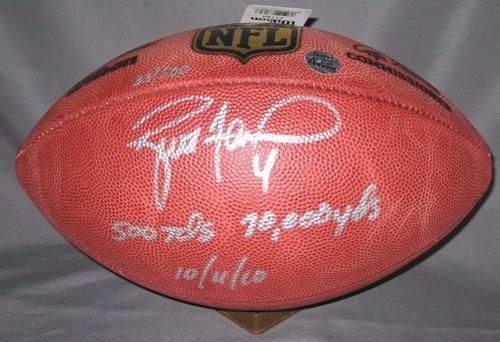 If you own a valuable piece of sports memorabilia, there is nothing more important than protecting the value of your unique item.
Whether it's a significant financial investment or has personal sentimental value, it's's crucial to get your collectible or autograph authenticated by a reliable third-party authenticator.
As a collector, nothing is more disappointing than acquiring an exclusive collectible and then discovering it's a fake and has little or no value. Imagine purchasing a 1986 Fleer Michael Jordan Rookie Card #57, which is soaring in value, only to find out later that it's not the real thing—or purchasing a ball or jersey supposedly autographed by a legendary athlete, and then discovering that the signature is not authentic.
Unless you had an item signed personally, it isn't easy to know for sure whether an autograph is authentic. Proving it to a potential buyer is another matter. In an industry where forgery and counterfeit items are common, it is imperative to get autographed items certified. It's's practically impossible to sell valuable items today without having them approved, and buyers practically demand it to protect their investment.
The best way to ensure your autograph or item is legit is to have it authenticated by a reputable company.
But there is risk involved in that too. Authentication is not an exact science, and the process can be murky. There are dozens of companies out there that authenticate sports memorabilia and autographs, but knowing which one to choose can be tricky.
Three sports collectible companies are generally regarded as the most reliable and dependable when it comes to authentication — Professional Sports Authentication (PSA/DNA), Beckett Authentication Services (BAS), and James Spence Authentication (JSA).
All three have been around for years and offer a wide range of services. And they all three use scientific techniques like ink/medium analysis, object evaluation, structural analysis, and side-by-side comparison, and offer tagging, certification and official Letters of Authenticity (LOA). While providing concrete proof is impossible, these three companies come as close as possible.
Here's a closer look at the three companies you should consider using.
Professional Sports Authentication https://www.psacard.com/
PSA/DNA is considered the world's leading third-party authenticator and offers the widest variety of services, from the trading card and ticket grading to autograph authentication.
In addition to the standard evaluation methods — ink and structural analysis, object evaluation, and side-by-side comparisons — PSA's authentication process also includes a video spectral comparator, and it marks its certified items with invisible ink that contains a synthetic DNA sequence specific to PSA. Items certified by PSA come with a serialized label and either an LOA or COA (Certificate of Authentication).
PSA also offers a grading certification for trading cards, tickets, and autographs. It assigns a numerical grade from 1-10, with ten being the highest, to all of its certified autographs based on the quality of the signature.
Beckett Authentication Services https://www.beckett-authentication.com
Beckett has been an industry leader for price guides and card grading since 1984 and began its authentication service in 2016. Their team is led by world-renowned autograph experts Steve Grad and Brian Sobrero. They have a combined 25 years experience authenticating autographs and have verified some of the rarest and valuable items in the industry, including Babe Ruth's 1919 contract with the Boston Red Sox.
Grad, an autograph expert for History Channel's "Pawn Stars," is credited with authenticating the highest-graded single-signed Babe Ruth bat, and the only Shoeless Joe Jackson signed photo.
BAS also provides security measures to prevent counterfeiting, including tamper-evident encapsulation holders that it says are impossible to penetrate without detection and certification stickers that can only be applied to an item once.
James Spence Authentication https://www.spenceloa.com/
JSA was founded in 2005 by James Spence Jr., a third-generation collector who traveled the country buying and selling sports memorabilia. Through extensive research, Spence compiled an autograph exemplar that JSA touts as one of the most comprehensive in the world with nearly 700,000 files.
JSA's authenticators regularly visit auction houses and trade shows researching the veracity of autographs of sports figures, celebrities and historical figures to add to their database. Authenticators use the database to confirm the legitimacy of each signature and use a scoring system to certify each item with a registration number and tamper-evident label.
PSA and Becket both offer authentication over a wide variety of subjects, from sports and entertainment to history and science. Beckett even authenticates authors, cartoons, and Supreme Court appointees.
Fees
Authentication fees vary based on the signer, if it's's multi-signed, and the total number of signatures.
All three services charge the same fees, depending on the value of the item. A necessary certification ranges from $20-30, with a Letter of Authenticity ranging from $20-150, depending on the value of the item. Precious items can cost much more, with items valued at more than $100,000, costing as much as $5,000 for authentication.
All three companies also offer a wide variety of products to display and protect collectibles and sports memorabilia.
How long does the process take?
Most companies don't guarantee turnaround time, but most estimate that standard authentication can take from 20 to 45 days, possibly longer for rare items.
If you own a valuable piece of sports memorabilia, you must get it authenticated, and one of these three companies is your best bet to get a reliable certification.