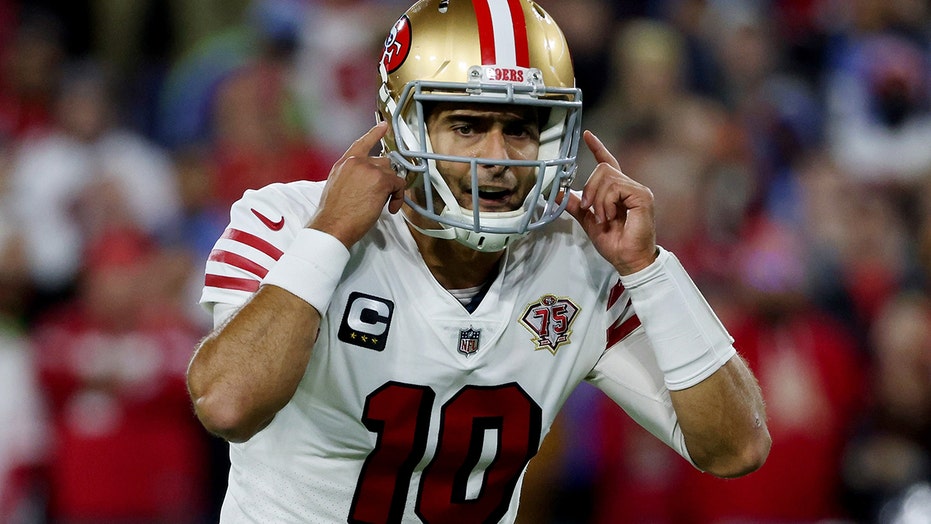 There is a high chance that Jimmy Garoppolo will be traded this year. Garoppolo wasn't traded before the 2021 season, even though the San Francisco 49ers had drafted Trey Lance. The reason probably was that the head coach Kyle Shanahan wanted to give Lance some room to develop rather than putting him in the starting role. Most analysts believe that this was a good decision considering the situation of current rookie quarterbacks. Apart from Mac Jones, all quarterbacks struggled a lot.
Trevor Lawrence, Zack Wilson, Justin Fields, and David Mills didn't perform well as expected. Trey Lance also didn't perform extraordinary given the small role in the regular season. However, Shanahan might be thinking about the franchise's future, which means parting ways with Garoppolo. In today's analysis, we will be looking at the possible teams that might benefit from Garoppolo's inclusion.
Historical Performances and Injuries
First of all, the interest in Garoppolo depends a lot on his performance in the playoffs. From a performance perspective, Garoppolo is playing very well throughout his career. His career win-loss record as start quarterback in the regular season is 33-14. He has thrown 71 touchdowns against 38 interceptions, with a quarterback rating of 98.9. Also, he is one of the most accurate passers of the NFL, with a percentage of 67.7.
So, keeping that in mind, including the fact that 2021 was his second season without any injuries, and he once again took the 49ers to the playoffs, last time the 49ers went all the way to the Super Bowl when Garoppolo was healthy. However, there is also an issue of injuries in Garoppolo's career history.  Due to his injuries, he has been unable to play two out of four regular seasons at the 49ers. So, the team who is thinking about getting him will quite possibly have to deal with Garoppolo's injuries as well.
One of the primary reasons that teams might be looking for a quarterback in free agency is that the quarterback draft class of 2022 is not so good. Moreover, not many regular quarterbacks are expected to hit free agency in the upcoming season. The whole Deshaun Watson situation is still up in the air. There were few rumors about Aaron Rodgers and Russell Wilson; however, so far, it doesn't seem like they will be parting ways with their teams. So, all this makes Garoppolo quite a lucrative option for the teams looking to get a mature signal-caller. We have researched the top spots where Garoppolo might be a perfect fit.
New Orleans Saints
This seems like a perfect fit for Garoppolo because the head coach Sean Peyton designed the whole offensive game plan to benefit traditional quarterbacks. We have seen the Saints in games where Jameis Winston and Trevor Siemian are much more viable quarterbacks than Taysom Hill due to Sean Payton's offensive plan designed initially for former quarterback Drew Brees.
That's why Sean Peyton and Garoppolo will benefit from each other a lot. In 2021 the wide receiver core of the Saints seemed virtually non-existent, but New Orleans can become a Super Bowl contender with a good quarterback in previous years. We have seen how Deebo Samuel benefited from Garoppolo.
Samuel has 77 receptions for 1,405 yards and six touchdowns, and he is at number 1 on average per catch with 18.2 Y/C. In New Orleans, Alvin Kamara can additionally benefit the Saints' offense with the help of Garoppolo by keeping pressure off from the wideout in rush plays. However, there is only one problem with Saints' and Garoppolo's future together.
Saints are projected to go over $62 million above the 2022 salary cap, and if they sign Garoppolo, they will take an additional hit of $26+ million, and that's what the Saints and Sean Peyton need to figure out. Perhaps if Saints can get a few expensive contracts restructured to free cap space, we might end up seeing Garoppolo in a black and gold uniform at the start of the 2022 season.
Pittsburgh Steelers
Ben Roethlisberger is finally retiring. Drafted in 2004, Big Ben had quite a fruitful career. As of 2021, he is the only quarterback remaining of the 2004 draft. His backup Mason Rudolph has been with the team since he was drafted in 2018. However, Rudolph failed to show any promise. In the off-season of 2021, the Steelers also signed Dwayne Haskins, who has yet to see any action. However, the Steelers' whole offense is built around Roethlisberger. After his retirement, they will need an immediate start to fill the gap and fit in nicely, and there is no better fit in Pittsburgh than Jimmy Garoppolo.
Steelers also have enough cap space to sign Garoppolo for the remaining years of his contract, making Garoppolo a perfect fit for the Steelers until they draft a franchise quarterback. Steelers head coach Mike Tomlin has been one of the most consistent coaches of the NFL, and Tomlin never had a losing season in his career. It's no surprise that Tomlin will be looking for a solid option at the quarterback position to secure the 2022 season as well, and Garoppolo can be just that person.
Carolina Panthers
Experimenting with getting and starting Sam Darnold has poorly failed in Carolina. The head coach of the Panthers, Matt Rhule, doesn't seem to have any luck with any quarterbacks. First, it was Teddy Bridgewater, then Darnold and Cam Newton. These quarterbacks showed promise at the time; Darnold looked at the top of his game at the start of the 2021 season, but then he got injured and was never the same.
The same is with Bridgewater, who played in 2020 and was decent, throwing over 3,700 yards and 15 touchdowns. However, Rhule can't find a stable quarterback for his team. Can Garoppolo be the answer? Or Should the Panthers draft a high-end quarterback? We don't know the answer, but Rhule is definitely under the pressure of losing his job if he fails to perform, and the best short-term solution might be in the form of Garoppolo.
Carolina also has good offensive weapons such as D.J. Moore, Robbie Anderson, and Christian McCaffrey, so Garoppolo will be able to fit right in. Their defense is also playing well. It will be interesting to see what Rhule and the Panthers front office decide to do with the upcoming offseason, especially when they need to hire a new offensive coordinator.
Washington Football Team
Ever since Kirk Cousins left the franchise, the Washington Football Team has been having some serious issues with the quarterback position. Their last high quarterback draft pick Dwayne Haskins failed miserably. Ryan Fitzpatrick got injured in the first game, and his future is also uncertain in Washington. Taylor Heinicke has shown some promise.
In the 2021 regular season, Heinicke threw for 3,419 yards, 20 touchdowns against 15 interceptions. He also ran for 313 yards on 60 attempts. Heinicke is an outstanding backup quarterback; however, he remains unconvincing compared to the rest of the NFL teams. WFT has a projected cap space of $60 million which means they can easily trade for Garoppolo.
From Garoppolo's perspective, WFT is a very good team. They have a great defense, and their offensive core is solid. Antonio Gibson, Logan Thomas, and Terry McLaurin are all very good at their respective positions. Additionally, the Football Team can draft or pick up free agents to boost their offensive line to support Garoppolo, and in 2022, WFT will be a force to be reckoned with. So, Washington might be a perfect fit for Garoppolo, at least for the next few years.
Denver Broncos
The AFC West is turning into an exciting division having possibly the best quarterbacks (apart from the Broncos). Patrick Mahomes, Justin Herbert, and Derek Carr are in the top 5 passing yards in the 2021 regular season. The Broncos franchise seems to be in a rebuilding process. They are looking for a new head coach. However, the most significant need for the Broncos is a good quarterback, especially when every team in their division has quarterbacks who can throw for 4,800+ yards. Since Manning left the team, the Broncos have failed to hit their stride (no pun intended). Drew Lock wasn't the guy they thought could replace Manning.
Then there were huge expectations from Teddy Bridgewater, who also failed to perform at elite level with 3,052 passing yards and 18 touchdowns in 14 starts. Garoppolo does seem like a guy who will fit the Broncos franchise well for the next few years until they find a franchise quarterback through the draft, trade, or free agency. The Broncos' offensive line is youthful and sound.
Both running backs Melvin Gordon and Javonte Williams can run, block, and catch. The receiving core of the Broncos is definitely above average, if not the best. They have Jerry Jeudy, Courtland Sutton, and Noah Fant, all of which can catch the ball in heavy traffic, so there is no doubt any good quarterback can succeed in Denver.
Most of all, they will expect to have $48.5 million in cap space in the 2022 season, which will not only help them sign some good free agents but, more importantly, they can get Garoppolo and compete at the highest level. Garoppolo doesn't need to play at the level of Mahomes, Carr, or Herbert. He needs to be accurate and find his receivers in tight positions, and we know Garoppolo can do that. So, Garoppolo to the Broncos does seem like a perfect fit.
Photo courtesy of (Dylan Buell/Getty Images.