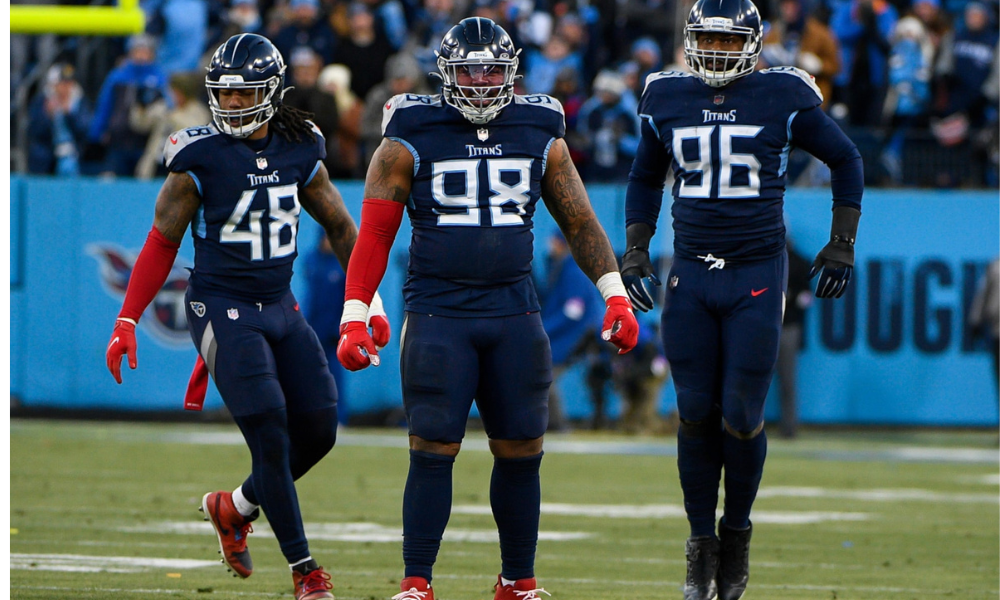 After earning the AFC's top seed in the playoffs last year, Tennessee fans expected to see other teams scoop up players at higher-than-market prices the Titans weren't willing to pay. Yet seeing WR AJ Brown traded to Philadelphia was one move no one saw coming. Brown was due a massive payday – which the Eagles provided – as he entered his final year of the rookie contract.
Before trading AJ Brown, Tennessee dealt for WR Robert Woods from the Los Angeles Rams. By trading Brown to Philly, the Titans received the No. 18 selection in the NFL Draft, a pick used on Arkansas receiver Treylon Burks. Burks and Woods provide Tennessee with a pair of receiver options to replace Brown on discounted deals.
If AJ Brown were still with the Titans, the wide receiver would be one of Tennessee's ten most important players this season. In his absence, which players now make a list? Read on to see who the Tennessee Titans will rely on the most for the 2022 NFL season.
RB Derrick Henry
The King tops any list of most valuable Tennessee Titans. The always-impressive running back has rewritten the Titans' record books, rushing for more than 3,500 yards and 33 TDs while compiling two Top-5 single-season records in 2019-2020 for Tennessee.
Derrick Henry was on pace to set another Top 5 single-season performance mark in 2021 before injuries limited him to eight games. Henry has fed off how last year ended to create momentum for the 2022 season. Henry has trained "like crazy, doing everything (he) can" to reclaim his rushing title and be the most valuable Tennessee Titans player in 2022.
QB Ryan Tannehill
In three years with the Tennessee Titans, Ryan Tannehill has completed more than 67% of his passes for 10,295 yards and a 76-to-27 TD-to-INT ratio. Only five quarterbacks in the league have equaled his productivity since 2019. More importantly, the Titans have finished 31-14 with Tannehill under center and reached the AFC Championship Game in that span.
Even at age 34, Tannehill is showing no signs of slowing down. Tennessee offensive coordinator Todd Downing commended Ryan on stepping into a larger leadership role and mentoring the new players on the roster during the offseason. The 11th-year veteran worked extensively with his roster of new receivers to bolster the Titans' passing game. Tannehill expects his offseason workouts will provide major dividends for Tennessee in 2022.
DT Jeffery Simmons
Jeffery Simmons's breakout season in 2021 earned the defensive tackle his first Pro Bowl selection and second-team All-Pro honors. Last year, Simmons posted 8.5 sacks with 12 TFL and six deflected passes. Simmons started every game in 2021 for the Titans. He saved his best work for the postseason, setting the franchise record with three sacks against the Cincinnati Bengals.
With his blend of raw talent, speed, and size, the Tennessee DT has been recognized by his peers to start the season. Simmons was selected by the NFL Network as the No. 54 pick of the top 100 players in the game today. The former Mississippi State Bulldog should continue to make the opposing quarterback's life miserable in 2022 and maintain Tennessee's top-tier defensive rankings.
OLB Rashad Weaver
This spot would have been reserved for OLB Harold Landry III earlier this week, but team sources have reported Landry will be sidelined this season after tearing his ACL during practice Wednesday.
With Landry lost for the season, his replacement becomes one of the keys to a successful season. While fifth-year player Ola Adeniyi is in line for a bigger role after Landry's injury, Tennessee Titans general manager Jon Robinson expects second-year player Rashad Weaver to take over Landry's spot atop the depth chart.
Rashad Weaver was a fourth-round pick in the 2021 draft that played for the Pittsburgh Panthers before the NFL. Weaver played a linebacker and a defensive end in college, recording 14.5 TFLs and 7.5 sacks in the COVID-19-shortened 2020 season.
In 2021, Weaver played sparingly as a rookie. Despite his limited playing time, he's already making his mark on the team this preseason. In the Titans' win over Arizona last week, Rashad recorded seven tackles, including 2.5 TFL, and broke up one pass for Tennessee.
S Kevin Byard
Three-time team captain Kevin Byard returns for his seventh season with the Tennessee Titans in 2022. He notched his second Pro Bowl selection last year by recording 80 tackles and picking off five passes.
This year, Byard looks even better in the preseason, something the 29-year-old attributes to his new diet. The tweaked nutrition routine has paid off for Byard as the Tennessee Titans veteran feels faster and leaner after cutting five pounds in preparation for this season.
However, Byard isn't just one of the best players for the Tennessee Titans. In a recent survey of NFL executives and coaches, Byard was selected as the third-best safety in the NFL.
OLB Bud Dupree
Bud Dupree is the fourth defensive player on this list, recognizing how strong the Tennessee Titans' defense will be in 2022. One reason the dominance should continue is the re-emergence of Dupree, the Titans' major acquisition of the 2021 free agency class, as he has fully recovered from his 2020 ACL tear.
Dupree played in 11 games last year but never looked like the dominant force he was during his time with the Pittsburgh Steelers. This offseason, the Tennessee linebacker has continuously rehabbed his knee, using his disappointing finish last year as motivation. The regimen has worked out as Dupree feels he's added more mobility in his knee. He quickly turns around the corner of the offensive linemen, recapturing the fundamental elements of his pressure-driven attack.
TE Austin Hooper
Another key acquisition for the Tennessee Titans this offseason is TE Austin Hooper. The former Cleveland Brown underwhelmed during his two seasons there, unable to live up to how he started his two-time Pro Bowl career in Atlanta. Despite the disappointment, Hooper has recorded 298 catches for 3,024 yards and 23 TDs during his six-year NFL career.
If the preseason training camp is any indication, Hooper has quickly acclimated to Tannehill's passing abilities. Hooper has received the most targets among Tennessee receivers during training camp and built a strong rapport with his new QB. Some fantasy projections have Austin returning to his All-Pro form this season due to his quick grasp of the Tennessee Titans offense.
WR Robert Woods
Tennessee fans last saw Robert Woods playing against the Titans in November 2021, a game where the wide receiver caught 7-of-10 targets for 98 yards and rushed once for six yards. After that game, Woods injured his ACL in practice and was sidelined for the remainder of the season, finishing the year with 45 catches, 556 receiving yards, and five total TDs.
Joining his third team, the veteran will bring valuable leadership experience along with being a part of a championship environment to the Tennessee Titans this season. And despite coming off of a torn ACL, the 10-year pro believes the rehabilitation from the injury has been responsible for his ability to regain speed and strength.
LT Taylor Lewan
Taylor Lewan got off to a slow start to the 2021 campaign as he recovered fully from his injury. With an offseason to rehab and rest, Lewan will anchor the Tennessee Titans offensive line again. After finishing fifth in rushing last season, the Titans offense will lean on Lewan to help the team recapture their top rushing attack position after Tennessee reshuffled their linemen and lost two to free agency.
With the turnover up front, Lewan will provide authority and guidance to his fellow Tennessee teammates. It's a role most Tennessee fans expect from him, bringing much-needed leadership and energy to his unit. At 6'7″ and 309 pounds, the three-time Pro Bowler and a former first-round pick are seen as a vocal mentor to fellow offensive linemen, especially tackle former Ohio State rookie Nicholas Petit-Frere.
S Amani Hooker
A player with Amani Hooker's talent level would rarely be considered a secondary safety option in the defensive backfield. But that shows how much depth the Tennessee Titans have with Hooker and Byard at the safety position. According to multiple sources, the 5'11" playmaker has been impressive during training camp thus far.
In 2021, Hooker spent multiple games sidelined during the 2021 Titans season with a foot injury, impacting his overall season stats. The fourth-year pro recorded a personal-best 62 tackles and one interception in 2021. Yet the progress made in training camp shows Hooker is primed to display his same defensive prowess from the 2020 campaign, a season where he finished with eight pass deflections and four interceptions.