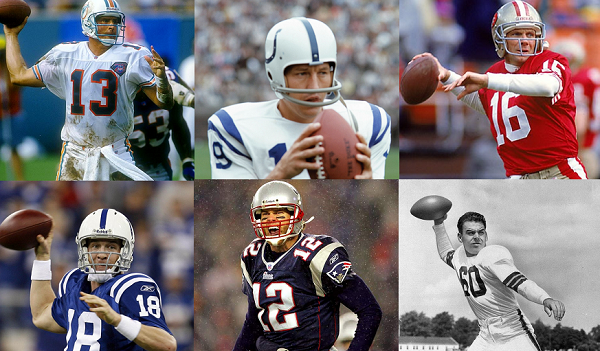 After years of careful research and debate, Strike 7 Sports finally release its top-ten quarterbacks of all-time in the National Football League. Each of these passers has their own story regarding how they became successful and their style of play. The ability to win Super Bowl titles is a significant criterion when conducting a list of the ten best signal-callers of all time.
However, it's not the only factor that should play a part in where a quarterback belongs among the greatest of all time. Winning a Super Bowl is a team sport, and it should be treated as so when it comes to the quarterback position. Flip the page to see where Strike 7 Sports ranks the ten best signal-callers of all time. 
1. Tom Brady
Photo courtesy of Getty Images.
Tom Brady was not on any draft expert radar to become a Hall of Fame level quarterback from the University of Michigan back in 2000. Brady was the 199th overall pick taken in the 2000 NFL Draft. Fast forward to today, and he has contributed to the New England Patriots' nine Super Bowl appearances, which include six world titles. Brady has accomplished this by playing in an era constructed not to allow the growth of dynasties. His ability to still perform at a high level has been exceptional.
2. Joe Montana
When they about today's modern era quarterback in becoming successful, league analysts tend to point towards Joe Montana. Montana never really had the athleticism needed to become an NFL quarterback, but he had the will to win and was highly intelligent.
Montana would lead the San Francisco 49ers to four Super Bowl titles and named the big game's Most Valuable Player for a league-record three times. Montana also holds Super Bowl career records for most passes without an interception (122 in four games) and the all-time highest passer rating of 127.8.
3. John Elway
John Elway led the Denver Broncos three Super Bowl appearances with a roster that lacked playmakers during those years. He would lose all three games by a large margin. However, in the final two trips to the big game, Elway would come out on top with the assistance of Hall of Fame tailback Terrell Davis.
The former number one overall pick was athletic and had an arm that could affect opposing defenses at any given moment. Elway's desire to keep fighting no matter the circumstances will go down as one of his greatest attributes as a starting quarterback.
4. Peyton Manning
By far, Peyton Manning is the most intelligent quarterback in NFL history. Manning could successfully run his system without relying on an offensive coordinator for the better part of his career. The future first-ballot Hall of Famer became one of the early innovators of changing plays before the football exchanged hands between the center and the quarterback.
Manning's career is filled with numerous accolades such as five-time league MVP winner, most career wins including playoffs victories with (200), and most consecutive seasons with 25+ touchdown passes (13). The former first overall selection is also no stranger to playing in the Super Bowl. Manning's resume includes four trips to the big game with winning two out of the four appearances.
5. Dan Marino
Dan Marino set the tone for what the prototypical drop-back passer should look like in the NFL. Marino's quick-release ability when it comes to throwing the football is second to none. Before Drew Brees ever had multiple 5,000-yard seasons, Marino started the trend back in 1984 when he posted the first-ever 5,000-yard campaign by an NFL passer.
At the time, a quarterback throwing for 5,000-yards was unheard of. Marino developed into one of the game's most efficient quarterbacks during an era when football teams were built around elite defenses along with a solid rushing attack. He would finish his Hall of Fame career with 61,361 passing yards and 420 touchdown passes.
6. Brett Favre
Who would have ever thought that Brett Favre would become a Hall of Fame level quarterback when he replaced Don Majkowski in a Sunday afternoon game against the Cincinnati Bengals. Majkowski had to leave the game after suffering a ligament injury to his ankle. Favre would step in for Majkowski and never looked back.
The Gulfport, Mississippi native would have one of the most significant careers in league history. He left the league with some of the most magnificent finishes that the game has ever seen. During his run of dominance in the NFL, he appeared in five NFC Championship Games, two trips to the Super Bowl, which includes a championship ring in 1996.




7. Drew Brees
When Drew Brees suffered a torn labrum injury in the final game of the 2005 season against the Denver Broncos, many thought his career would never take form. But after four months of rehab and hard work, Brees's status as an elite passer grew. By far, he is one of the most significant free-agent signings in the last 20 years, regardless of which sports league it is.
Brees became one of the key contributors that transformed the New Orleans Saints into one of the NFL's premier franchises. Currently, Brees is the owner of various NFL passing records such as touchdown passes (540), completed passes (6,867), and passing yards (77,416). At the age of 41, the former second-rounder out of Purdue is still performing at an exceptionally high level.
8. Steve Young
Steve Young had one of the most challenging upbringings that an NFL quarterback had to endure. Young had to continue the winning tradition of the San Francisco 49ers, which was started by the previous quarterback Joe Montana. Young had his shortcomings initially, but his career would eventually take off by transforming into one of the game's most accurate passers.
One of his most memorable performances is when he threw for a Super Bowl record; six touchdown passes against the Los Angeles Chargers. During his time with the 49ers, Young led the league in passer rating a record six times and completion percentage and yards per attempt five times.
9. Roger Staubach
The starting quarterback position of the Dallas Cowboys is one of the premier spots that a professional athlete can be in. For Roger Staubach, he took full advantage of the opportunity, which left considerable shoes to fill for any quarterback aspiring to play for the NFL's number one franchise. The 1965 Naval Academy graduate was selected to the Pro Bowl on six different occasions.
He led the Cowboys to four Super Bowl appearances that resulted in the team winning two world titles. An argument can be made that he was the first quarterback that could elude defenders with his mobile ability and make explosive plays throwing on the run.
10. Johnny Unitas
Johnny Unitas can be credited for transforming the NFL into America's number one sport to watch during a time when Major League Baseball dominated television screens around the country. Unitas was the first quarterback to win the league's MVP award on three separate occasions.
During his run of dominance in the league, Unitas help established a team's need to have a competent starter at the position and carry a team on its back, and will them to victory. You are now seeing those attributes in today's quarterbacks, such as Tom Brady, Drew Brees, Patrick Mahomes, and Russell Wilson. Strike 7 Sports just answered the question of who are the ten greatest quarterbacks of all time.