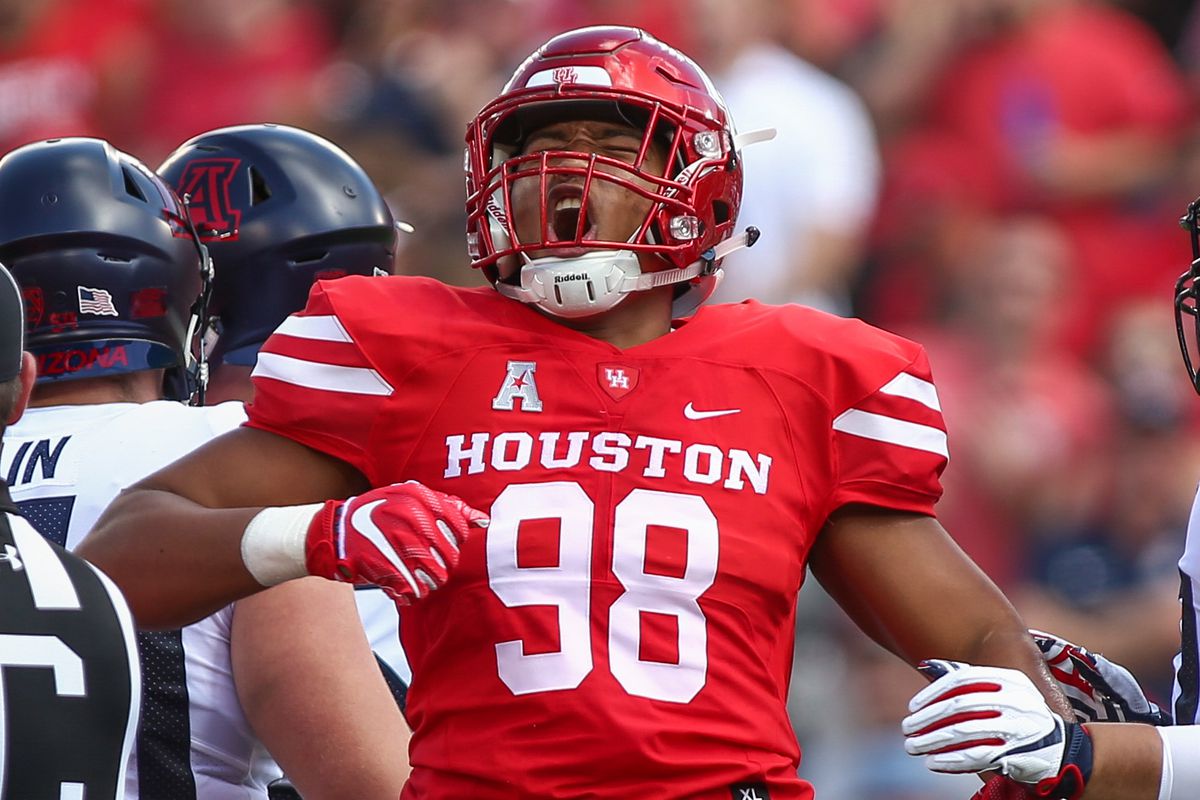 As always, the New Orleans Saints go in an entirely different direction than what was expected in the NFL Draft. 2021 was no different, as they decided to select defensive end Payton Turner, out of the University of Houston at 28. Earlier reports indicated that the Saints were attempting to get into the top ten selections of Thursday's draft. However, the move to get into the top ten never came to pass as the Saints remained at 28.
Throughout social media platforms and message boards, the selection of Turner is not being received well with the Who Dat Nation. Saints Discussions provided an analysis below on how the former Cougar standout can contribute to the Saints defense to ease some of those frustrations.
Who is Payton Turner?
Payton Turner is a 6'5 270-pound defensive end out of the University of Houston. According to a scouting report by Pro Football Network's Tony Pauline, Turner saw time as both a defensive tackle and a defensive end. Turner's lack of size in high school, combined with a knee injury that he suffered during his senior year, affected his ability to become a more recognized recruit.
Turner decided to attend the University of Houston, where his role would change on numerous occasions. According to Pauline, Turner bulked up to 240 pounds to become a part of the Cougars interior. He started his career at Houston as a defensive tackle but would revert to an edge rusher by his tenure with the program.
While at Houston, Turner's statistics were not off the chart, but it was enough to have a lasting impact on the program. During the 2020 season, Turner recorded 5.0 sacks, totaled 25 tackles, 10.5 tackles for loss, and one forced fumble. By far, the 2020 campaign was Turner's best season with the Cougars. Those accolades by themselves would allow him to earn All-AAC recognition. Due to his rising draft stock, Turner was invited to participate in this year's Senior Bowl down in Mobile, Alabama.
Payton Turner's Scouting Report
Positives: "Three-year starter with an underrated game. Plays with good lean, effectively uses his hands, and keeps his feet moving. Has excellent length, moves well about the field, and moves fluidly if asked to twist or stunt. Strong, displays the ability to push blockers off the line, and stays with the action.
Negatives: Not a great natural pass rusher and does not show much speed off the edge. Possesses an average closing burst."
Projected Outlook for Payton Turner
Despite the Saints not moving up into the upper echelon picks of the NFL Draft, they remained at 28 and decided to select Turner. While the selection is not the most popular pick, it can be the most rewarding.
Turner possesses a skill set that fits well with the Saints defense.
The decision to select Turner could also be a motivating factor for Marcus Davenport to take his game to another level. Turner's versatility to play within the interior or remaining at the edge gives the Saints' defense an element they have never had before.
His ability to quickly come off the edge and affect the pocket can pay enormous dividends for the Saints defense. Teams within the NFC South, such as the Atlanta Falcons and the Tampa Bay Buccaneers, have quarterbacks that do not have the best mobility as a passer.
Saints fans must give a Turner a chance to develop as a player before labeling him as a wasted pick. He is going into a situation where he will be working with one of the best defensive line coaches in the league in Ryan Nielsen. Only time will tell if he becomes the next man to lineup opposite of Cam Jordan and will dominate their opponents.
Support the great work of the Strike 7 Sports Saints Discussions Section by purchasing licensed NFL fan gear. Items ranged from Saints hats, jerseys, t-shirts, socks, and so much more. We would greatly appreciate it if you would purchase these items from the text link listed below. The revenue generated from today's offer goes into the funding of the Strike 7 Sports platform. Click on the link below if you are interested.
New Orleans Saints Fan Gear Offers at Fanatics.com
Photo courtesy of USA Today.