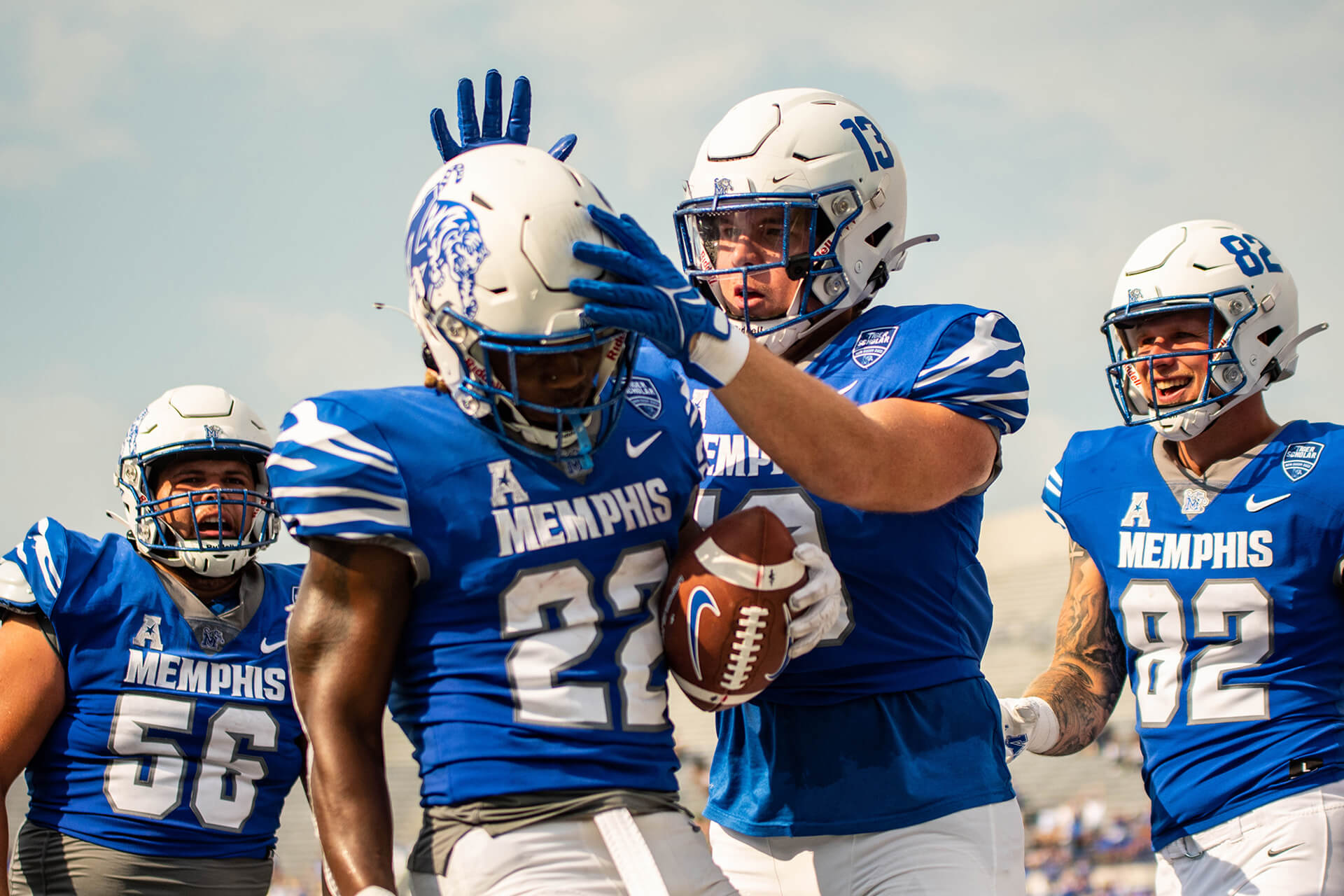 When you think about Memphis Tigers football, one of the first attributes that come to mind is their ability to have one of college football's most sophisticated rushing attacks. Over the years, the program has garnered the nickname "Weapon U," which stands for Weapon University. Playmakers in the past, such as DeAngelo Williams, Darrell Henderson, Tony Pollard, and Kenneth Gainwell, have all given Tiger fans their fair share of explosive plays at the Liberty Bowl. However, since 2019, Memphis has yet to return to its roots of being one of college football's most dominant teams that can successfully run the football. The program has not had a 1,000-yard rusher since Gainwell pulled it off in 2019. Also, their last 100-yard rushing performance occurred in 2021.
The decline in production has led to the Tigers' regression as one of college football's top Group of Five programs. Memphis now heads into a pivotal year in the Ryan Silverfield era. After several changes with the coaching staff once the 2022 season ended, the running game is expected to be the focal point of what optics suggest will be a balanced offense for this season. So, who will become the go-to player for the Tigers' rushing attack? Let's examine five running backs on the Tigers' depth chart and how they could contribute to the 2023 season.
Jevyon Ducker
Jevyon Ducker emerges as the prime contender for the coveted title of the Tigers' leading rusher in the 2023 campaign. With his arrival as a transfer portal talent from Northern Illinois, Ducker wasted no time making his mark. In his inaugural season, donning the Memphis uniform, he showcased his abilities whenever he stepped onto the field.
Ducker's exceptional performance led the Tigers, accumulating an impressive 544 rushing yards and seven touchdowns. While Ducker may not fit the traditional mold of a Memphis running back known for explosive plays at a moment's notice, he brings a different skill set to the table. Ducker's ability lies in wearing down a defense over time, utilizing his significant carry volume to gradually break down opponents.
Brandon Thomas
Brandon Thomas is a noteworthy candidate for the Tigers' leading rusher title in 2023. After his impressive feat of eclipsing 100 yards in a game against Arkansas State, where he electrified the field with 191 yards and two touchdowns, many believed that Thomas would be the next dominant force at tailback for Memphis. His performance propelled him to become the team's leading rusher in the 2021 season, amassing an impressive 669 yards and eight touchdowns.
However, the following year proved challenging for Thomas as he grappled with an undisclosed injury that hindered his production. His yardage dwindled to 270 yards and nine touchdowns for the season. Now, fully recovered and back to full strength, Thomas seizes the opportunity to reaffirm his impact as a player in one of the team's most crucial roles. His prowess in the red zone is undeniable, with a knack for finding the end zone, having scored nine touchdowns in nine games in those pivotal situations.
Blake Watson
Blake Watson stands out as a running back who evokes memories of past exceptional performers in the position, capturing the hearts of Tiger fans. Having transferred from Old Dominion, where he showcased his talent by accumulating over 2,000 rushing yards in the last two seasons, Watson brings an explosive element to the field. He possesses the ability to ignite the game's momentum, capable of breaking open plays and leaving opponents in awe. Additionally, Watson poses a threat as a versatile weapon, showcasing his aptitude for making plays out of the backfield. In his final season with ODU, he showcased his receiving skills, hauling 37 passes for 314 yards and two touchdowns.
Sutton Smith
Sutton Smith presents an intriguing possibility in the Tigers' running back rotation for the upcoming season. In 2022, Smith made his presence known, offering a glimpse of his potential for the future. One standout performance occurred during a 59-0 victory over North Alabama, where Smith showcased his abilities by rushing for 55 yards and one touchdown. Notably, he averaged an impressive 7.0 yards per carry, demonstrating his efficiency and explosiveness when given the opportunity.
Ke'Travion Hargrove
Ke'Travion Hargrove can be viewed as a longterm option at tailback for the Tigers. Hargrove transferred from Mississippi State in the month of January after spending the first half of his career with the program. According to Sports Illustrated, Hargrove saw action during the Bulldogs 2021 campaign, but did not see the field at all the following season due to running backs Dillon Johnson and Jo'quavious Marks playing key roles in the late Mike Leech's air raid offense. At Memphis, Hargrove will be joining a crowded backfield, but could be presented opportunities to showcase his skillset that made him one of the top recruits coming out of the state of Louisiana for 2021.
Show Your Support
Support the great work of the Strike 7 Sports Memphis Tigers Section by purchasing licensed NCAA fan gear. Items ranged from Memphis hats, jerseys, t-shirts, socks, and so much more. We would greatly appreciate it if you would purchase these items from the text link below. The revenue generated from today's offer goes into the funding of the Strike 7 Sports platform. Click on the link below if you are interested.