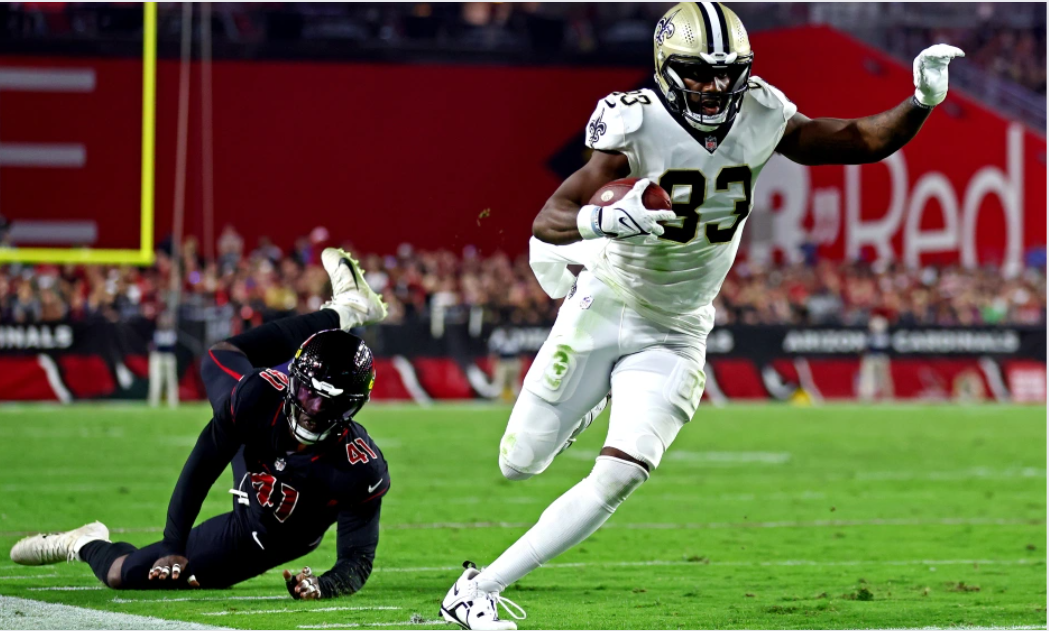 If you look up and down the Saints roster, a plethora of talent can be added to your fantasy roster this season. Even with Alvin Kamara's possible suspension, fantasy owners should strongly consider stashing the 2019 NFL Offensive Rookie of the Year Award winner. But there's one player that needs to become a priority when it comes to building your roster this season.
In the realm of fantasy football, there are always a few tight ends who manage to exceed expectations and become valuable contributors to fantasy rosters. Looking ahead to the upcoming season, Juwan Johnson of the New Orleans Saints is a player who has the potential to make a significant impact and surprise fantasy owners.
One of the factors that make Johnson an intriguing prospect is his versatility. Having made the transition from wide receiver to tight end, Johnson brings a unique skill set to the position. This versatility can open up various opportunities for him within the Saints' offensive scheme, allowing him to line up in different positions and create mismatches against opposing defenses.
Evidence of Johnson's versatility can be seen in his college career at Penn State University and Oregon. During his time in college, he initially played as a wide receiver before making the switch to tight end. His experience in both positions showcases his ability to adapt and contribute in various ways.
Another aspect that adds to Johnson's appeal is his red-zone presence. In the 2022 season, Johnson showcased his scoring prowess by finding the end zone seven times. This ability to capitalize on scoring opportunities can make him a valuable asset for fantasy managers, as touchdowns often play a crucial role in determining a player's fantasy production.
Proof of Johnson's red-zone effectiveness can be observed through his performance in critical situations. According to Pro Football Reference, Johnson had a catch rate of 75% on targets within the 20-yard line during the 2022 season. This efficiency in the red zone demonstrates his ability to make plays and contribute to his team's scoring efforts.
Moreover, Johnson's situation within the Saints' depth chart bodes well for his fantasy prospects. The lack of strong competition at the tight end position, with players like Taysom Hill and Adam Trautman not expected to command significant targets, increases the likelihood of Johnson being heavily involved in the passing game. With a potential increase in targets compared to his previous season, Johnson has the opportunity to establish himself as a reliable option for his quarterback.
The team's usage and target distribution from the 2022 season shows evidence of the Saints' tight-end situation. According to Pro Football Reference, Juwan Johnson was targeted 65 times. Johnson is efficient with his targets, recording a higher catch rate and averaging more yards per reception than Trautman and his other competitors. This evidence suggests that Johnson has the potential to emerge as the primary pass-catching tight end for the Saints in the upcoming season.
Speaking of quarterbacks, the acquisition of Derek Carr by the Saints further enhances Johnson's fantasy potential. Carr has a history of favoring and effectively utilizing tight ends in his passing game.
This was evident in his successful connections with players like Darren Waller and Foster Moreau during his time with the Las Vegas Raiders. Johnson stands to benefit from Carr's tight-end-friendly approach, as the quarterback has consistently shown a willingness to target and involve his tight ends in the passing attack. Evidence of Carr's affinity for targeting tight ends can be seen in his past statistics and performances.
Breaking out during the 2019 season and then again in his career 2020 season, Darren Waller, Carr's primary tight end target, recorded 90 receptions for 1,145 yards and three touchdowns and 107 receptions for 1,196 yards and nine touchdowns, respectively. This breakout for Waller highlighted Carr's ability to utilize tight ends as key contributors in the passing game. Johnson's skill set and potential chemistry with Carr make him a compelling option to benefit from Carr's knack for involving tight ends.
"It honestly felt like we've been working with Derek for quite a while now, and so OTAs was really good, really smooth," Johnson told SiriusXM NFL Radio. "He's giving me more of a feel because he's an older guy. He's giving me a lot of Drew. Going into the huddle, commanding the huddle. The guys gravitating to him. These are things I've seen how Drew conducted the huddle. How Drew conducted the offense and things like that, so it gives me similar feels and so I'm really excited about what Derek has and how he's going to move this offense."
Considering Johnson's average draft position (ADP), he is undervalued in many leagues. His ADP falls in the mid 140-160 range, ranking him around tight end 16-18. However, with his potential for increased targets, red-zone proficiency, and the favorable quarterback situation, Johnson has the potential to outperform his ADP and become a significant contributor to fantasy rosters.
In conclusion, Juwan Johnson of the New Orleans Saints possesses the qualities and situation that make him an intriguing fantasy prospect for the upcoming season. His versatility, red-zone presence, and the lack of competition at the tight end position within the Saints' roster provide a favorable environment for him to thrive.
The evidence of his versatility and red-zone effectiveness from his college and NFL performances further solidify his potential. Additionally, the history of Derek Carr's success with tight ends adds credibility to the notion that Johnson can benefit from their partnership. While undervalued in drafts, fantasy managers should consider targeting Johnson as a potential steal who could exceed expectations and become a valuable asset in pursuing fantasy glory.
Show Your Support
Support the great work of the Strike 7 Sports Saints Discussions Section by buying licensed NFL fan gear. Items ranged from Saints hats, jerseys, t-shirts, socks, etc. We would greatly appreciate it if you would buy these items from the text link listed below. The revenue generated from today's offer goes into the funding of the Strike 7 Sports platform. Click on the link below if you are interested.