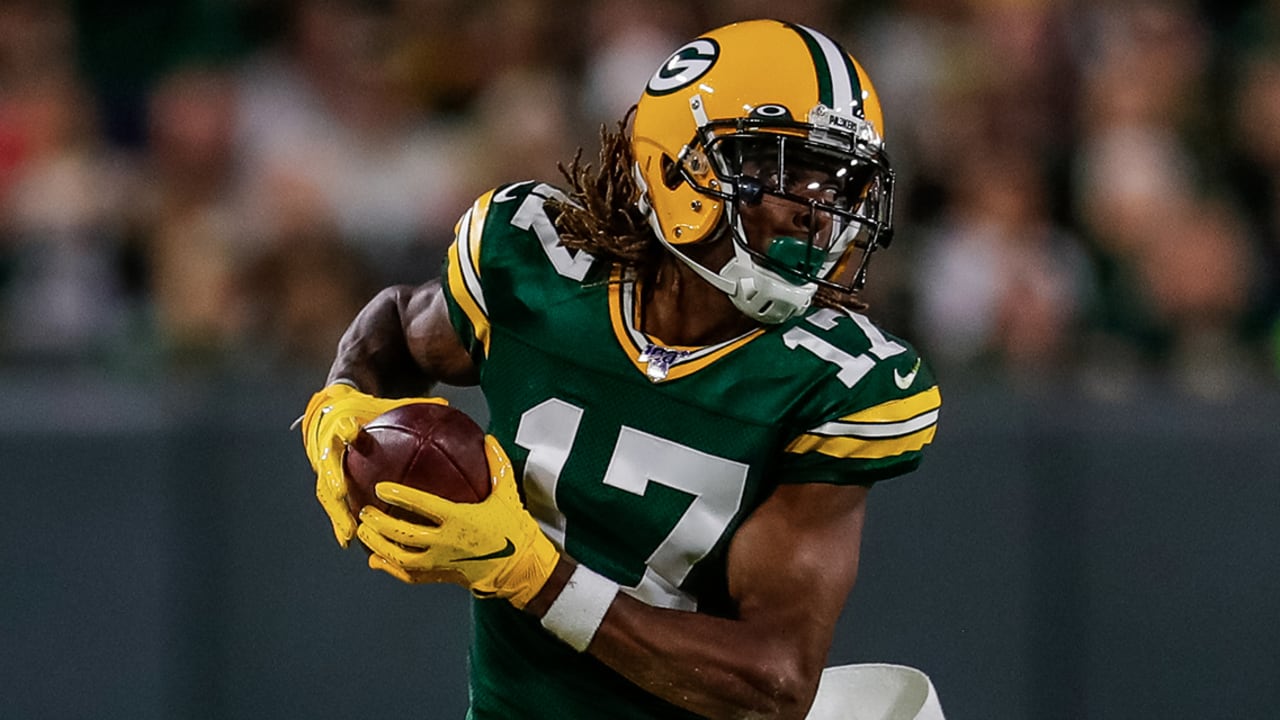 It has been an offseason of many downs compared to ups for the Green Bay Packers organization. It all started on the night of the 2021 NFL Draft when league insider Adam Schefter dropped one of the biggest offseason rumors that the league has witnessed in years. Schefter stated that the 2020 league Most Valuable Player, Aaron Rodgers, had demanded to be traded from the Packers. Based on that report alone, there were many other layers to the story that Schefter released to the public from other league insiders.
As of right now, Rodgers has not been seen in any of the Packers' offseason activities. However, Green Bay's front office has not caved in to the demands of what the future Hall of Famer is seeking regarding being traded. All-Pro wide receiver Davante Adams recently spoke about the ongoing situation in Green Bay and how it could affect his status with the Packers going forward.
"That's the plan, man," Adams told Graham Matthews of Bleacher Report. "I'm not planning on going anywhere." In 2020, Adams had one of the best seasons of his career when he finished fifth in the league in receiving yards (1,374) and number one in touchdowns by a wide receiver (18). He is also going into the last year of a deal that will pay him $12.25 million in base salary. Despite what is occurring between Rodgers and the Packers front office, Adams remains committed to Green Bay.
"[The plan is] only one piece of it, though," he added. "Obviously, the quarterback situation helps it, but the stars got to align across the board as far as contractually. We'll figure all that stuff out and let it happen. I'll be at training camp like I said regardless, we're going to play the season, and we'll see how all of that pans out."
Aside from bringing Rodgers back into the fold, signing Adams to another deal with the franchise has to be the top priority for the Green Bay front office. The talk around the organization is that Rodgers does not have enough weapons on offense that would allow him to advance to another Super Bowl. If the Packers fail not to re-sign Adams, it will play into the narrative that has already hovered over the historic franchise.
"It's been a very gradual growth," said Adams. "That's kind of how the true connection goes between a quarterback and a wideout. We let this thing happen organically, and I'd say we took some big steps throughout the way, but to get from where I was when I first got here to where I am with him now, it's a huge difference, and it's a lot of focus and off-field experiences and stuff that brought us even closer together. We're closer now than we ever have been, and I think that it reflects on the field."
Could there be a situation where Adams follows Rodgers to another team? The two have grown into a relationship that extends off the field as well. Even though Adams expressed that he would like to remain in Green Bay for the long haul, there will be many variables at play. That's why the development of backup QB and 2020 first-round pick Jordan Love is imperative.
Because if Rodgers is not in training camp, nor in time for the team's season opener versus the Saints, it will be Love that will be Green Bay's man under center. Based on how he produces in Rodgers' absence, will determine if the Packers will commit to Adams in the long run.
If Green Bay decides to move on from three-time MVP finally, they can receive a substantial amount for Adams as well. As for now, Adams's heart is in Green Bay, but if things take a turn for the worst, once the season starts, his future with the team could be in doubt.
Support the Strike 7 Sports platform's growth by heading over to Fanatics.com and purchasing officially licensed gear from the National Football League. Each purchase made through the text link below goes into the funding of the Strike 7 Sports brand. To proceed, click on the link below and enjoy shopping over at Fanatics.
Photo courtesy of Packers.com.