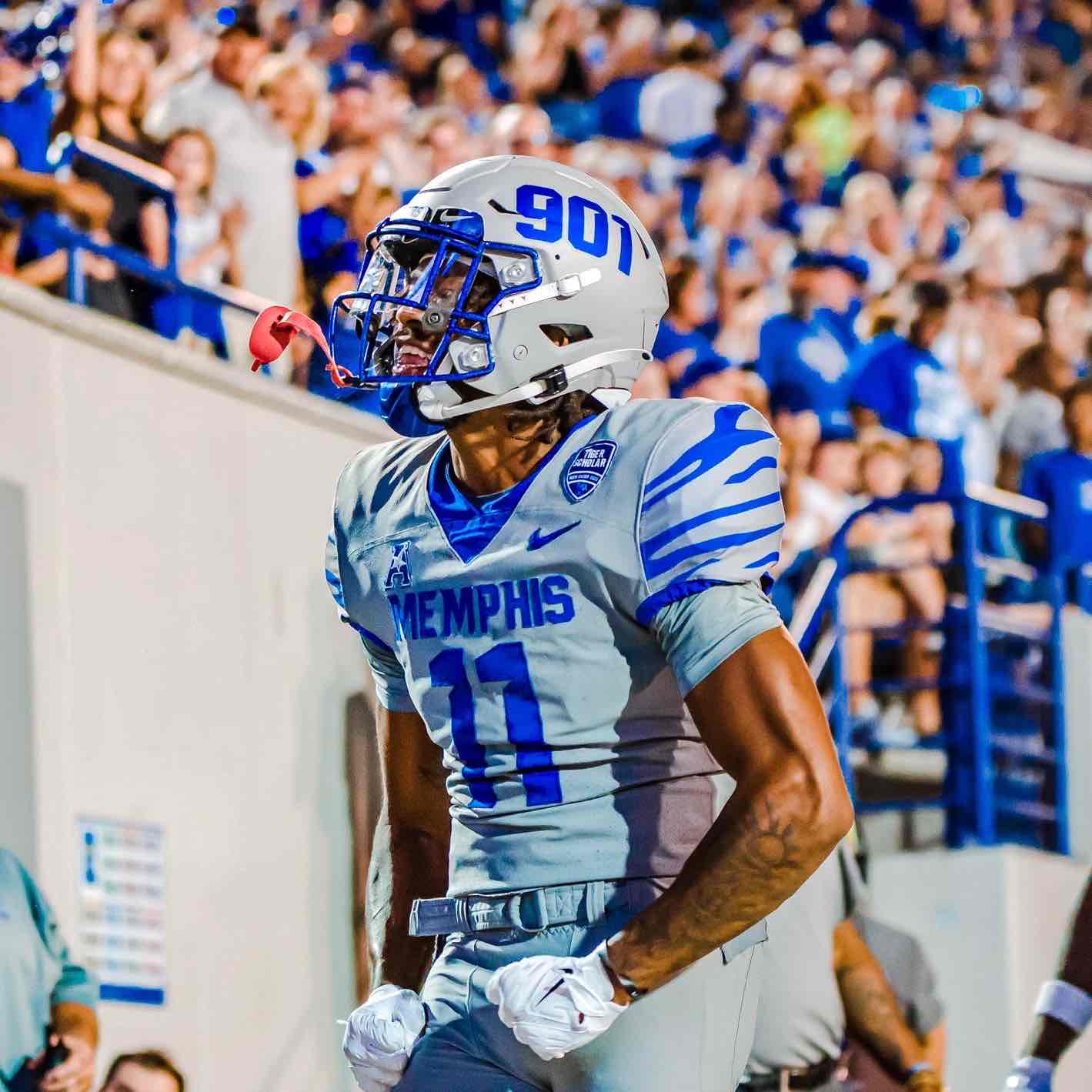 After Memphis lost Calvin Austin lll to the ranks of the National Football League, they decided to fill the void left behind by utilizing a receiver-by-committee approach. The production was solid, but it did not result in the Tigers achieving their goal of competing for an AAC title. Immediately after the season ended for Memphis, their top two leading receivers Eddie Lewis and Javon Ivory, entered the transfer portal. Lewis led the Tigers with 615 yards and seven touchdowns, while Ivory finished third on the team with 586 yards and two scores.
Like the running back position, wide receiver is another component that plays into Memphis football's "Weapon U" mantra. The receivers' coach position was among several areas that saw turnover once the 2022 season ended.
Memphis parted ways with David Glidden as their receivers' coach and hired Larry Smith for the same position. Smith spent seven seasons with the University of Alabama-Birmingham (UAB) as the team's wide receivers coach. Under the guidance of Smith, UAB fielded an efficient wide-receiver duo. Receivers Trea Shropshire and Tejhuan Palmer earned All-CUSA honorable mention honors last season, with Shropshire leading the team with 41 receptions, 923 yards, and six touchdowns.
Palmer had 30 receptions for 479 yards and two touchdowns. In 2021, he led the nation with 26.04 yards per catch. Coach is also no stranger to winning at the highest level as well. He was a part of two Conference USA championship teams in 2018 and 2020 while at UAB. "I'm extremely honored and excited for this opportunity that Coach Silverfield and the University of Memphis have provided me with," Smith said in a release. "I'm ready to get to Memphis and work."
Smith's top priority will be to get the Memphis receiving group back to a level where they were one of the most explosive elements in the AAC. They don't have to revert to 2019 levels, but they must be efficient enough to where opposing defenses must account for every wideout that lines up on the field. So, who are the personnel projected to have huge roles in the Tigers' receiver group?
Joseph Scates
In his inaugural season donning the Tigers' colors, Joseph Scates showcased immense potential within the team's offensive scheme. Despite being a newcomer, he swiftly made his mark by accumulating 412 receiving yards and recording four touchdowns, placing him fourth in the team's receiving hierarchy. Standing tall at 6'3″ and weighing in at 205 lbs, Scates possesses the versatility to excel in various facets of the passing game. With his lightning-quick ability to find the end zone, he consistently poses a formidable threat to opposing defenses. His dynamic style of play harkens back to the explosive prowess witnessed in past Tigers wide receiver standouts, leaving fans eagerly anticipating his future exploits.
Tauskie Dove
Whenever a G5 program can lure talent away from powerhouse conferences such as the SEC, it gives them a significant edge over teams within their league. Memphis was able to receive a commitment from wideout Tauskie Dove. Dove spent his first four seasons with the Missouri Tigers before deciding to enter the transfer portal at the end of the 2022 campaign. During his time at Mizzou, Dove steadily progressed as a productive wide receiver until last season, when his numbers declined.
His numbers dropped from 38 catches, 576 yards in 2021, to only 16 catches, 240 yards in 2022. At Memphis, Dove will have an opportunity to emerge as one of the AAC's top wideouts with QB Seth Hennigan under center. Dove brings to the table for Memphis a skill set they did not have last season. The Denton, Texas native can make contested catches and play as a weapon in the slot or outside.
DeMeer Blankumsee
DeMeer Blankumsee does not present the size advantage like Tauskie Dove or Joseph Scates, but he will become an essential piece for what the Tigers want to establish on offense. He's a player that the Tigers are all too familiar with due to him playing with conference foe Tulsa. He transferred to Memphis after spending two seasons with the Hurricanes. His style of play resembles the explosive capabilities of former Tigers receiver Calvin Austin lll. Blankumsee is pretty much a jack-of-all-trades type of player. He can impact the game in multiple ways, such as kick/punt returner, slot receiver, or a threat to make things happen from deep.
Show Your Support
Support the great work of the Strike 7 Sports Memphis Tigers Section by purchasing licensed NCAA fan gear. Items ranged from Memphis hats, jerseys, t-shirts, socks, and so much more. We would greatly appreciate it if you would purchase these items from the text link below. The revenue generated from today's offer goes into the funding of the Strike 7 Sports platform. Click on the link below if you are interested.