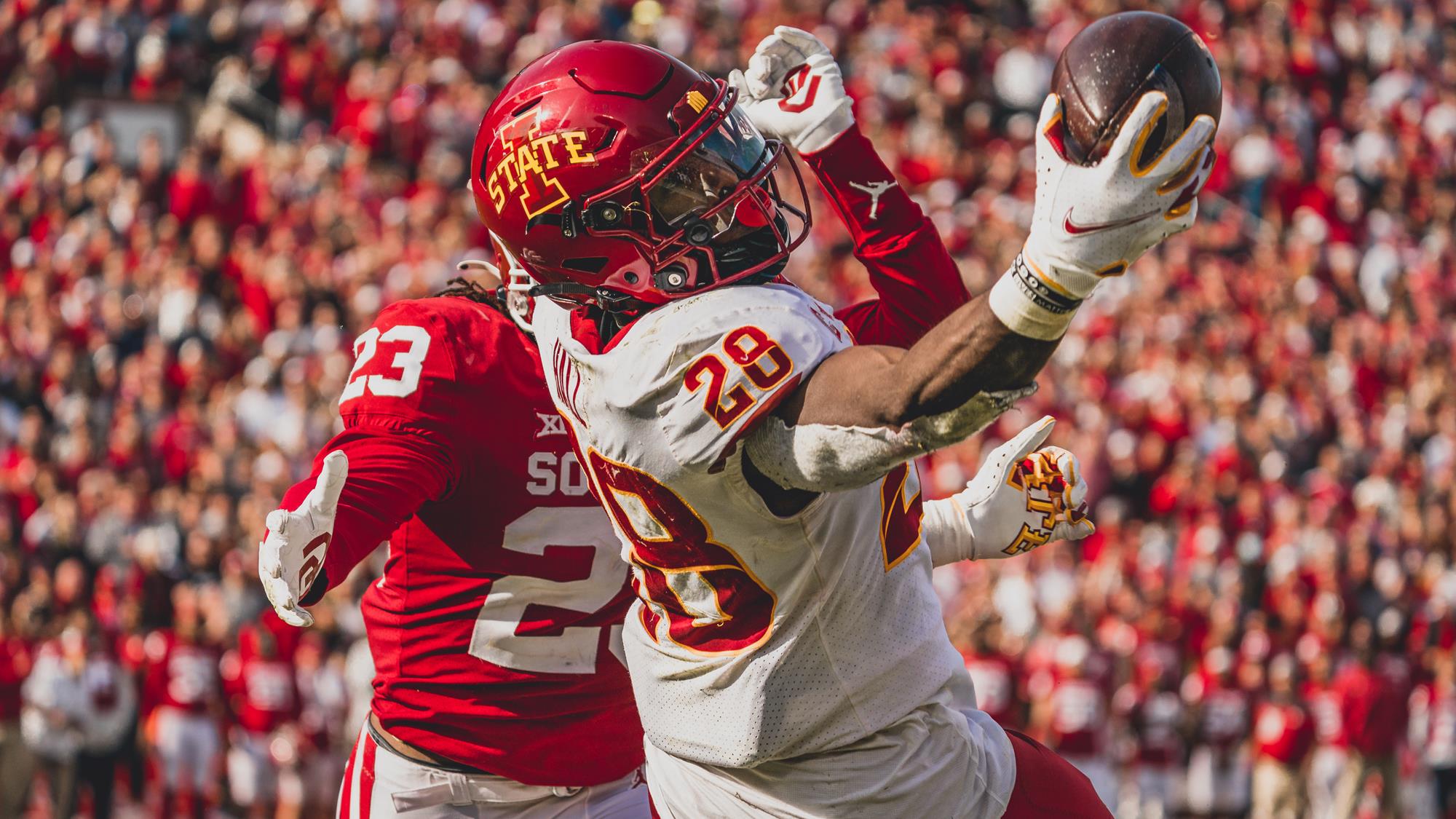 Breece Hall had a terrific season at Iowa State. Hall led the Iowa State offense primarily as an RB and receiver. After going for 1,000+ yards, including 897 rushing yards and ten total touchdowns in his freshman year, Hall became the face of Iowa's offense in his sophomore year. In 2020 (sophomore year), Hall rushed for 1,572 yards with an average of 5.6 while scoring 21 touchdowns; he also caught 180 yards and scored two receiving touchdowns.
In 2021 Hall rushed for 1,472 yards at an average of 5.8 (career-best), scoring 20 touchdowns and caught 302 yards on 36 receptions. Hall's ability to carry the offense as a running back clearly makes him a workhorse and an excellent NFL prospect. He carried the ball 512 times for 3,000+ yards in his last two years at college. Hall can be easily transitioned into a leading NFL running back. Next, we will discuss what teams can benefit the most from him.
Breece Hall's Skill Set And Scouting Report
Breece Hall stands just above 6 feet, and at the combine, he ran a 4.39 at the 40-yard dash. Hall's scouting report shows he is a legit three-down running back who can run and receive the ball equally well. His football IQ is outstanding, and he can wait in between the runs for holes opening. He can also utilize his blocks around him to gain extra yards. One of Hall's most impressive qualities is his quick jump cuts with quick and tight footwork. Moreover, he can create separation by quick bursts and then maintain speed for the long runs.
Of course, he also can be a dual-threat with good catching ability. Hall was a Big 12 Conference Offensive Player of the Year two times in 2020 and 2021. According to Hall's scouting report, the only downside is that he cannot pass protect in most of the schemes that would require some work in the NFL.
Teams That Can Benefit From Hall's Skillset
Houston Texans
Current RBs: Marlon Mack and Rex Burkhead
The Houston Texans needed to have a solid running back for a while now. Moreover, they are in rebuilding mode, so it's more reasons to draft Hall as their primary RB position. As of now, Texans are being led by Marlon Mack and Rex Burkhead; both of them are good but in no way near-elite running backs. Houston have the rare opportunity with enough draft picks and capital to get as many good players as possible.
The Texans do need a very good quarterback; Davis Mills showed some promise, but it wasn't nearly as good as DeShaun Watson, and based on that, the Texans might draft a quarterback. However, regardless of what happens at the quarterback position, the Texans need to draft a running back. No one expects the Texans to have a complete turnaround, but they should do their best and provide Hall's best possible offensive environment if they end up drafting him.
New Orleans Saints
Current RBs: Alvin Kamara and Mark Ingram
Typically, you wouldn't think the Saints would have any problems heading into the 2022 NFL season. However, with Ingram going into his 12th season and Kamara having legal issues, it's a good time to draft a decent running back to future-proof the team. Kamara has been sensational through his time with the Saints and carried the team on his back both as a rusher and receiver.
However, after having some legal issues for which Kamara was arrested in February and has an uncertain future, picking Breece Hall would make a lot of sense. The system that's in place will also suit Hall, who is used to a somewhat similar offensive scheme at Iowa State. Regardless of the offensive strategies, Hall can help the Saints, especially in the absence of Kamara.
Buffalo Bills
Current RBs: Devin Singletary and Zack Moss
The Bills seem like a competent team who can easily win the Super Bowl. They have an elite quarterback, a good wide receiving core, and a great defense. Their kicking and special team are also perfect. However, their lack of running game and quality running backs are the only downsides that stop them from becoming the best team.
Devin Singletary and Zack Moss are leading the Bills rushing attack. Both of them are solid running backs with their own sets of skills. However, both have failed to provide any legitimate production. So it doesn't seem unobvious that the Bills need a good running back, and Hall might be the answer.
From Hall's perspective, it would be the best option to team up with Josh Allen in his rookie year in the NFL. Hall will also provide peace of mind to Allen, who can throw short passes to keep the play going. In addition, there are already designed plays for Singletary, and many analysts believe Hall can benefit from these plays more than Singletary, especially the stretch plays. All in all, Hall can be a great fit in the Bills' offense, and based on the projections, the Bills will be in a perfect position to draft him.
Atlanta Falcons
Current RBs: Cordarrelle Patterson And Mike Davis
Watching Cordarrelle Patterson break into big plays was pure excitement last year. Patterson was the only positive thing in the Falcons' offense. He is back with a contract extension. However, he is not the three-down running back, nor can he become one. Falcons need a good, viable, and reliable running around, and Breece Hall can be the answer.
Atlanta is another NFL team that is in its rebuilding stage, especially since the face of the Falcons, Matt Ryan, has left the team. So, drafting an up-and-coming running back will only help the Falcons in their rebuilding process. Hall can become the RB1 in Atlanta, and Patterson can be used more freely in different schemes of things.
Los Angeles Chargers 
Current RBs: Austin Ekeler and Joshua Kelley
Austin Ekeler has become one of the primary weapons in the Chargers' offense. In 2021, Ekeler posted a career-best in rushing yards, receiving yards, receptions, and touchdowns. However, how would things look for the Chargers' offense if Ekeler misses time with an injury? Tailback Joshua Kelley has not shown that he is a player that can provide the same type of production as Ekeler. Therefore, the idea of the Chargers selecting Hall would make a lot of sense. His game resembles what Ekeler can do when he is in the lineup.
Overall, Hall will have to develop his pass protection if he wants to go far in the league. It's a tough competition with up-and-coming players every year, especially for the running backs. Hall has impressive footwork, size, stamina, and athleticism, which positions him as an RB1 with any team. Many have compared Hall with Le'Veon Bell and Arian Foster because of his wait-and-see ability. We know that being drafted into a team with bad playbooks can hurt players, and this is incredibly relatable with the running backs.
Show Your Support
Support the Strike 7 Sports platform's growth by heading to Fanatics.com and purchasing officially licensed gear from the National Football League. Each purchase made through the text link below goes into the funding of the Strike 7 Sports brand. To proceed, click on the link below and enjoy shopping over at Fanatics.