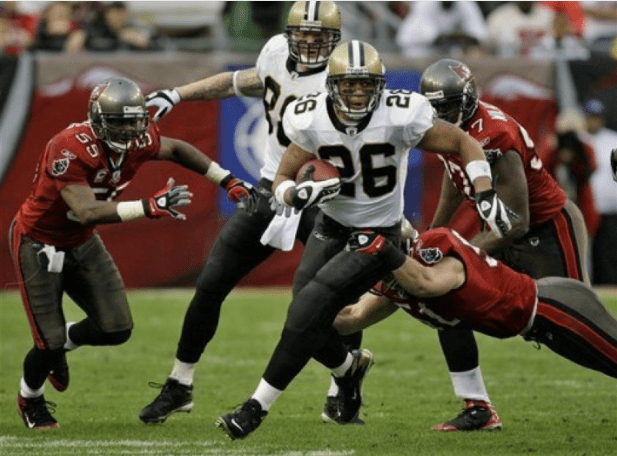 The New Orleans Saints have been in existence for almost 54 years in the National Football League. During their time of playing football, there have been seasons where the team's running back position was at the absolute best at what they did. Strike 7 Sports Saints Discussions Section will provide a listing of the best seasons ever by a Saints running back during their time with the team. No matter which regime has been in charge of the group, the Saints have always had concrete production from the running back position.
1. Deuce McAllister: 2003, Stats: 1,641 rushing yards, 516 receiving yards, 351 carries, and eight rushing touchdowns. 
By far, former tailback Deuce McAllister had the best three-year stretch for a Saints running back.  In the previous season, he would rush for 1,388 yards and 13 rushing touchdowns.
The 2003 season would be by far one of the best rushing campaigns by a Saints running back in team history. McAllister would rush for 1,641 yards and gained over 516 yards receiving thru the air. McAllister would be the first-ever running back to gain over 2,000 yards from scrimmage as a New Orleans Saints rusher.
2. Darren Sproles: 2011, Stats: 603 rushing yards, 710 receiving yards, 1,089 kick-return yards, and ten total touchdowns.
After spending over six seasons with the now Los Angeles Chargers, Darren Sproles decided to take his talents to the New Orleans Saints. The 5'6 tailback out of Kansas State arrived in New Orleans for the 2011 season. The 2011 campaign became one of the most memorable seasons in team history for Saints fans. Sproles would play a significant part in why that particular season was so special.
During that season, he set career highs with 603 yards rushing (6.9 yards per carry) and 710 yards receiving and a combined total of 9 touchdowns. Sproles became the first player in NFL history with 2,200+ all-purpose yards in 4 different seasons (2008–2011). He would then finish the 2011 season with an NFL record 2,696 yards all-purpose yards.
3. The Duo of Alvin Kamara and Mark Ingram: 2017, Stats: Ingram: 1,124 rushing yards, 416 receiving yards, and 12 rushing touchdowns. Kamara: 728 rushing yards, 826 rushing yards, and 13 total touchdowns. 
The 2017 season was another memorable year for the Saints running back position. The combined duo of Alvin Kamara and Mark Ingram had one of the best years's ever for a one-two punch backfield. Both players combined for 1,500 all-purpose yards and a total of 23 total touchdown scores. No other running back duo from the past or the present has been able to accomplish those feats that we witnessed by those two dominant players at their position.
4. George Rogers: 1981, Stats: 1,674 rushing yards, 378 carries, and 13 rushing touchdowns.
When the Saints selected George Rogers with the first overall pick in the 1981 NFL Draft, he was the team's first-ever Heisman Trophy winner join the team coming out of college. Roger's first season with the Saints was an exceptional one as won the league's rushing title as a rookie. At the time, Rogers was in a company among great rushers such as Walter Payton, Tony Dorsett, and Earl Campbell.
5. Alvin Kamara: 2018. Stats: 883 rushing yards, 709 receiving yards, and 18 total touchdowns. 
After his impressive first season as a Saints running back in 2017, Alvin Kamara would follow that up by having a stellar campaign in 2018. He became one of the Saints' primary options on offense while his fellow teammate, Mark Ingram, served a four-game suspension. Kamara would similarly finish the 2018 season to the way it ended the 2017 rookie season. He eclipsed the 1,500 all-purpose yards totaled once again and were very productive in the scoring department by putting up a total of 18 touchdown scores.