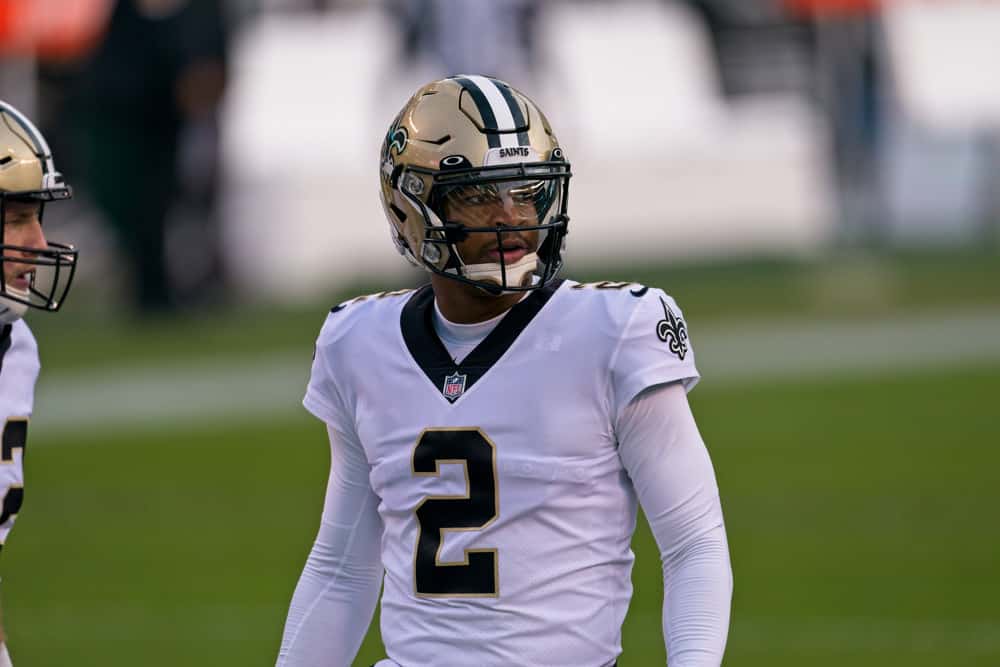 When quarterback Jameis Winston decided to sign with the New Orleans Saints in 2020, he wanted to improve in critical areas that make a signal-caller successful.
"Being a part of the New Orleans Saints, being a part with Drew Brees, Taysom Hill, Sean Payton, coach Joe Lombardi, coach Pete Carmichael. When you think about that room, that's like a Harvard education in quarterback school," Winston said on an Instagram Live video. "I wanted to put my ego aside, put the money [aside], think about my family, think about my career. [There] was no better position than to be in the same room with someone that I've really looked up to, someone that I've admired since I've been playing this game in Drew Brees." The former number one overall pick out of Florida State saw limited action during his first year as one of the Saints' quarterbacks on the roster.
Going into his second year with the team, he beat out fellow teammate Taysom Hill during training camp for the right to become Drew Brees' heir apparent. Winston had a few ups and downs as he became the Saints' starting quarterback. However, he led the Saints to a 5-2 record. Winston's season would end after a horse-collar tackle by former Buccaneers teammate Devin White. Winston landed awkwardly and tore his ACL.
Winston's 5-2 record under center was a small sample size of what could have happened if the illegal horse-collar tackle by White did not occur. Was Winston's 5-2 record enough to convince new head coach Dennis Allen that he is more than capable of leading the Saints into a new era of football? Some teams need better options at the quarterback position outside of the Saints realm.
Teams interested in Winston will take into account the knowledge he gained under the guidance of Brees, Payton, and Carmichael. Saints fans need to understand that a cap-friendly deal may not be enough to keep Winston in New Orleans despite having Carmichael back as the team's offensive coordinator. If Winston believes that he is worth more than what the Saints are offering combined with becoming a starter once again, he will gladly move on. Let's take a look at four teams that could pursue the services of Winston if New Orleans decides to go in a different direction at the quarterback position.
1. Tampa Bay Buccaneers
Tom Brady took over for Winston and led the Tampa Bay Buccaneers to their second Super Bowl title in franchise history with a few additions to the roster. Now that Brady has retired, could a reunion with the Bucs former QB be in the works? Based on current reports, the Buccaneers have no plans of starting from scratch in the post-Brady era. A more mature and polished Winston can keep the Bucs back into Super Bowl contention.
2. Pittsburgh Steelers
A quarterback must have some key attributes to survive in the highly competitive AFC North. They must have an arm to get the ball down the field under challenging conditions in venues like MT&T Bank Stadium, Heinz Field, and FirstEnergy Stadium. Winston has those skillsets needed to be a viable option at quarterback for the Pittsburgh Steelers. Like Tampa Bay, the Steelers will be replacing a legend in future Hall of Famer Ben Roethlisberger.
3. Washington Commanders
"You've got to look at all avenues, and then you've got to kind of predict and look at which ones intrigue you and then go from there." "Nothing's out of the question." Washington Commanders head coach Ron Rivera stated during a session with the media in January. If they miss out on trading for big names such as Aaron Rodgers and Russell Wilson, you can expect Rivera and the Commanders front office to shift their attention towards pursuing Winston.
The third-year head coach made the mistake of not correctly addressing his quarterback room going into the 2021 season. The Commanders paid dearly for it by not repeating as NFC East champions. Rivera cannot allow that error to occur again. Without question, Winston is better than any quarterback that is currently on the Commanders roster right now.
4. Denver Broncos
Do you know what's interesting about the Denver Broncos? They have not successfully drafted a legitimate option at the QB position since acquiring John Elway from the Baltimore Colts in 1983. Elway was taken number one overall by Baltimore but had no intentions of playing with the team. However, the team has gained a reputation for signing big-name quarterbacks in free agency like Peyton Manning. Reports have been swirling for weeks that the Broncos are positioning themselves to trade for Green Bay Packers star QB Aaron Rodgers. The team has taken steps to make the trade happen by hiring a coach that Rodgers has spoken very highly of, such as Nathaniel Hackett.
However, Green Bay is trying its best to bring back the four-time league MVP. ESPN has reported that the Packers have asked Tom Clements to come out of retirement to become the team's quarterback coach. Rodgers is a huge fan of Clements and credits him with the development early in his career. Bringing back Clements will not be the only move Green Bay will make to convince Rodgers to stay with the team. If they are successful with their efforts, the Broncos could be a team that gauges the interest of Winston. He would significantly be an upgrade over last year's starter, Teddy Bridgewater.
Get the latest stories on the Saints directly to your inbox by signing up for the Strike 7 Sports Saints Discussions Newsletter. Sign up here.
Show Your Support
Support the great work of the Strike 7 Sports Saints Discussions Section by purchasing licensed NFL fan gear. Items ranged from Saints hats, jerseys, t-shirts, socks, and so much more. We would greatly appreciate it if you would purchase these items from the text link listed below. The revenue generated from today's offer goes into the funding of the Strike 7 Sports platform. Click on the link below if you are interested.
Photo by Andy Lewis/Icon Sportswire.