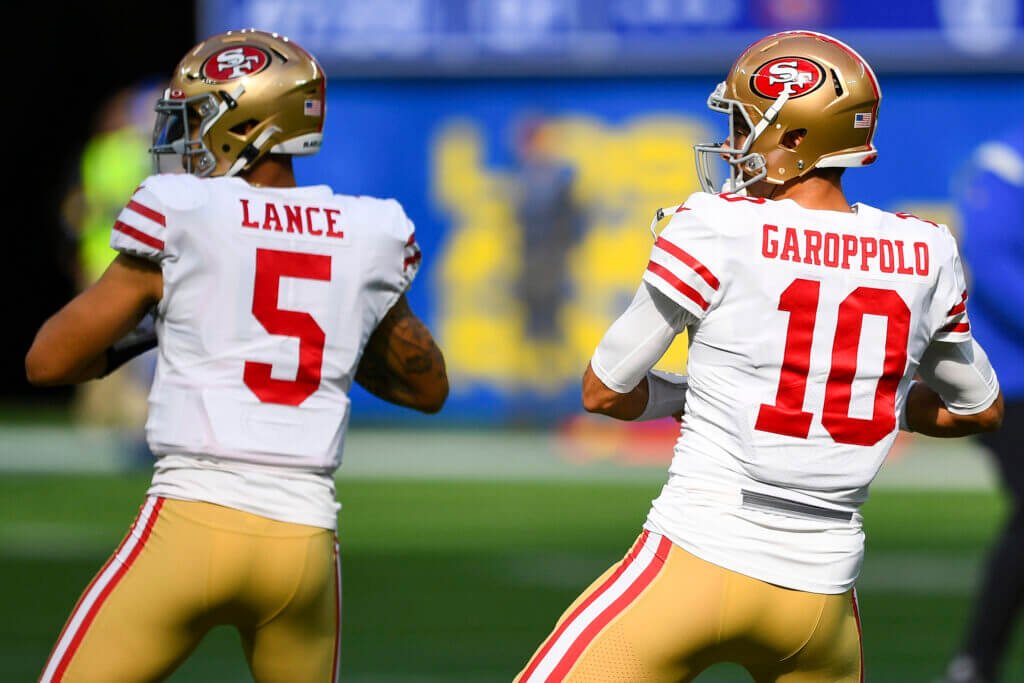 The 49ers have a big decision to make this offseason. First, they need to decide who their starting quarterback will be this season. They have two solid choices to choose from their veteran starter in Jimmy Garoppolo and a potential star in Trey Lance. 
They have all the pieces to win a Super Bowl except for an elite quarterback. Everyone knows Jimmy Garoppolo will probably never be an elite quarterback. The big question is can Trey Lance become an elite quarterback. The only way to find out that answer is to play him, but if Kyle Shanahan (the 49ers head coach) felt like he was ready, he would have probably replaced Jimmy Garoppolo last season. These are the tough questions Shanahan will have to answer before the season starts. 
Kyle Shanahan had some interesting comments about his team's quarterback situation. 
"That's why we looked into trading Jimmy. Because we obviously believe Trey can be a starter, and we're ready to do that. But if we can't upgrade our team in another way, we're not going to just get rid of a good quarterback because we have other quarterbacks on the roster. Quarterbacks are really hard to come by, some teams don't have any at all, and the fact that we have three that we're happy with, that is a good thing. Jimmy's a good player that we all really like as a person and as a teammate, and we're going to wait to see whatever helps the Niners the most", explained Shanahan.
Kyle Shanahan made some really good points about the team's quarterback situation. 
Are the 49ers Super Bowl Contenders With Trey Lance at QB?
The most significant factor determining if Lance should be the 49ers' starter over Garoppolo will be his potential to keep the team in championship contention. San Francisco has played in the NFC championship game with Garoppolo for two out of the last three seasons. While he has been the 49ers starting QB, the team has succeeded despite him and not because of him. If he stays within the script of the play calling, the 49ers will win football games.
However, when defenses can disrupt the rhythm of Shanahan's offense, Garoppolo has proven that he is not the guy that can go off script and win important games. This is where Shanahan may have to make the tough decision and name Lance the starter over Garoppolo. In today's landscape, a quarterback must be willing to strive outside of their comfort zone.
When their defenses cannot dictate the game's flow, the quarterback must control and dominate the opposing team—holding on to Garoppolo as the starter could stifle how dynamic the 49ers could become with Lance as the starter. San Francisco may have to sit Garoppolo in 2022 until another team's starter go down with an injury.
Once that occurs, the 49ers may find a suitor to conduct trade and receive fair compensation. Chiefs head coach Andy Reid dealt with a similar situation a few years ago. Kansas City moved up to select Patrick Mahomes in the 2017 NFL Draft. Reid decided that Mahomes should sit during his rookie year.
Alex Smith remained the Chiefs starting QB. At the start of the 2018 offseason, the Chiefs aggressively found a team willing to make a trade for Smith. As a result of the transaction, the Chiefs have played in four consecutive AFC championship games and two Super Bowl appearances, including a title run in 2019.
Show Your Support
Support the Strike 7 Sports platform's growth by heading to Fanatics.com and purchasing officially licensed gear from the National Football League. Each purchase made through the text link below goes into the funding of the Strike 7 Sports brand. To proceed, click on the link below and enjoy shopping over at Fanatics.