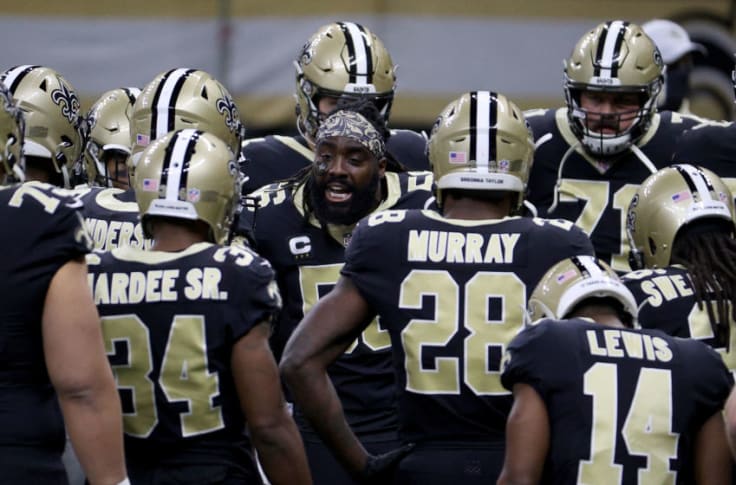 Today is the start of the league's new year, and the New Orleans Saints were able to get within compliance with the NFL's salary cap threshold, which is at $182.5 million. During the last couple of weeks, a lot has transpired within the football team.
Future Hall of Fame QB Drew Brees announced that he was retiring from football in an Instagram post shared on Sunday. Key contributors from last year's club, such as Emmanuel Sanders, Trey Hendrickson, Janoris Jenkins, Josh Hill, and Malcolm Brown, will be playing with new teams next season.
The decision to move on from the players listed was due to salary cap-cutting measures for 2021. Other notable players that will not be a part of the Saints' nucleus next season are Jared Cook, Kwon Alexander, Thomas Morstead, and Justin Hardee.
Without question, the players that have moved on from the Saints organization performed exceedingly well in their assigned tasks. But for the New Orleans, their key objective is to retain as much continuity with their core players and retool positions that can regress in 2021. The absence of Drew Brees will be a significant void to fill going forward.
But that's why the team needed to make a solid effort to bring back as many impact players as possible to be a part of the new year. Saints General Manager Mickey Loomis recently spoke on NFL's Sirius XM Radio Show. "We're not going to be a significant player in this free agency," Loomis said. "We're going to be focused on keeping our own team together and get some guys extended that have been with us."
While that may be true, the Saints never make big splashes within the opening week of free agency. New Orleans tends to move around the second week and then make a few additions to the team as training camp approaches.
The Retooling Phase
While Taysom Hill may have more experience knowing the nuances of the Saints offense than Jameis Winston, there were still situations where he lacked the tools needed to be successful on the field. Adding Winston to the fold adds more fuel to the fire for Hill's desire to be better at the position. Out of all the functions that need to be addressed for New Orleans, the quarterback position will require the most significant retooling.
Even though Brees continued to perform at a high level, the Saints' offense stalled in critical situations such as postseason matchups. Brees could not carry the team at the most important, which is in the playoffs and beyond. Quarterbacks such as Winston and Hill possess traits that Brees simply no longer have. Whoever becomes the Saints' next starting QB, their skillsets will affect the New Orleans offense in ways we have not seen in years.
Addressing the void at quarterback doesn't mean that the Saints' potential problems will end. Other team areas will need to step in and contribute similarly to the players that left the team, such as Janoris Jenkins, Marcus Brown, and Emmanuel Sanders.
Like replacing Brees, New Orleans must improve positions such as cornerback, defensive tackle, and linebacker. Without a shadow of a doubt, the Saints will look different without Drew Brees under center. But to maintain their competitive edge, establishing continuity and retooling must begin soon. 
Support the great work of the Strike 7 Sports Saints Discussions Section by purchasing licensed NFL fan gear. Items ranged from Saints hats, jerseys, t-shirts, socks, and so much more. We would greatly appreciate it if you would purchase these items from the text link listed below. The revenue generated from today's offer goes into the funding of the Strike 7 Sports platform. Click on the link below if you are interested.
New Orleans Saints Fan Gear Offers at Fanatics.com
Photo courtesy of Getty Images.