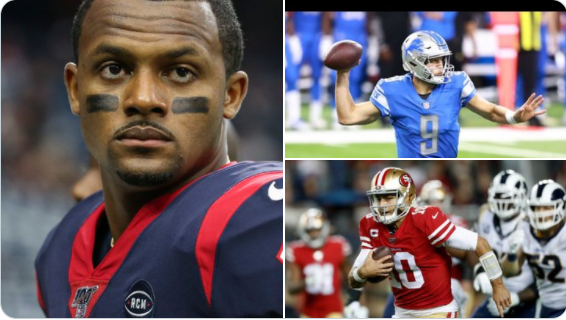 The 2020 NFL season is almost over, with two of the best quarterbacks going to battle for the one last win to conclude this season. These both quarterbacks are, of course, Tom Brady and Patrick Mahomes. They are facing each other in Super Bowl 55. These two quarterbacks are both the biggest names in American football.
Yet, analysts, sports media personalities, sports journalists, and fans seem to be interested in other quarterbacks who have nothing to do with the Super Bowl. If you have been checking Twitter feed, listening to NFL podcasts, or reading NFL-related news, then you heard Deshaun Watson, Mathew Stafford, and even Aaron Rodgers's name more than a few times. Then, there are names as Dak Prescott, Sam Darnold, Jimmy Garoppolo, Matt Ryan, Cam Newton, Ryan Fitzpatrick, Carson Wentz, Mitchel Trubisky, and Jared Goff.
All of were team's starting quarterbacks in the 2020 regular season though Fitzpatrick was replaced with Tua Tagovailoa (whose role, by the way, is also in jeopardy just after one season). If Drew Brees retired, there would be a position battle in Saints between Winston and Hill. It's widely speculated that as many as 16 teams will have different quarterbacks in the 2021 season. We haven't seen this much frenzy related to NFL quarterbacks in the last 2+ decades.
Many analysts believe that this may have been started by Tom Brady and Philip Rivers going to other teams and finding success. This looks the case explicitly when you observe Watson's situation in Houston, Stafford at Detroit, and Aaron Rodgers in Green Bay.
Brady has inadvertently relayed the message to all these quarterbacks that moving from your original franchise team is not all bad. We will discuss the situations which may have caused this anxiousness and uneasiness among these quarterbacks and their possible landing spots. We will discuss the top 10 possible quarterback shuffles for the year 2021.
1. DESHAUN WATSON
Watson was the passing leader in the 2020 regular season with 4,823 yards and 33 touchdowns against just seven interceptions. His 112.4 quarterback rating is 2nd best only behind potential MVP Aaron Rodgers. Despite getting a massive contract in the 2020 season, Watson isn't happy in Houston. Perhaps he requested a trade because there was no support from him in Houston, and they traded one of the best wide receivers to the Arizona Cardinals; then during management change in the Texans organization, Watson wasn't consulted, and I think that changed his whole mindset about staying in Houston.
A few days later, Watson requested to be traded. Any team would be lucky to get Watson for whatever kind of deal they make. Some analysts are speculating that Watson wants to join the Jets or 49ers. But at this moment, it is not inevitable.
Few broadcasters are saying that Dolphins want Watson, and they are looking for a trade for Tua. Then there are Colts, Cowboys, Patriots, Browns, Rams, Steelers, Washington, Raiders, Detroit, and even Bears. So, every team that doesn't have a valid, future option at quarterback is looking for Watson. Watson will be a great fit everywhere.
Many believe that by going to 49ers or getting Watson and having George Kittle and Debo Samuel and above-average O-line will have a football contender team. Then some are saying that Colts can afford Watson more than anybody in the NFL, and not only that, Colts can also bring in some weapons to help Watson. We don't know whether Watson ends up in Colts or the 49ers, but wherever Watson will go will become an instant playoff contender team.
2. MATTHEW STAFFORD
From the list of 2021 quarterback's market, perhaps, Stafford might be the most deserving quarterback who should have a playoff-caliber team. Throughout Stafford's years in Detroit, they only managed to reach the playoffs just once, and they never won playoff games during Stafford's career.
Their offense has always been good, thanks to Stafford's good and precise arm, but they have always been in the bottom half in terms of defense. The only year when their defense was in the top 10, they managed to qualify for the playoffs. So, it's not far-fetched that Stafford wants to be in a different and more goal-oriented organization.
Like Deshaun Watson, there are many teams showing interest in Stafford; however, unlike Watson, not many teams are looking for long-term contracts, and Stafford carries with him a huge cap hit. Stafford is set to earn $33 million in 2021, so only a few teams can afford Stafford. Colts seems to be a perfect choice for both the organization and Stafford. It's an ideal fit for both of them; Stafford will fit right into Colt's offense. The Colts defense has gotten solid in the last few years, and they also have good running backs. Other teams showing interest in Stafford are the 49ers, Rams, Washington, and NY Jets. But of course, Watson is the first choice of all of these teams.
Update: Over the weekend, Matthew Stafford was traded to the Los Angeles Rams in return for quarterback Jared Goff and a pair of future first-round draft picks.
3. AARON RODGERS
Aaron Rodger should not have been on this list even though there were rumors about Rodgers not being happy in Green Bay, and it was clear the way he showed his disappointment after the NFC championship loss. Green Bay always is two steps ahead about managing the future, and that's why they drafted Jordan Love in the 2020 NFL draft. Drafting Love was a mutual decision by Packers coach Matt LaFleur and GM Brian Gutekunst.
So, keeping that in mind, Rodgers was already disgruntled, and then the way he played in the regular season was perhaps the best football of his career. He's being considered by many to league MVP. So, Rodgers knows that he is still very much an elite quarterback, and just like Brady did at the age of 42, Rodgers wants to do the same at the age of 37.
Just like Stafford and Watson, Aaron Rodgers also is not going to free agency in 2021. His only option is also going to be to get a trade for players or draft picks. However, he hasn't asked for a trade yet. But he can announce his decision about leaving Green Bay. Rodgers' possible best options can be anywhere; he can fit anywhere and start from the day he joins them.
Jets and Colts can be the right choice for him but mainly for the cap space. Many analysts say that SF 49ers and Aaron Rodgers will be a dream combination, at least for the next five years. Some say that Rodgers will be a perfect fit in the Patriots because the Belichick scheme is designed for a pro-style pocket passer. Of course, all this will happen if Rodgers isn't happy in Green Bay and the organization fails to convince Rodgers to stay; after all, it's not every day a team wants to trade an MVP.
4. DAK PRESCOTT
Dak Prescott was having probably the best season of his career until he suffered a season-ending ankle injury. Prescott didn't sign a long-term contract with the Dallas Cowboys, and now his future in Dallas isn't clear. Prescott's long-term contract should be in the top 5 deals of the NFL, which means Dallas should have hefty cap space, and they don't have that, and that's why there are speculations that Prescott may never wear the Cowboys uniform again.
Prescott will be a perfect fit for several teams that require an elite quarterback. The first team which comes to mind is New Orleans Saints. Prescott will thrive in the saints, a group dominating the side of the past decade. Saints have talent, offensive weapons, a good coach, and excellent management. Another team is the Jets, and if they fail to get Watson, then I think their next choice will be Prescott.
5. CARSON WENTZ
The Philadelphia Eagles got a huge problem this offseason. They have two starters, and just like it didn't work with Foles and Wentz just a couple of years ago, this time, it also may not work with Wentz and Jalen Hurts. Hurts have many potentials, and people are already comparing him to Josh Allen and Patrick Mahomes. So, it wouldn't make any sense to keep Wentz around with his large contract.
Wentz's potential landing spots can be in several teams that need a good quarterback, and Wentz is only 28. The most prominent area once again will be Colts. The Colts can get a trade for Wentz, and based on their better scheme Wentz will be a perfect fit there. The other landing spot for Wentz could be the 49ers. Wherever Wentz ends up doing, he will be an immediate starter.
6. SAM DARNOLD
It's a general tone in the entire NFL that USC star Sam Darnold may have played his last game in a Jets uniform. Fans had high hopes for Darnold but called it Darnold's style of play or abysmal management by the Jets who have failed to get any offensive weapons, but whatever is the case, Darnold didn't go as planned. Right now, if the Jets trade him, the only prominent positions for Darnold are looking to be as a backup quarterback. Few teams may take a chance on him by starting him.
Darnold's most significant benefit is his rookie contract and that he doesn't carry a lot of cap space. So, keeping that in mind, there are the right potential landing spots for Darnold. He can go to Detroit Lions or Houston Texans until both of these teams can figure out about their future.
It's evident that Stafford and Watson are both going to leave, and with little cap space, Darnold can be a perfect fit in both of these organizations. Another potential fit for Darnold could be the Patriots, who will not have to move a lot of stuff. The Patriots can get Darnold and check him for at least two seasons to determine whether he can adjust to the team or not.
7. JIMMY GAROPPOLO
It's hard to believe that we are even talking about Garoppolo just after his 2020 Superbowl appearance. There is no denying that Jimmy Garoppolo carries a lot of potential with him. Still, there are lots of speculations that are creating a buzz that Jimmy will be traded in 2021, and most people think it could be either Patriots because, of course, Jimmy has a good history with Patriots. He knows their schemes, and he understands coach Belichick's mindset, and if Jimmy ends up in the Patriots, I think it will be perfect for both the team and the quarterback.
8. MITCHELL TRUBISKY
Trubisky, just like Darnold, thought to have tremendous potential, and in his career as Chicago, he seemed to show some promise in a few games, but he didn't do it consistently. Unless Chicago chooses to pick the fifth-year option, Trubisky will be a free agent. The potential landing spots for him would be the teams in the future building process, so we are not expecting Trubisky will be offered a large contract.
This is good for even Trubisky because he can show promise and play for whatever team selects him, and then maybe in 2 or 3 seasons, he will be offered a large contract. I mean, we have Ryan Tannehill's example right in front of our eyes. Just in two years at Tennessee, Ryan has done so many things that he didn't come close to in his seven years at Miami.
9. JARED GOFF
If the Rams choose to trade Goff, some teams will be happy with him. Goff has an outstanding arm, and he is intelligent. The biggest drawback for him is that he has an extensive contract with the Rams and his average yearly salary is around 33.5 million dollars. However, the best thing about trading him would be that the acquiring team will not have to give much; for example, the Colts can probably get him for the 2nd, and 4th round picks and let him test their system.
If Jered Goff does end up out of Rams, then the Rams will be a lucrative spot for any quarterback. Rams will have enough cap space to get any quarterback looking for a trade, and that includes Watson, Stafford, and even Rodgers (if Green Bay chooses to trade him).
Update: Goff was involved in a blockbuster trade that occurred over the weekend with the Detroit Lions. The former number one overall pick is now a member of the Detroit Lions.
10. CAM NEWTON
Cam Newton going to the Patriots dominated the news last year. It may not have worked out as Newton might have planned; however, Newton did show some promise as starting quarterback. He indicated that he can still run and sprint with the ball and finished the season with 12 rushing touchdowns. He stated that he is as physical as any quarterback in the NFL, and he can throw under pressure.
However, the Patriots' most significant problem is that they don't have any offensive weapons; their receiving core is not mediocre. Newton's most apparent landing spot looks to be Washington, mainly because Ron Rivera knows Newton better than any other coach. Washington has a great defense, and if Washington can't land Watson or Stafford as we talked about above, then Newton looks to be the only choice. They do need an extra quarterback there anyway ever since they released Haskins.