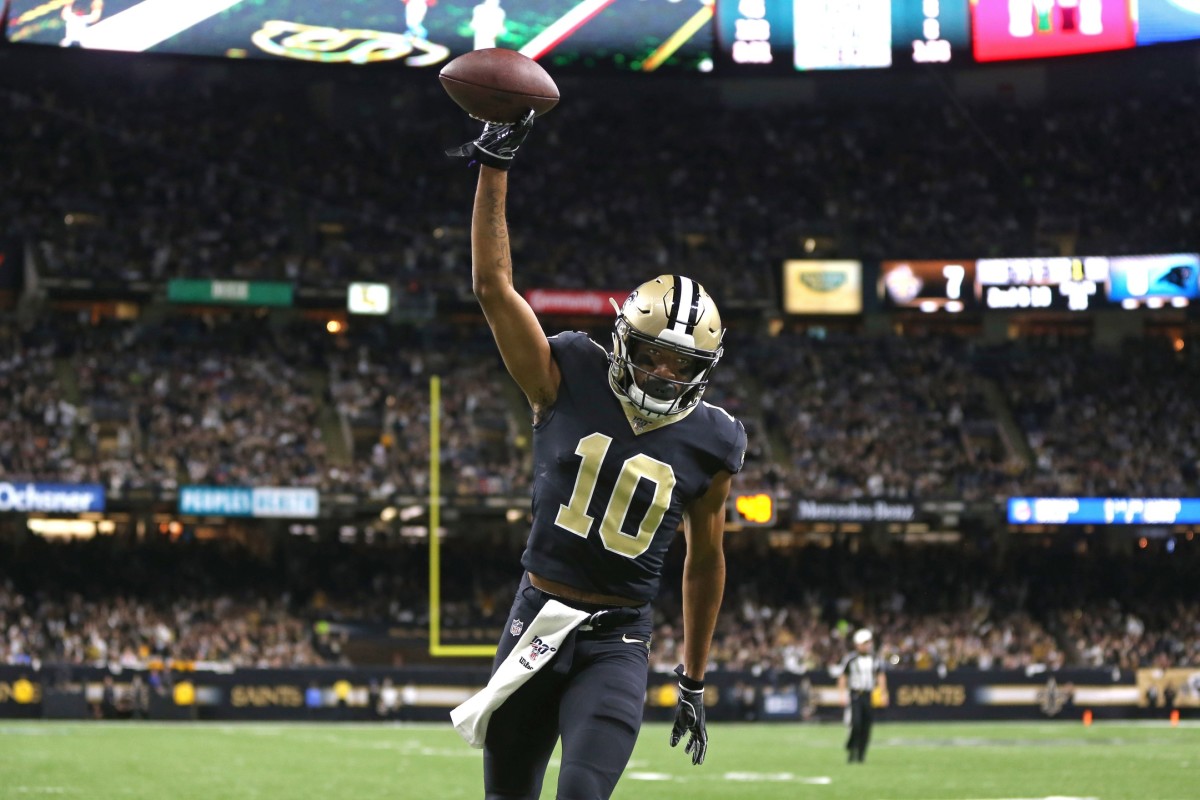 The wide receiver position for the New Orleans Saints keeps on worsening. Michael Thomas, the star wideout, recently released a statement that he is out for the season. The issue between Thomas and the Saints organization has been brewing for a while now, and many analysts are predicting that Thomas may never play for the team again.
Nevertheless, the biggest problem New Orleans has right now is at the wide receiver position. Otherwise, their defense is playing at an all-time high. Their rushing attack has improved after the acquisition of Mark Ingram, and they have exceptional quarterback play from backup Trevor Siemian.
For now, the Saints total roster size for wide receivers, including their practicing squad is Marquez Callaway, Tre'Quan Smith, Deonte Harris, Ty Montgomery, Kenny Stills, Lil'Jordan Humphrey, Kawaan Baker, Kevin White, and Easop Winston Jr. New Orleans have also been trying to get a new wideout however since they don't have much cap space the search for a new wide receiver is not going too well unless Odell Beckham can clear the waiver wire.
Tre'Quan Smith was primarily drafted after thorough research by Sean Peyton to be equivalent or at least near equivalent to Michael Thomas as WR2. Smith had limited time to play with star QB Drew Brees before he was injured, and he has shown some spark while he has been on the field. However, one thing is for sure that Tre'Quan Smith hasn't been truly tested yet.
Smith has a good combine where he ran 4.49 in the 40-yard dash with 37.5" Vertical Jump and 130.0" Broad Jump. His combine stats were better than some of the best receivers, such as Mike Evans, DeAndre Hopkins, and Antonio Brown. That's what Sean Peyton had in mind to draft a receiver similar to Hopkins and Brown.
In his last season at the University of Central Florida, Smith caught 59 catches for 1,171 yards, including 13 TDs. The strengths of Smith include his explosive acceleration early in the run that creates a gap between him and covering a  defensive back. He has good arm length and can reach extra length; he is an excellent blocker and can be a great help in the run game, and he also got safe hands catching 78% of the first down in his last year at college. His weakness includes inconsistent plays in speed runs; elite pass defenders can contain him, he hasn't caught many extraordinary passes despite having excellent arm length.
Smith can help New Orleans with their receiver problem. He is a dynamic player and can be directly compared to DeAndre Hopkins in terms of speeds, size, and attributes. His career in the Saints also began with a bang when in week 5 of the 2018 NFL regular season, Smith caught two touchdowns and 111 yards from Drew Brees. In 2019, Smith managed to catch just 18 catches for 234 yards and five touchdowns in 11 games.
In 2020 Tre'Quan Smith was hyped to be the WR2 and later WR1 after Michael Thomas' injury; however, he only managed to catch 34 of his 50 targets for 448 yards and four touchdowns. Besides all that, we expect Smith to step up and take charge. Smith can be a viable deep threat if he stays healthy because, mostly, his career has been marred with injuries.
Moreover, Alvin Kamara has taken the role of WR2 as a dual-threat running back which works well for the Saints offense. However, Kamara/Ingram thrive when there is a primary deep threat at the receiver position, and that's where we expect Smith to be. If Smith can get 8 to 15 targets in a game, we can expect his efficiency to be maximized, and he can become a solid WR1 and deep threat making him a suitable replacement for Michael Thomas.
Show Your Support
Support the great work of the Strike 7 Sports Saints Discussions Section by purchasing licensed NFL fan gear. Items ranged from Saints hats, jerseys, t-shirts, socks, and so much more. We would greatly appreciate it if you would purchase these items from the text link listed below. The revenue generated from today's offer goes into the funding of the Strike 7 Sports platform. Click on the link below if you are interested.
New Orleans Saints Fan Gear Offers at Fanatics.com