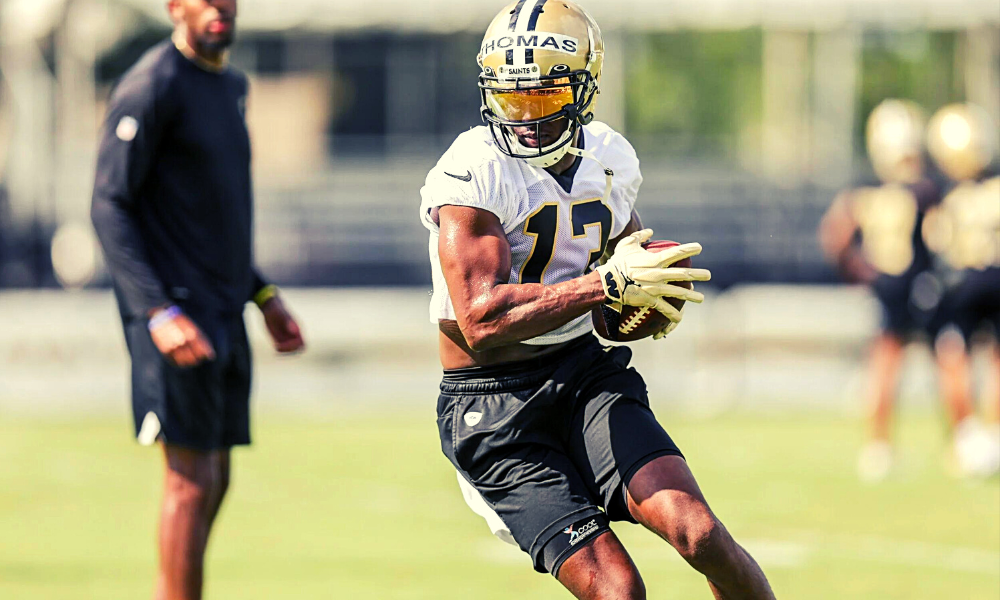 Video Transcript
In the latest Saints Discussions on Strike 7 Sports recent YouTube video, the focus was on Michael Thomas, the former NFL Offensive Player of the Year and wide receiver for the New Orleans Saints. After missing significant playing time due to injuries, Thomas surprised everyone by participating in voluntary OTAs, signaling his return to the team. This unexpected development has sparked discussions about what would be considered a bounce back season for Thomas. In this vlog post, we'll delve deeper into the topic and explore the statistics and milestones that could signify a successful comeback for the talented wide receiver.
The Importance of Thomas' Return: Prior to Thomas rejoining the Saints for voluntary OTAs, a former player turned talk radio personality criticized him for not attending these sessions, questioning his leadership role on the team. However, with his return, such concerns have been put to rest. Now, the focus shifts to the type of season Thomas can have and what achievements would validate his comeback.
Statistical Milestones for a Bounce Back Season: To determine whether Thomas has successfully bounced back, we need to examine his performance from a statistical standpoint. Considering his injury history and the need for consistent playing time, a key factor would be his ability to stay on the field for an entire season. If Thomas can achieve this, the following statistics could indicate a successful comeback:
Receiving Yards: A mark of 800 to 1,100 receiving yards would be significant for Thomas. Such numbers would demonstrate his impact and effectiveness as a top-tier receiver. Additionally, reaching this milestone could lead to contract extensions, further solidifying his position with the Saints.
Touchdowns: Contributing 8 to 9 touchdowns would be another positive sign for Thomas. Finding the end zone consistently would showcase his ability to make plays and capitalize on scoring opportunities for the team.
Receptions: A target of 84 catches throughout the season would be considered a strong performance for Thomas. Achieving this number would demonstrate his reliability as a go-to receiver for the Saints' offense.
Impact on the Team: Thomas' presence on the field significantly influences the Saints' offense. His ability to command double teams opens up opportunities for other players, creating a more dynamic and unpredictable offense. Even with opposing defenses knowing he is the primary target, Thomas has consistently found ways to get open, make contested catches, and physically challenge defenders.
Furthermore, the addition of playmakers alongside Thomas, such as Rasheed Shaheed in the slot, adds another dimension to the Saints' offense. This newfound diversity allows the quarterback to distribute the ball to different receivers, increasing the team's overall effectiveness.
Conclusion: In summary, a bounce back season for Michael Thomas would involve staying healthy and reaching significant statistical milestones. Achieving 800 to 1,100 receiving yards, 8 to 19 touchdowns, and 84 catches would indicate a successful comeback for the talented wide receiver. These numbers would not only benefit Thomas personally but also have a positive impact on the Saints' offense as they aim to regain the strength and unpredictability they exhibited during the Drew Brees era.
While it may be ambitious to expect Thomas to replicate his outstanding 2019 numbers immediately after returning from back-to-back injuries, crazier things have happened in the past. Only time will tell how Thomas performs this season, but there is no denying the positive impact his presence can have on the team. As fans eagerly anticipate his return, it's essential to support Thomas and the entire Saints organization throughout their journey to reclaim their former glory.
If you enjoyed today's content, please visit https://strike7sports.com/saints for the latest written content on the New Orleans Saints. Don't forget to like, comment, subscribe, and hit the bell notification icon to stay updated with my latest updates and live streams.