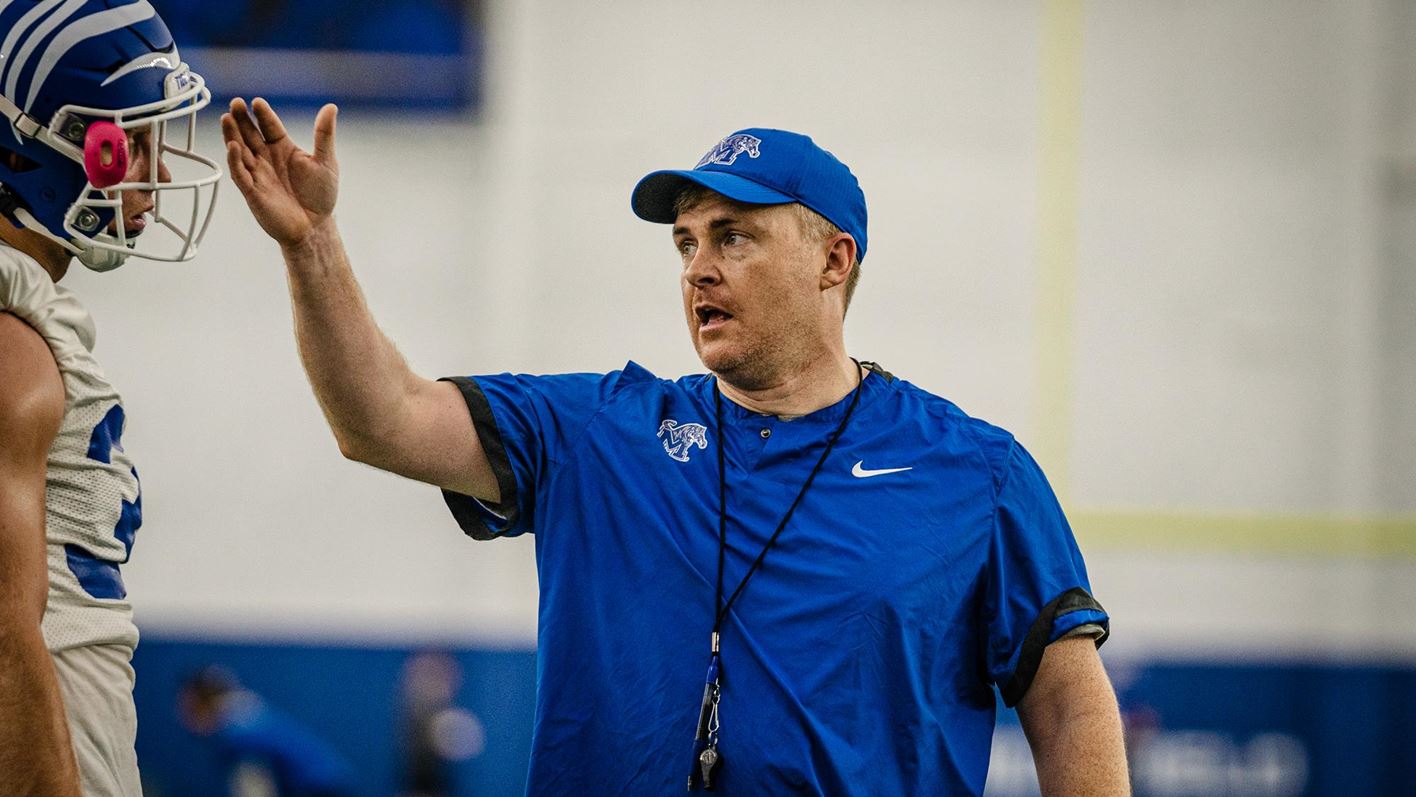 This season, the biggest x-factor for the Memphis Tigers football team may not be a quarterback, a wide receiver, or even a defensive end. That designation might be placed upon their new defensive coordinator Matt Barnes. Barnes previously served as the Ohio State Buckeyes defensive backs coach and special teams coordinator.
He takes over for DC Mike MacIntyre, who worked in the position for the past two seasons. MacIntyre is now the new head coach at Florida International. Barnes brings 13 years of coaching experience to the Tigers football program. "Matt Barnes is one of the brightest young defensive minds in college football," Tigers head coach Ryan Silverfield said.
"He has served as an interim defensive coordinator at two Big Ten programs with great success. Matt is a fantastic teacher, and we are excited for his family to join us here in Memphis." His primary objective will be to turn around a Memphis defense that has given up its share of explosive plays over the years.
In 2021, Memphis gave up over 419 yards of total offense per game. Programs in the conference, such as Cincinnati, have shown that if a team has an efficient defense to work with, it can lead to long-term success. The Bearcats' defense was one of the primary reasons they advanced to the college football playoff last season.
Outside of the CFP appearance, the program has appeared in three-straight AAC championship games and has won two of the last three conference titles. Could Memphis follow the same path? It's highly possible with an assistant on the coaching staff such as Barnes. With the new AAC approaching, the Tigers must replicate what the Bearcats have accomplished over the past three years.
The expectation is that Memphis will become the premiere team in the conference once programs such as Cincinnati, UCF, and Houston leave for the Big 12 conference. Even with high expectations in the new-look AAC, the Tigers will have to go out on the field and show that they are head and shoulders above new conference members such as Charlotte, Florida Atlantic, North Texas, and UTSA.
As for this season, Barnes will be working with a mixture of veteran players and personnel that came over from the transfer portal. The Tigers' best player in the secondary, Quindell Johnson, is expected to have a big year in his final season with the program. Johnson's stock has risen significantly for next year's NFL Draft.
Former Ohio State defensive lineman and Memphis native CorMontae Hamilton followed Barnes and joined the Tigers. Other notable players expected to make an impact this season are Xavier Cullens, Geoff Cantin-Arku, and Rodney Owens. Members of the defense have praised the new scheme that Barnes is installing with the program.
"Last year, if we faced a pass game, we were going to run that scheme, and the other guy just has to beat us while in that scheme," safety Owens said. "This year, we're doing more of what puts us in the best position to dominate and win each and every scenario."
"You can do more stuff out of it instead of doing more robotic stuff," Wardalis Ducksworth said. "With three down (linemen), you can't really do too much but with four down, you can twist it up a bit. Send a blitz here or up the middle or outside."
Barnes will be incorporating a 4-3 scheme into the defense. The 4-3 consists of four-down linemen and three linebackers. He wants to take advantage of the athleticism of the defense so that it can be used to disguise coverages within the secondary. We will see how the new look unit will produce in next week's rematch in Starksville against Mississippi State.
Show Your Support
Support the great work of the Strike 7 Sports Memphis Tigers Section by purchasing licensed NCAA fan gear. Items ranged from Memphis hats, jerseys, t-shirts, socks, and so much more. We would greatly appreciate it if you would purchase these items from the text link listed below. The revenue generated from today's offer goes into the funding of the Strike 7 Sports platform. Click on the link below if you are interested.