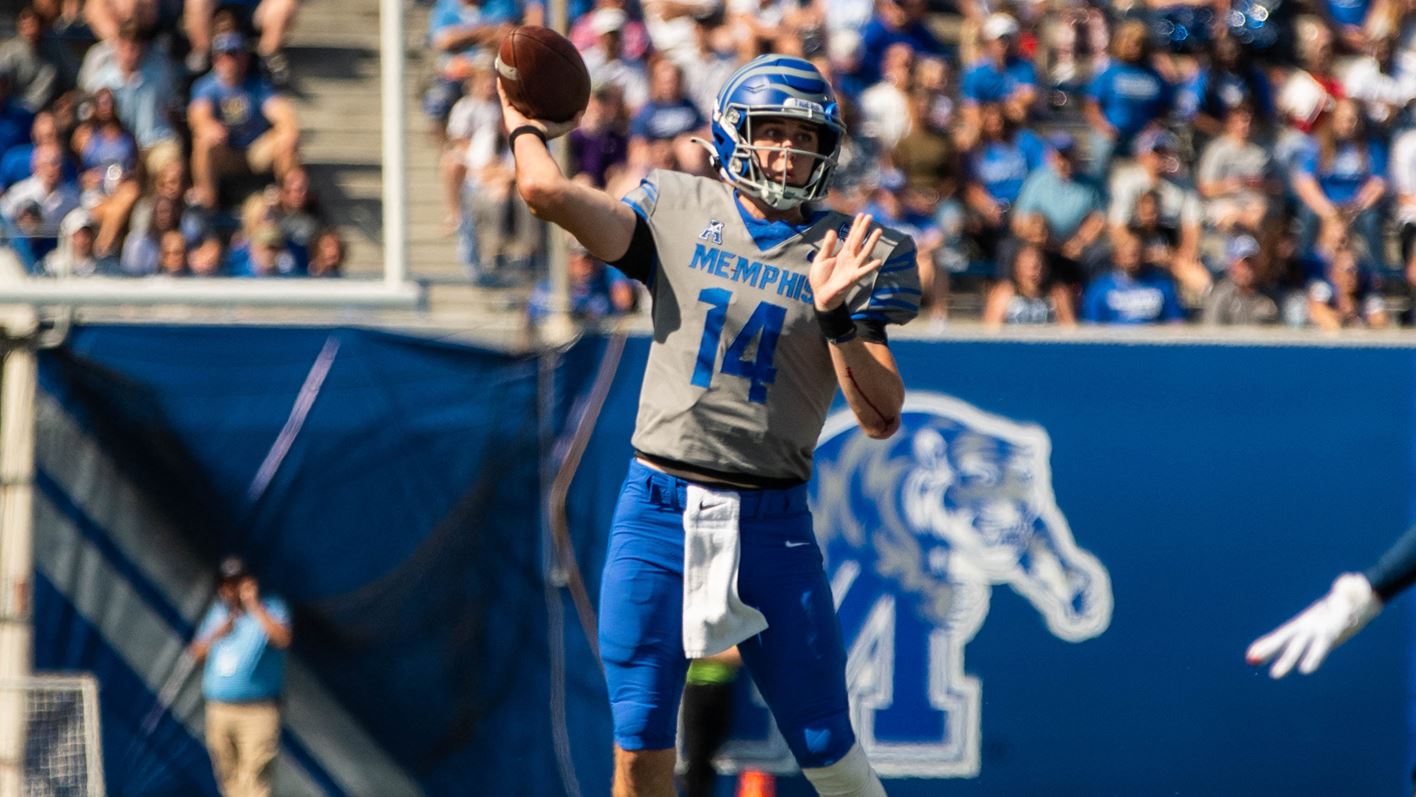 Memphis Tigers football is right around the corner for die-hard fans of the program. However, the team has many questions that will need to be answered once the 2022 campaign kicks off against Mississippi State. In addition, the program will have a new face at wide receiver and running back on the offensive side.
New players such as Joseph Scates and Jeyvon Ducker are expected to be critical contributors to the Memphis offense this season. In addition, Seth Henigan returns as the team's starting quarterback. Today, Strike 7 Sports provides projected stats for players such as Henigan, Scates, Ducker, Javon Ivory, and Brandon Thomas.
Seth Henigan: QB
The Denton, Texas native is coming off an exceptional freshman season when he threw for 3,322 yards and 25 TDs, against eight interceptions; however, he will play in a new system under offensive coordinator and QB coach Tim Cramsey. As a result, a young quarterback may struggle to fully understand a new offense in year one.
But history suggests that freshmen quarterbacks at Memphis tend to make their most significant leap in year two. Will Henigan follow the same path? Unlike his predecessors in year two, Henigan will be playing new pieces on offense and a new scheme that he must understand fully. As a result, there may be a slight learning curve initially, but Henigan has shown that he can excel at the level that the quarterbacks before him have previously done.
Projected Stats for 2022: 4,157 Yards, 33 TDs, 14 INTs, 61.3 COMP PCT
Javon Ivory: WR
Javon Ivory was the WR2 that lined up opposite of Calvin Austin lll in last year's offense. He produced when called upon, but this season he may be expected to take a more prominent role in the passing game. Listed at 6'2, 180 lbs, Ivory has all the attributes to become the Tigers' primary option at WR.
Projected Stats for 2022: 1,091 RECEIVING YARDS, 86 RECEPTIONS, 9 TDS
Joseph Scates: WR
Since joining the Tigers after spending time at Iowa State, wideout Joseph Scates comes in as a player that can become a reliable option on offense. His work ethic was recognized by Henigan when he spoke highly of him in a radio interview two months ago. He is the tallest wide receiver on the team, listed at 6'3. He brings an element to the Tigers' offense that they have not seen since Damonte Coaxire regarding the size. If Scates is good as advertised, his talents can take this offense to another level.
Projected Stats for 2022: 968 RECEIVING YARDS, 78 Receptions, 11 TDS
Brandon Thomas: RB
At the start of the season, it seemed as if Brandon Thomas would carry the mantle of great production from Memphis running backs. But he hit a wall as the season progressed. Thomas would close out the year with 669 yards and nine touchdowns. Overall, 2021 was not a good season for the Memphis rushing attack. Members of the ground game only eclipsed the 157 yards mark once in 2021. When they approached near 160 yards, the Tigers were 19-0.
Projected Stats for 2022: 898 RUSHING YARDS, 10 TDS
Jevyon Ducker: RB
In an effort to improve the running game, the Tigers signed transfer portal prospect Jevyon Ducker. In his freshman season at Northern Illinois, Ducker rushed for 1,184 yards and three touchdowns. The expectation is that Ducker, Rodrigues Clark, Asa Martin, and Thomas will be the guys that can bring back the dynamic production of the Memphis ground game. Ducker is not a speedy tailback, but he runs with a lot of authority when his number is called.
Projected Stats for 2022: 1,327 RUSHING YARDS, 13 TDS
Show Your Support
Support the great work of the Strike 7 Sports Memphis Tigers Section by purchasing licensed NCAA fan gear. Items ranged from Memphis hats, jerseys, t-shirts, socks, and so much more. We would greatly appreciate it if you would purchase these items from the text link below. The revenue generated from today's offer goes into the funding of the Strike 7 Sports platform. Click on the link below if you are interested.