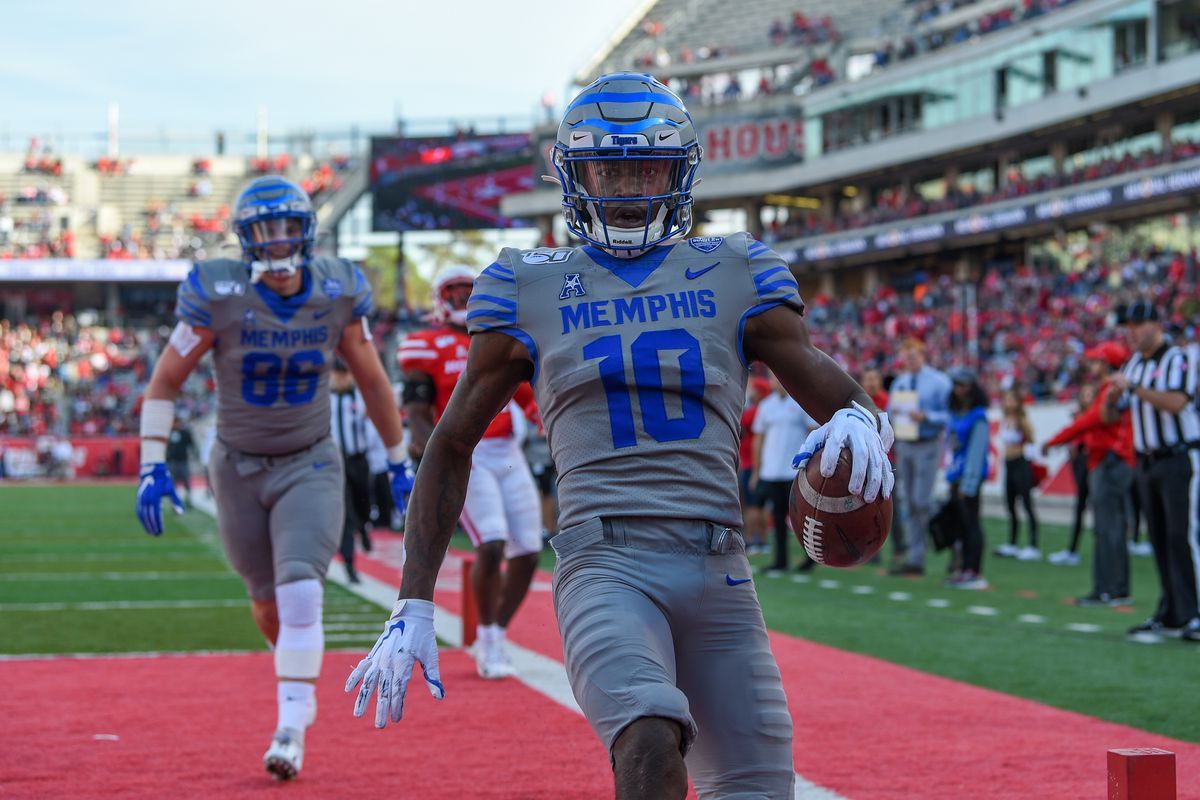 The Memphis Tigers football team head into the 2020 season as one of the best offenses in the nation. Even though they lost in their first-ever New Year's Six bowl game against Penn State, they showed that they are capable of scoring against some of the country's best programs. The Tigers ranked 8th in the nation by averaging 40.4 points per game last season.
They lost big-play wide receiver/running back Antonio Gibson to the National Football League. However, there's still enough firepower on offense to keep the level of production that we witnessed last season. Strike 7 Sports Memphis Tigers section breaks down and projects the 2020 stats for players such as Brady White, Kenneth Gainwell, Damonte Coxie, and Kedarian Jones.
Brady White: QB
2019 Stats: 4,104 Passing Yards, 33 Touchdown Passes, 63.9% Completion Percentage, and 164.6 Quarterback Rating.
Under the guidance of Mike Norvell, who is now the head coach at Florida State, Brady White improved from his subpar 2018 season as the team's starting quarterback. With the plethora of weapons returning to the program this season, White should be able to continue from where he left off in 2019. A solid outing from White could elevate him to a potential first to a second-round selection for the senior quarterback. 
2020 Projected Stats for Brady White: 4,378 Passing Yards, 35 Touchdown Passes, 65.8% Completion Percentage, and 167.8 Quarterback Rating.
Kenneth Gainwell: RB
2019 Stats: 1,459 Rushing Yards, 13 Rushing Touchdowns, 610 Receiving Yards, 3 Receiving Touchdowns, and 610 Receiving Yards. 
Memphis running back Kenneth Gainwell successfully filled the void left by Patrick Taylor, who suffered an injury in week one of last season. The Yazoo City, Mississippi native would not disappoint with the opportunity that presented itself to him. He rushed for a total of 2,069 all-purpose yards and 16 total TDS for the Tigers in 2019.
Gainwell continues a tradition of stellar production that Memphis fans have seen from previous tailbacks such as DeAngelo Williams and Darrell Henderson. In 2020, you can expect Gainwell's name to be one of those listed as a potential Heisman Trophy candidate. 
2020 Projected Stats for Kenneth Gainwell: 1,589 Rushing Yards, 15 Rushing Touchdowns, 689 Receiving Yards, and 6 Receiving Touchdowns.
Damonte Coxie: WR
2019 Stats: 1,276 Receiving Yards, 9 Receiving Touchdowns, and 76 Receptions.
2019 was another solid year for wide receiver Damonte Coxie. He demonstrated that he is capable of making various types of catches in what would be perceived as tough situations. Listed at 6'3, and 197 lbs, Coxie is on an inside track to becoming a potential first-round pick in next year's NFL Draft.
With so much at stake such as draft positioning and another possible shot at a New Year's Six bowl appearance, you can expect another level of exceptional productivity from the big-play wideout.
2020 Projected Stats for Damonte Coxie: 1,337 Receiving Yards, 11 Receiving Touchdowns, and 84 Receptions.
Kedarian Jones: WR
2019 Stats: 609 Receiving Yards, 4 Receiving Touchdowns, and 39 Receptions.
Wid receiver Kedarian Jones was able to capitalize on the opportunities that were presented to him during the 2019 season. Now that Antonio Gibson is no longer on the team, he will have even more opportunities to show that he is a vital contributor to this offense. The team will need his production down the stretch as they face some of the AAC's best football teams. These are your Memphis Tigers 2020 projected offensive stats for key personnel. 
2020 Projected Stats for Kedarian Jones: 750 Receiving Yards, 7 Receiving Touchdowns, and 58 Receptions.
Photo courtesy of Ken Murray/Icon Sportswire via Getty Images.