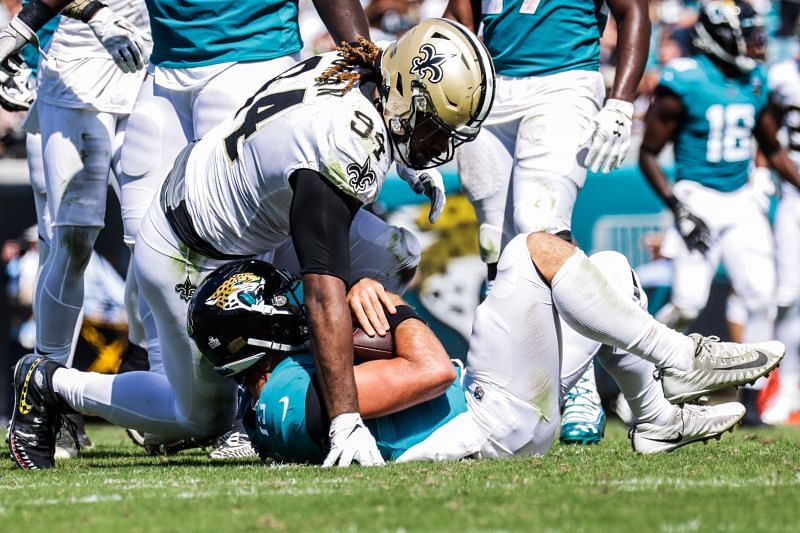 Life after Drew Brees begins in New Orleans this season. Brees retired as the NFL's all-time leader in passing yards and completions, and his leaving takes away an identity for this Saints team. However, it is also a good thing. It will allow this group of young players to bond and develop their own unique identities. Starting with Brees's replacement, Jameis Winston, each player is valuable to this roster as New Orleans looks to have an excellent regular season and make a deep playoff run. 
The Saints took DE Payton Turner with the first overall selection in the 2021 NFL draft, and they are hopeful he can create an immediate impact on defense. They also brought in some new players through free agency to help solidify the roster, and New Orleans is confident that they can be competitive in 2021. 
Today, we will be breaking down the most important players on this roster. 
1. QB: Jameis Winston 
Winston will be tasked with filling the shoes of Brees. He threw just 11 passes last season and did not receive much attention on the free agent market during this past offseason. Ultimately, Winston re-signed with New Orleans and has beaten out Taysom Hill for the role of starting quarterback.
It is a unique situation because Hill will likely still see a decent amount of playing time especially on third downs and in the red zone. Even with Brees on the team, Hill still took some snaps in certain situations, and with the much lesser-proven Winston, Hill's role should increase. 
So is Winston just a fill in? Or is there potential for him to succeed in this offense? People forget that back in 2015 and 2016, Winston was a quality option at QB for the Tampa Bay Buccaneers. He was selected to the Pro Bowl in 2015 after throwing 22 touchdown passes and threw for over 4,000 yards through the air.
Winston was even better in 2016 by upping the touchdown total to 28 and once again threw for over 4,000 yards. After a couple of down seasons where he missed a lot of time, he produced his best season of his career in 2019. WInston threw for over 5,000 yards and had 33 touchdown passes. However, he did throw for a league-leading 30 interceptions that season. 
Winston has the talent to be a solid NFL quarterback. Interceptions have always been his Achilles heel, but if he can work on limiting them the Saints might have a good option at the position.
2. RB: Alvin Kamara 
Kamara is primed for a huge season in 2021. With the retirement of Drew Brees, the Saints are going to make the run game a focal part of the offense. Yes, defenses will be more focused on stopping the run, but Kamara will see enough volume to consistently post big numbers barring injury. With Winston receiving the starting nod for the first time in New Orleans, Kamara will likely be a target on passes often as well. When Winston gets in trouble and can't find an open receiver downfield, he can just flip the ball over to Kamara and watch him run. 
Kamara is a dual-threat in that sense, as he is the first running back in NFL history with over 500-plus receiving and 500-plus rushing yards through his first four seasons in the league. With a strong offense line, a focus on the run, and Kamara in the midst of his prime at age 26, he might produce his best season of his career in 2021. 
3. WR: Michael Thomas 
Thomas is the unquestioned number one receiver on this roster when healthy. However, therein lies the issue. Thomas hurt his ankle in week 1 of 2020, and has been dealing with the effects of the injury ever since. He had his second surgery this summer and is expected to be out until at least week 6, and even that timeline is a very optimistic one. The Saints could have really used a healthy Thomas to open up the season to help out the new quarterbacks options, but injuries are a part of the game. All New Orleans can hope for is that when Thomas returns he has no lingering effects and he can be the same player he once was. 
4. WR: Marquez Callaway 
One player who might see a spike in production because of the Thomas injury is Callaway. He has a chance to become the number one receiver on the team and had a tremendous preseason. As he enters this season, he has a chance to build some rapport with Winston. The two could develop good chemistry together as they are both entering new roles. The Saints believe they have a truly special player in Callaway and they think he is a breakout candidate for 2021. If this proves to be true, it would be quite the story as Callaway went undrafted out of Tennessee. He could now develop into a star receiver in New Orleans.
5. WR: Tre'Quan Smith 
Smith is another candidate for the primary receiver role in New Orleans. He was decent last season, but will have a larger role with Emmanuel Sanders gone and Michael Thomas injured. Smith is another player who has an opportunity to break out. He has always had good hands, but was able to improve as a route runner last season as well.
However, Smith has battled inconsistency so far in his career, as he has had games where he will produce huge numbers but then disappear the following week. If he can find a way to be a factor week in and week out on a consistent basis, Smith will establish himself in 2021. He also could be a long ball threat in the offense and should wind up finding the end zone quite often. 
6. TE: Juwan Johnson 
The top two tight ends on the depth chart, Adam Trautman and Nick Vannett, are both currently dealing with injuries heading into week 1. While Vannet has already been ruled out, Trautman is listed as questionable. However, one option to fill in at the position is the former wide receiver Juwan Johnson.
He transitioned to tight end during the offseason and looked sharp during the preseason. Some reports even say that Johnson could take the starting job from Trautman regardless of his injury status. Winston and Johnson have played well together during the preseason, and that should continue heading into the regular season. 
7. WR: Deonte Harris 
Harris is a solid receiver, but may not see a big role at the position. However, he is a return specialist who could make an impact on special teams. Last year, he was able to field 17 punts for 207 yard and fielded 16 kickoffs for 436 yards. At only 5'6 and 170 pounds, Harris makes up in speed what he lacks in size.
While he might catch a few passes this year, Saints fans can look to see Harris continue as an effective kick returner. And while that may not seem overly-exciting, it wasn't all that long ago when the Chicago Bears' Devin Hester made a living on returning kicks. 
8. LB: Demario Davis 
Davis has taken a leadership role on the team. The 32-year old veteran is focused on keeping spirits high in the locker room for the Saints. However, he is more than just a talented pep-talk expert. Davis has established himself as one of the better linebackers in the game and he will be instrumental for the team this season.
He is someone who may be the most valuable player on the Saints right now. Yes, Alvin Kamara is the most talented, but between Davis's veteran leadership and ability at the linebacker position, the teams' overall confidence would be much lower without him in the fold. 
9. SS: Malcolm Jenkins 
Jenkins will be 34 this season, but he is still a reliable option for the Saint's defense. Yes, with his age we could see a decline, but he still is valuable. Jenkins has been one of the more durable options on the team as he has played over 1,030 snaps over the past three seasons. And in the NFL, a player who is able to stay on the field at a consistent rate is extremely useful for a team. In fact, he hasn't missed a regular season game in 7 seven seasons! 
10. CB: Marshon Lattimore 
The former first round Ohio State product, Marshon Lattimore, will look for a big year as he enters his age 25 campaign. In 2017, he was named the Defensive Rookie of the Year and it looked like the Saints had a star in the making. Lattimore finished that season with 5 interceptions and did not allow a single touchdown. However, the past three years have been a far cry from that excellent season. Last year saw 8 touchdowns scored against Lattimore and he was only able to intercept 2 passes. He also had a career high 11 penalties. But at just 25 years old, Lattimore has a good chance of returning to his old self. The Saints need him to be the player he was in 2017. 
11. DT: David Onyemata 
David Onyemata is an intrical part of the New Orleans defense. That is why his six game suspension for an illegal performance-enhancing substance is so detrimental to the team. The good news is that it is only a six game suspension. Had he been forced to sit out the entire year, this defense would really have it's backs up against the wall. Onyemata will be a force on the field when he returns. 
12. C: Erik McCoy 
McCoy is the big man under center for the offense. The Saints already have a worthwhile offensive line and McCoy is turning into another dominant offensive lineman. His tremendous run-blocking ability led to the Saint's rushing game leading the league in touchdowns last year. At 6'4 and 314 pounds, he also performs well in terms of pass protection. He is only 24 years old and figures to be a staple of this offensive line for years to come.
13. OT: Ryan Ramczyk 
Ramyczyk signed a 5-year, $96 million dollar contract this offseason which will keep him in New Orleans through the 2026 campaign. He has become one of the best offensive tackles in the game and is a leader on the offensive line. He is another player who possesses elite protection skills and has a mix of speed and strength which truly makes him one of the best in the league. Winston and Kamara are in good hands with Ramczyk protecting them. 
14. OT: Terron Armstead 
You know in basketball how teams often want to form a "Big 3" of star players? Well, that is basically what the Saints have done with this offensive line. Between McCoy, Ramczyk, and Armstead, the Saints have arguably the best offensive protection in the league. Armstead is known for his outstanding pass protection but also can run out and throw some blocks for his running backs as well. 
15. FS: Marcus Williams 
The fact that the Sains placed the franchise tag on Williams this offseason demonstrates how valuable they believe he is. Williams is almost 10 years younger than the Saint's veteran safety, Malcom Jenkins, and surely can learn a lot from the experience of Jenkins. WIlliams is one of the brightest up-and-coming defensive players in the league and will look to continue to improve this season. 
16. CB: Paulson Adebo 
Adebo was taken in the third round of the 2021 NFL draft by the Saints. He profiles as a tall and athletic cornerback and has a knack for finding the ball in the air. This could lead to many deflected passes and interceptions for the rookie. He also has the ability to cover receivers downfield which makes throwing the long pass extremely difficult for opposing quarterbacks when targeting an Adebo covered receiver. The Saints like what they have in Adebo and they are hopeful he can become an important part of their defense. 
17. K: Will Lutz 
Lutz is coming off of his worst professional season last year, and is expected to miss the beginning of the season due to injury. There is no guarantee that Lutz will regain his starting job upon his return, but that will likely be decided by how his replacement performs.
18. P: Blake Gillikin 
Gillikin is the best option to replace the Saint's longtime punter, Thomas Morstead. At just 23 years old, he figures to be the team's punter for many years to come as long as he is able to fill the shoes of Morstead. Getting to learn from such an accomplished veteran will be highly beneficial for Gillikin's development. 
19. LG: Andrus Peat 
Peat had his struggles over his first few seasons, but was able to improve last year. He is much stronger with his run-blocking ability as compared to his pass protection, but perhaps 2021 is the season he puts it all together. With a great offensive line around him, he has a great chance to prove himself especially given the chance to protect a new quarterback. This will be his most important season yet. 
20. RG: Cesar Ruiz 
The Saints believe Ruiz has a very high ceiling given his size. He stands 6'4 and weighs 316 pounds making him a very intimidating presence for opponents. He still has a lot of learning left to do since he is only 22 years old and will be entering just his second professional season, but he will be an important part of this Saints' squad in 2021. 
21. DE: Cameron Jordan 
Jordan is a 6-time Pro Bowler who has become a staple on defense for New Orleans. He has the second most sacks in franchise history and is creating a reputation as a Saints' all-time great. However, Jordan has been in the league since 2011 and is entering his age 32 season, so we could see a decline this year. Regardless, Jordan should still be a productive player even if he is not at the top of his game. 
22. LB: Kwon Alexander 
There was question as to if Alexander would even suit up to begin the season given that he is less than a year removed from a devastating Achilles injury. However, Alexander put those worries to rest as he announced he would be playing in Week 1. It's possible that he has limited playing time given that this will be his first game action since December of last season, but it is encouraging to see the linebacker back on the field. He figures to play a prominent role next to Demario Davis this season. 
23. LB: Zach Braun 
Braun is one of the more interesting players heading into the season. He has shifted his position from strongside linebacker over to the weak side. He did not see much playing last year so this should allow Braun to be on the field for more defensive snaps. However, the Saints do feature a very strong linebacker core in Demario Davis, Kwon Alexander, and Pete Werner so Braun will have to show he belongs on the field to earn the trust of the coaching staff. 
24. DE: Payton Turner 
Turner was selected by New Orleans in the first round of the 2021 NFL draft. This was in an effort to strengthen their defensive pass rush. Turner showed in college that he has a high ceiling to make plays on defense, and the Saints are hoping that will transition to the pro ranks. We certainly will need to be patient with the 22 year old rookie, but there is a lot to like about his skill set. 
25. DB: CJ Gardner-Johnson 
Gardner-Johnson is an image of versatility. He can play almost anywhere in the defensive back field but prefers the slot corner position. Having a player who can move around and play multiple positions is indispensable for a team. Many players are set on just one position and that is okay, but Gardner-Johnson willingness to move around the field and star in different roles provides an enormous amount of flexibility for this defense. 
26. QB: Taysom Hill 
Similar to Gardner-Johnson, Hill is also a versatile player. He is technically the backup quarterback on the New Orleans Saints depth chart to open the season. However, you will still see him on the field quite a bit. He has multiple roles for this team on special teams and on offense. Head Coach Sean Payton will still use him in certain packages like he did even when Drew Brees was the QB1. Is it different to have a backup quarterback who also plays on special teams? Yes. Is it extremely useful? Absolutely. The Saints really like what they have in Hill and he still will be a valuable piece to the puzzle in 2021. 
27. TE: Adam Trautman 
Trautman is currently batting an ankle injury, but it is not too severe. He has a good chance to step up this season and see the majority of targets at tight end. Trautman is not a tremendous blocker, but he does have good hands and could see a handful of red zone targets as well. As long as injuries do not leave him on the sidelines, Trautman could emerge as a quality tight end in 2021. 
28. DE: Marcus Davenport 
Davenport is an important player on this defensive line. Although injuries held him back a season ago, he has shown signs of an elite ability to get to the quarterback and defend the run. Davenport will look to stay on the field this year and make an impact for the team. He is one of the more underrated players in the league and will look to show his true talent this season. 
29. DE: Carl Granderson 
Granderson has reportedly spent the offseason beefing up, as he checked in at training camp weighing 277 pounds. This was in an effort to add strength for his role on the defensive line. He played well last season and proved to the Saints that he deserves a role on this team. He is agile and quick and has always been able to beat defenders, but now with the extra strength he might just be able to plow right through them. 2021 could be a breakout season for the 24 year old. 
30. WR/RB: Ty Montgomery 
Montgomery is a natural receiver, but has worked at the running back position as well. He enters 2021 as someone who can play both positions at a quality level which could see him get more playing time this season. He will be third on the running back depth chart and will see just a handful of receiving targets, but could be bumped up in the pecking order given that the Saints recently released Latavius Murray.
31. RB: Tony Jones Jr.
The NFL's new preseason setup only has three games. However, because of the impact of Hurricane Ida, the Saints only played two games. During those two games, a potential impact player emerged in tailback Tony Jones Jr. His contributions during both contests played a pivotal role in the Saints parting ways with veteran rusher Latavius Murray. Jones is now the second running back on the depth chart behind Kamara. With the skillset of Jones, the Saints can continue to have the versatile rushing attack that has made them so successful over the years.
Late Addition: CB Bradley Roby
A day after the release of Latavius Murray, the Saints decided to acquire former first-round pick Bradley Roby. The addition of Roby will bring much-needed help at the cornerback position that is opposite of Marshon Lattimore. However, it will not happen until Week 2. Roby has to sit out of the season's first game due to serving a six-game that occurred last season with the Texans. Roby violated the league's substance abuse policy.
Support the great work of the Strike 7 Sports Saints Discussions Section by purchasing licensed NFL fan gear. Items ranged from Saints hats, jerseys, t-shirts, socks, and so much more. We would greatly appreciate it if you would purchase these items from the text link listed below. The revenue generated from today's offer goes into the funding of the Strike 7 Sports platform. Click on the link below if you are interested.
New Orleans Saints Fan Gear Offers at Fanatics.com
Photo courtesy of Sportskeeda.com.