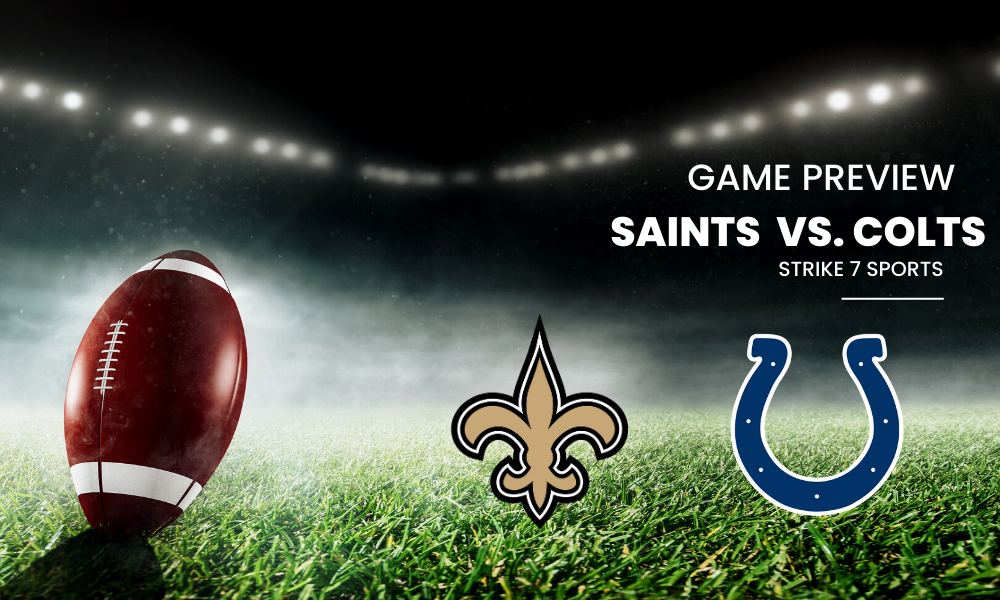 Last Thursday Night's loss to the Jaguars was a tough pill to swallow for the Saints, who dropped below .500 and sit third in the NFC South. The race for the division title is wide open, with the Buccaneers also sitting at 3-4 and the Falcons topping the table with only one extra win. A visit to Lucas Oil Stadium to face the Indianapolis Colts is a very winnable game for the Saints and one they could really do with to get them back on track to win the NFC South. Another loss here, and that playoff berth will be looking dangerously far away.
The arrival of Derek Carr before the season filled this franchise with hope. The defense has been playing like one of the best in the league, so for New Orleans to have only recorded three wins is a disappointing place to be. Two of those wins came via incredibly narrow margins against the Titans and Panthers, who are amongst the worst in the league. To say that it has been an underwhelming season so far is an understatement.
It's time for the Saints to realize their potential and get a much-needed win. An offense that boasts Alvin Kamara, Chris Olave, and Michael Thomas, combined with PFF's 5th best defense, should have no problem taking control of the NFC South. Can they take their first steps towards doing that this week?
New Orleans Saints vs. Indianapolis Colts Game Preview
The Colts are benefiting greatly from Jonathan Taylor's return to health. Zach Moss has been filling in admirably in his absence, but Taylor brings that extra bit of juice that could trouble the Saints' defense. With Gardner Minshew giving away four interceptions and three fumbles in the last two weeks, the Colts will likely lean on their running back duo to move the ball and control the game.
Both backs received 18 carries last week, with Jonathan Taylor being the most productive. He averaged 4.2 yards per carry and added a further 45 yards through the air. These are impressive numbers, considering it was the vaunted Cleveland Browns defense he was going up against. This week, Taylor will be going up against a New Orleans defense that is holding opposition running backs to just 3.6 yards per carry, which is 7th best in the league. The Saints' ability to keep him quiet will be a key to the game.
Another key to the game will be whether the defense can start strong. They have conceded 17 points in the first half of their last two games before going on to finish well. Last week, Travis Etienne did most of his work in the first two quarters, scoring his second touchdown early in the second quarter. It will be crucial that the Saints don't let Taylor get off to a similar start this week.
If they can limit Taylor's productivity early, more pressure will be placed on the shoulders of Gardner Minshew, who is prone to making costly mistakes. The Browns managed to pressure Minshew on 40.7% of his dropbacks last week, leading to the quarterback fumbling three times and throwing an interception. That provides the blueprint for a Saints defense with the playmakers on hand to force similar errors.
Despite the mishaps, Minshew is also capable of delivering some magic moments. He is not as dangerous on the run as Anthony Richardson, but he is shifty enough to cause headaches with his play-fakes to Taylor or Moss. Minshew ran for 29 yards and 2 touchdowns last week, providing a useful addition to this Colts' offense.
When Minshew drops back to pass, it will be Michael Pittman and the exciting young rookie Josh Downs he is looking for. Downs popped for a big game against the Browns last week, leaving only two receptions for Pittman. Pittman did convert one of them into a 75-yard touchdown, but the receiver commented to the media that he wasn't happy with his usage. That could very well mean a flurry of targets are coming his way, as is often the case when receivers grumble about their workload. Pittman should see a lot of Marshon Lattimore this week, so an increase in targets would be a high-risk approach by Indianapolis, especially given Minshew's tendency to throw to the opposing team.
Offensively, it has been a very underwhelming year so far. It is perhaps best summed up by last week's dismal third-down performance, converting only three of their eighteen efforts. This reflects Derek Carr's inaccuracies when throwing downfield. Carr targeted his number one receiver, Chris Olave, 15 times against the Jags, resulting in only 7 catches for 57 yards. That's just not good enough, but the Colts do provide a bounce-back opportunity. Surely, they will connect on one of these deep attempts soon.
The inefficiencies downfield have coincided with Carr's shoulder injury and the return of Alvin Kamara, the check-down king. Now, Carr is speeding through his reads and settling on Kamara out of the backfield way too quickly. Kamara had 14 targets in week seven, resulting in 12 receptions for 91 yards. These passes keep the offense ticking along, but the lack of any explosive plays down the field is frustrating. Kamara is good at picking up first downs, but he doesn't have the same tackle-breaking abilities that made him so successful in the past. Fans will be clamoring for more success passing beyond the sticks.
Thankfully for New Orleans, the Colts' pass rush is nothing special. The offensive line should be able to protect Carr in this one and enable him to target some areas deeper down the field. And don't forget about Taysom Hill. Hill has been utilized well by Pete Carmichael, contributing well as a receiver in each of the last two games and punching in a touchdown on the ground last week.
New Orleans Saints vs. Indianapolis Colts Game Prediction
The Saints are familiar with Gardner Minshew, albeit after seeing him in different uniforms. He previously suited up for the Jaguars and the Eagles to face off against New Orleans, losing both times and averaging a completion percentage of just 52.5%. This is a good Saints defense, and they should be able to make it 3-0 against Minshew.
The key will be to shut down the run and make Minshew have to beat them through the air. Despite their inefficiencies so far, Carr should have enough time in the pocket to find his playmakers and put up a winning total.
Predicted Score: Saints 34, Colts 24