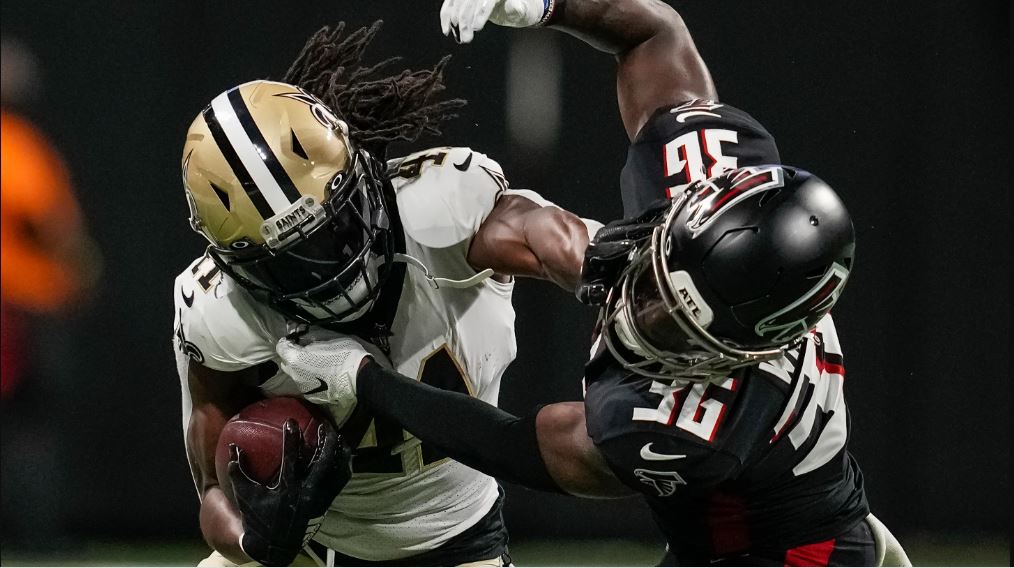 The day is almost here. The New Orleans Saints open their 2022 season against a familiar foe, the Atlanta Falcons. Right now, both teams head into this season in different directions. The Falcons are rebuilding while the Saints have constructed a roster many have viewed as a potential Super Bowl contender. Long-time head coach Sean Payton decided to step away from coaching football after spending 16 seasons with the organization. The Falcons parted ways with their franchise QB Matt Ryan when they traded him to the Indianapolis Colts.
The Saints went through a makeover with the wide receiver group when they signed free agent Jarvis Landry and selected Chris Olave in the first round of the 2022 NFL Draft. The expectation is that Olave and Landry will be great complimentary players to star wideout Michael Thomas. Without further delay, here are the Saints versus Falcons preview and prediction for Week 1.
What Do the Saints Need to Do to Win?
The Saints will have three objectives in Sunday's game against the Falcons. Their defense must contain the read option capability of Marcus Mariota, prevent Cordarrle Paterson from becoming a factor, and minimize the big-pay ability of tight end Kyle Pitts. New Orleans has recently struggled in past with defending mobile QBs like Mariota, but a void of talent currently surrounds him at the moment. We could see the long-awaited return of wideout Michael Thomas when it comes to offense. He was listed as questionable on the Saints' latest injury report, but all indications are that he will play in Sunday's season opener.
Thomas suffered a hamstring injury during training camp but has continued to practice with the team, despite not seeing any preseason action. If Thomas suits up for Sunday's game, he will likely be facing Falcons top corner A.J. Terrell. The last time Thomas and Terrell faced each other, MT recorded nine catches for 104 yards. At the time, Terrell was a rookie; however, he has grown into a respectable corner during his three seasons in the league. With linebacker Deion Jones being on IR, running back Alvin Kamara could have unlimited opportunities to be successful against a Falcons defense that lacks playmakers.
What Is Going to Happen?
The New Orleans Saints will leave Mercedes-Benz with a 1-0 record. They are playing a team where they are head and shoulders better than now. However, this is the NFL, and we witnessed a lot of crazy starts to the regular season. If the game is out of reach for the Falcons, you can expect head coach Dennis Allen to utilize the rushing attack to put it away. The following week, the Saints return home to continue their rivalry with Tom Brady and the Tampa Bay Buccaneers.
Saints   35
Falcons 16
Show Your Support
Support the great work of the Strike 7 Sports Saints Discussions Section by purchasing licensed NFL fan gear. Items ranged from Saints hats, jerseys, t-shirts, socks, and so much more. We would greatly appreciate it if you would purchase these items from the text link listed below. The revenue generated from today's offer goes into the funding of the Strike 7 Sports platform. Click on the link below if you are interested.
Sports Betting 
Are you going to place a bet on the latest Saints game or any sporting events happening throughout the week? If so, then you need to check out BetUs. BetUs is the ultimate destination for online betting, sports betting, live betting, racebooks, etc. If you are interested, click on the text link BetUs and you will be redirected to their website. We shall receive compensation if you decide to sign up through our affiliate link below.