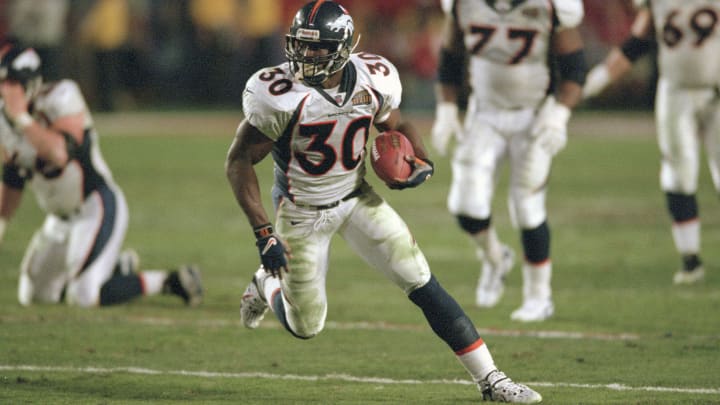 The role of a running back in the NFL has always been one of the most important ones throughout the years. Even though recently, the trend of drafting a running as an early draft pick has been down, and in the last 3 NFL drafts (2019-2021), there were no running backs selected in the top 10. Still, the role of running back never stopped being important.
Despite quarterback considered the most valuable position in any NFL team, it usually is the running backs who carry the offense on their shoulders, and often the running backs are the ones who face the defense's head first.
Looking through history, one can easily find out that teams with the most dominant winning periods of their franchise history always have one or few running backs that carried them through that period. In today's article, we will highlight the top 10 running backs in terms of seasonal performance, highlighting the record books with their exceptionally well history-changing performances.
10. Jamal Lewis (2003) Baltimore Ravens
387 Carries, 2,066 Yards, 14 TD, 5.3 Avg, 129.1 Y/G
Even before being picked up by the Ravens in the 2000 NFL draft, Jamal Lewis was considered by many analysts as the best among running backs in the 2000 draft. Many to be a game-ready player, Jamal Lewis picked at number 5 overall by the Ravens, making an immediate impact. In his inaugural season as a rookie, Lewis ran for 1,364 yards. However, Lewis's most significant impact was in the 2003 season when he rushed for 2,066 yards, scored 14 rushing touchdowns, and won the
"Offensive Player of the Year" award in 2003. The most memorable game of Lewis was the second game of the regular season against the Cleveland Browns when Jamal Lewis rushed for 295 yards and scored two touchdowns. In addition to his 2,066 rushing yards, Lewis also caught 26 passes for 205 yards.
Most importantly, Lewis took the Ravens to the playoffs with ten wins, 7-9 in the 2002 season. Lewis was being considered a significant threat in the playoffs. However, he was only limited to 39 yards rushing, and that's why Ravens lost to the Tennessee Titans in the wild card round. Jamal Lewis had many impressive seasons throughout his career, but his 2003 season had remained the best of his career.
9. Emmitt Smith (1995) Dallas Cowboys
377 Carries 1,773 Yards, 25 TD, 4.7 Avg; 62 Rec, 375 Yards
Emmitt Smith is considered by many to be one of the greatest NFL players of all time. In his career at Dallas, Smith scored 153 touchdowns and rushed for 17,162 yards. By the time he left Dallas, he was already an all-time rushing yards leader and all-time rushing attempt leader. Smith played two more seasons for the Arizona Cardinals. However, 1995 is considered the best season of his career.
Smith shattered touchdown records by scoring 25 times on the ground. He rushed for a total of 1,773 yards and also had 62 receptions for 375 yards. Due to Emmitt Smith's performance, Dallas was 12-4 in 1995, and they went on to win Super Bowl XXX.
8. Adrian Peterson (2012) Minnesota Vikings
348 Carries, 2,097 Yards, 12 TD, 6.0 Avg
Adrian Peterson had many highlights in his career, and he has seen ups and downs as an NFL player in his time in the NFL. However, Peterson's 2012 season for the Minnesota Vikings was all about him. Viking's rushing offense was ranked at number two while their passing offense was at 31st place.
Peterson ran for 2,097 yards in just 348 carries with an average of 6.0, and he scored 12 touchdowns. Those accolades won him both league's MVP and "Offensive Player Of The Year" awards.
Due to Peterson's fantastic performance, the Vikings clinched a playoff berth, a feat that wasn't accomplished in the last three years. Although the Vikings lost the very first playoff game, Peterson's 2012 season is considered one of the best seasons by any player for any position. By the time I am writing this, Peterson stands at number two all-time with his 2,097 yards behind only Eric Dickerson.
7. Terrell Davis (1998) Denver Broncos
392 Carries, 2,008 Yards, 21 TD, 5.1 Avg; 25 Rec, 217 Yards, 2 Rec TD
Terrell Davis's pre-draft outlook wasn't that great. He ran 4.72 at the 40-yard dash. Initially, he was only drafted as a fresh training camp player. In 1995 he was the 6th tailback in the Broncos depth chart. Terrell's training workouts were also considered average. But it all changed when he faced the opposing teams.
Davis started displaying exceptionally fantastic performances as a member of special teams, and quickly he was promoted to the starting position. Terrell went on to win NFL MVP, Offensive Player of the year, Super Bowl MVP in his brief career at Denver. Davis' 1998 season was the most memorable. He rushed for 2,008 yards and scored 21 touchdowns.
However, the biggest highlight was that with John Elway's help, Terrell helped the Broncos reach an impressive 14-2 record, but he also helped them win the Super Bowl XXXIII. Terrell rushed for 102 yards and caught two passes for 50 yards through the air, allowing the Broncos to win against the Falcons. Davis is the only player in NFL history to score 20+ touchdowns while running 2,000+ yards, which he achieved in the 1998 season.
6. Marshall Faulk (1999) St. Louis Rams
253 Carries, 1,381 Yards, 7 TD, 5.5 Avg; 87 Rec, 1,048 Yards, 5 TD
The 1999 season has been groundbreaking for so many reasons. The season when Kurt Warner made most of the chance he got and made a name for himself. It was the first season for the St. Louis Rams where they made the playoffs ever since the franchise moved from Los Angeles to St. Louis. It was the 2nd time in the team's history that they went undefeated at home after 1973. And of course, it was the start of an era which we now know as "Greatest Show on Turf."
Of course, one of the biggest highlights of the 1999 season was the record-setting performance of Marshall Faulk, who was acquired from the Colts and was playing his first season. Faulk went on to gain 1,000+ yards both through the ground and through the air. Faulk rushed for 1,381 yards on just 253 carries and caught 87 passes for 1048 yards. Faulk was named "Offensive Player of the Year" in 1999.
Along with Kurt Warner, Faulk helped his new team go 13-3 in the regular season, who was in the last place with a 4-12 record just a year before in 1998. Faulk set many new records. He is the only player in NFL history who had 200+ receiving yards and 50+ rushing yards in a single game, and that was also accomplished in the 1999 season. Ultimately, Faulk helped St. Louis Rams win the Super Bowl XXXIV. Faulk is the only player in NFL history who has gained at least 6,000 total yards in rushing and receiving.
5. Barry Sanders (1997) Detroit Lions
335 Carries, 2,053 Yards, 11 TD, 6.1 Avg; 33 Rec, 305 Yards, 3 TD
Barry Sanders is considered one the greatest NFL running backs of all time. Sanders was incredibly consistent throughout his career, and he won multiple awards. He was selected to the Pro Bowl for all of his ten years with the Detroit Lions. Sanders was an immediate starter after having an incredible season at Oklahoma State, which also won him Heisman Trophy.
Sanders had a remarkably consistent professional career for the Detroit Lions, rushing for greater than 1,300 yards every single season except one. For his 10-year career, he had 15,269 rushing yards, 2,921 receiving yards, and 109 total touchdowns. He is currently third all-time in career rushing yards and 10th all-time in rushing touchdowns.
Sanders helped the Lions to reach the playoffs in the 1997 season with his incredible performance. During that season, Sanders became the fourth running back to go above 2,000+ yards. Sanders also caught 305 yards through the air. For his fantastic performance, Barry Sanders is ranked at number 5 on our list.
4. Eric Dickerson (1984) Los Angeles Rams
379 Carries, 2,105 Yards, 14 Touchdowns, 5.6 Avg
Eric Dickerson was a superstar from the moment he was drafted into the National Football League. He was 2nd overall selection by the LA Rams and was an immediate success. In his rookie year, Dickerson broke many old records and set new ones.
He continued to perform at a productive level throughout his career. However, his 1984 season remains one of the best the best seasons by any position. Dickerson's 2,105 yards is still the best rushing yard performance in a season.
Dickerson led his team to the playoffs, where the Rams lost the wildcard game. Dickerson was the only highlight reel on the entire team during the 1983 season. He was the only one from the team selected for Pro Bowl and All-Pro selection. He was also awarded NFC Player of the Year.
3. OJ Simpson (1973) Buffalo Bills
332 Carries, 2,003 Yards, 12 TD, 6.0 Avg
Orenthal James Simpson (OJ Simpson) was regarded as the best prospect for any position before the 1969 NFL draft. He had a very prolific career at the University of Southern California. As a college athlete, he won the Heisman, Maxwell, and Walter Camp awards, so it was no surprise when the Bills picked him 1st overall in the NFL draft.
OJ's 1973 season for Buffalo Bills remains the best season to this day, both for the Bills and OJ. In 1973 Simpson led the league in carries, overall touchdowns, the longest rushing touchdown, and of course, his record-breaking performance of 2,003 total rushing yards.
OJ rushed for 250 yards in the very first game, which was a record at the time. He was awarded both NFL MVP and Offensive Player of the year for his outstanding accomplishments. Despite OJ's fantastic performance, the Bills failed to reach the playoffs that year.
2. Jim Brown (1963) Cleveland Browns
291 Carries, 1,863 Yards, 12 TD, 6.4 Avg; 24 Rec, 268 Yards, 3 TD
Jim Brown is considered perhaps one of the best running backs ever in American Football history. He played his entire career at Cleveland Browns, earning Pro Bowl in all of those years. Jim Brown was the first running back in football history to break and set records that took decades to be surpassed. Brown played in the golden age of the Cleveland Browns, making the franchise a force to reckon with when he was a part of the organization.
Brown set the NFL record in 1963 when he rushed for 1863 yards. The All-Pro tailback also caught 24 passes for 268 yards taking his total yards from scrimmage to 2,131 yards. Brown's 1,863 yards rushing yards were achieved in just 291 carries. His 6.4 yards per carrying is the highest in NFL history among the running backs with 200 or more carries.
It is so impressive that only OJ Simpson and Barry Sanders have come close to it. Brown's fantastic accomplishment took the Cleveland Browns to the NFL championship. He played in a time when the running back position was one of the most demanding positions for its era. He played it beautifully and consistently, and for that, he will be remembered forever.
1. LaDainian Tomlinson (2006) San Diego Chargers
348 Carries, 1,815 Yards, 28 TD, 5.2 Avg; 56 Rec, 508 Yards, 3 TD
On top of our list is LaDainian Tomlinson, who shattered almost all seasonal-based records in 2006. He still holds many records that he set in the 2006 season, including most touchdowns with 31. His 28 total rushing touchdowns are still records and quite possibly will remain the record for the near future. He also holds a record for most 2+, 3+, and 4+ touchdowns set in 2006.
Due to Tomlinson's record-breaking performance, the Chargers, for the first time in history, posted a record of 14-2, which also recorded the best winning record among 32 teams. Tomlinson was the league's MVP in 2006. His 186 points are the most ever in NFL history.
Support the Strike 7 Sports platform's growth by heading over to Fanatics.com and purchasing officially licensed gear from the National Football League. Each purchase made through the text link below goes into the funding of the Strike 7 Sports brand. To proceed, click on the link below and enjoy shopping over at Fanatics.
Photo courtesy of Getty Images