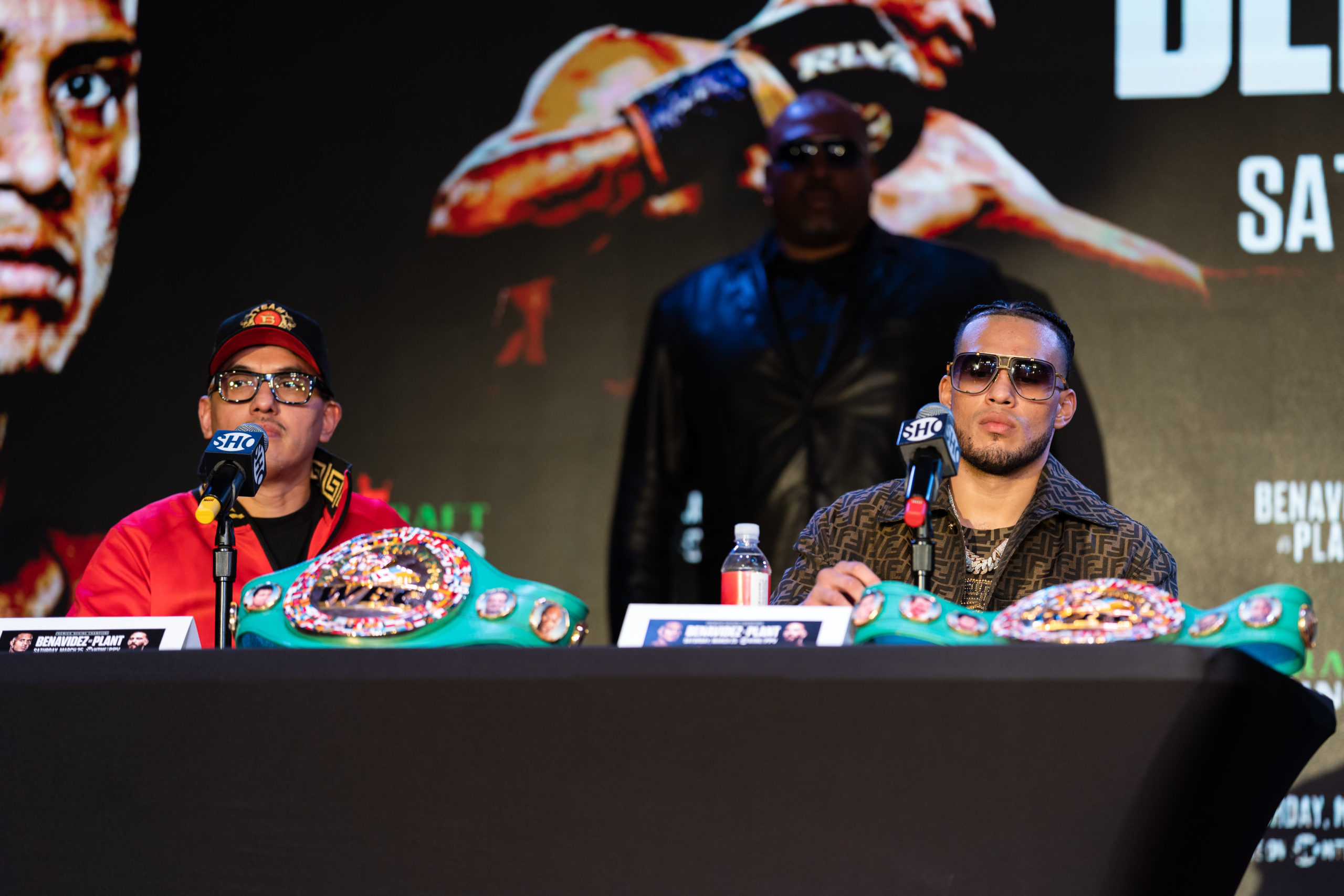 We start to see some of the biggest fights in boxing in the spring and summer months. 2023 is no different. The first on the schedule is a pay-pay-per-view showdown between two top stars in the middle-weight division. The long-awaited bout between Caleb Plant and David Benavidez will finally occur on March 25 at the MGM Grand Garden Arena in Las Vegas, Nevada. The two fighters have had their war of worlds in a press conference to kick off the long-awaited bout in March.
You can tell that these two individuals do not respect each other and eagerly waiting to throw hands on March 25. Recently the clash of words has continued as both fighters prepare for next Saturday's battle. Benavidez is currently training at a gym located in the Seattle area, while Plant prepares in Las Vegas. Here is what Benavidez has to say after a workout for the media on Wednesday.
"Some people don't understand that I'm the most accurate puncher in this weight class. I've had 23 knockouts in 26 fights. I've hurt every man I've been in the ring with and Caleb Plant is no different.
"You can see that every time Caleb is in the ring with a power puncher, he's not comfortable. He beat Jose Uzcategui but he was hurt in the fight and then Canelo hurt him. Even Anthony Dirrell hit him with good shots, and he's not a hitter like that.
"I've got the power and I feel like I'm faster. I just have to get my feet in the right position, because he's going to be moving a lot. I think he has a little bit more confidence after beating Dirrell though, so we'll see if he wants to trade with me.
"Every time I step into this gym I give my all. I've got a great team here with me. Everybody has done their part and made me feel comfortable. I'm just so motivated by the people who think that I can't handle a boxer and I'm ready to prove them wrong.
"I'm a big guy and I throw punches in bunches. I'm ready to mix it up in there. Every question you all have will be answered on March 25.
"My jab is better than Caleb's. He doesn't really have a power jab, but I hurt people with my jab. I've cut eyelids open with it. I'm very comfortable in there. At the end of the day, what is he gonna do when he has to sit there and fight? I'm gonna get him on the ropes. It's a matter of when, not if.
"Emotion, especially anger, is a great motivator to train. The people who are telling me not to be emotional, haven't laced up the gloves before. I couldn't be more ready. I leave all my emotions outside of the ring when it's time to go to work.
"This is pay-per-view and we're giving the people what they want to see. I'm ready to give the people whatever they want. This is the most confident I've ever been because this is the hardest I've ever worked. That's why I've been calling for these big fights, because I've known since I was a little kid sparring world champions that when I'm put in an uncomfortable situation, the best comes out of me."
The fight between Benavidez and Plant should have occurred a long time ago. It has all the ingredients for a colossal showdown, such as a storyline, strong personality traits, and a fierce determination to come out on top. If Benavidez is victorious against Plant next Saturday, he must fight undisputed super middle champion Canelo Alvarez next. There's no need for tune-ups, Benavidez is ready for boxing biggest stage, and right now, Alvarez is the fighter that can provide that type of buzz that the sport needs right now.