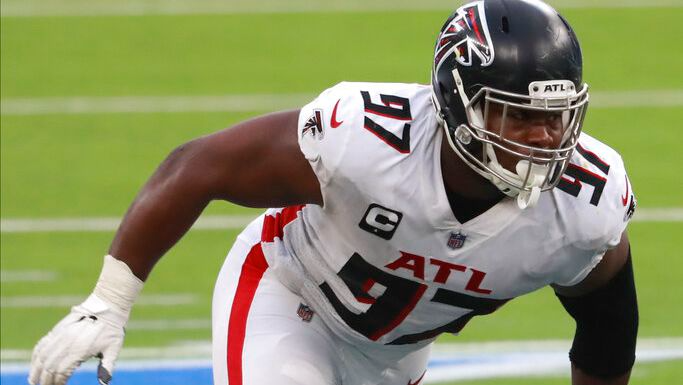 Over the past two seasons, a lot of familiar faces have departed from the Atlanta Falcons organization. Players such as Julio Jones, Devonta Freeman, Austin Hooper, and recently Matt Ryan once were the cornerstones of the football team.
During their run together, the Falcons played in Super Bowl LI against the New England Patriots. As of today, defensive tackle Grady Jarrett is one of the few Falcons remaining from the 2016 squad. According to CBS Sports NFL Jonathan Jones, Jarrett will remain in Atlanta for another three years. 

"The two-time Pro Bowl defensive lineman has signed a three-year contract extension with Atlanta. The deal pays an average of $16.5 million per year and contains $34.5 million fully guaranteed at signing. A report from NFL.com indicated that the deal contains a maximum value of $51 million, indicating that Jarrett can earn around $500,000 per year in incentives.
Jarrett was headed into the final year of the four-year, $68 million contract he signed with the Falcons back in 2019. He was set to count against the cap for around $23.8 million for the 2022 season, according to Over the Cap, but with the new extension, his cap number will presumably be lower, as the Falcons can spread out his signing bonus over the four years remaining on his new deal.
A fifth-round pick back in 2015, Jarrett has blossomed into one of the NFL's best and more durable interior defensive linemen. Considered a bit undersized for the position at only 6-foot, 305 pounds, Jarrett has nonetheless found a way to succeed.
He has made the Pro Bowl in two of the past three seasons and has missed only three games in his seven-year career. Jarrett has finished each of the last five seasons with double-digit quarterback hits and also has 22.5 sacks and 46 tackles for loss during that time."
Prior to the draft, the Falcons had decided to pursue highly coveted quarterback Deshaun Watson. Watson decided to join the Cleveland Browns after numerous reports had stated that Watson to the Falcons was a done deal. The decision to go after Watson pretty much ended the Matt Ryan era in Atlanta. Extending Jarrett is the right move for a Falcons team that needs veteran leadership. They have added a lot of young talent over the past two seasons.