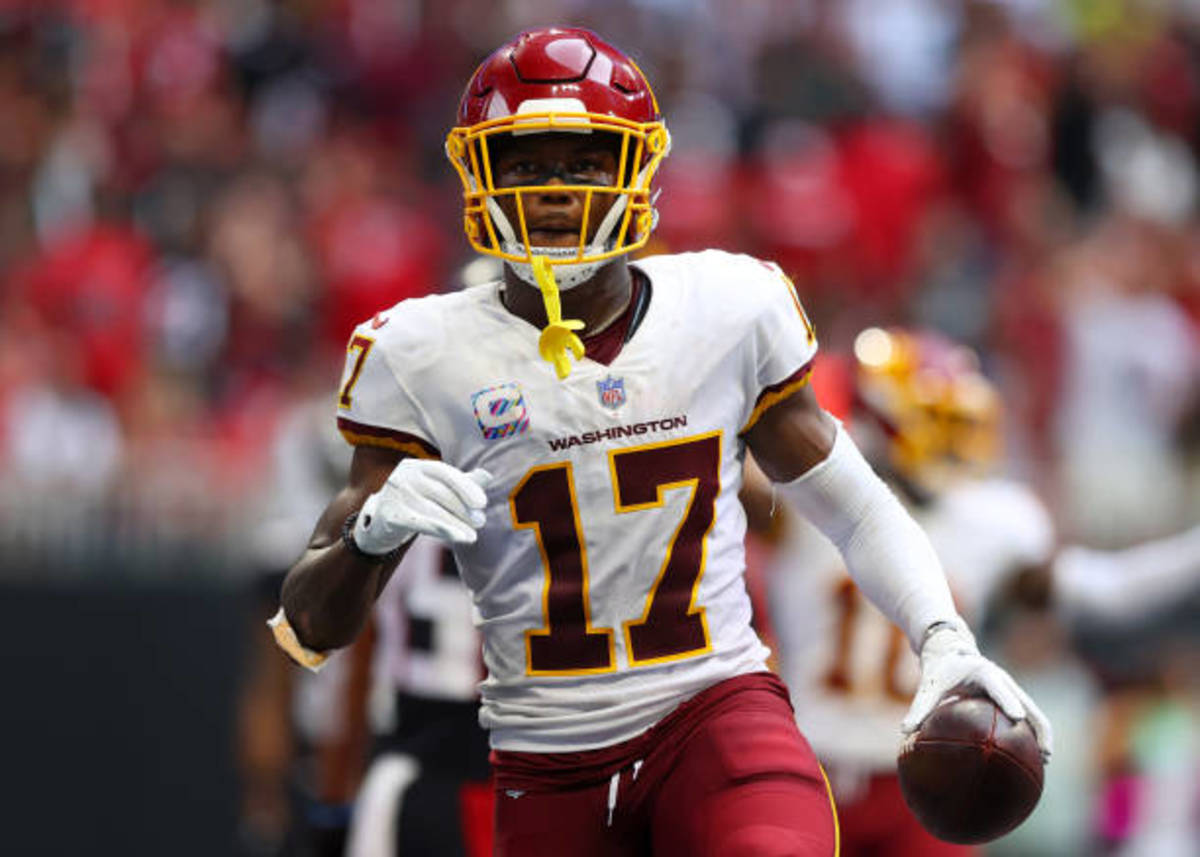 The wide receiver market in the National Football League is booming. Individuals such as Davante Adams, Stefon Diggs, and recently Tyreek Hill have signed record-setting deals. With the recent players signing new contracts, other wide receivers have noticed and want the same.
On Monday, it was reported by ESPN's Adam Schefter that wideouts Deebo Samuel, AJ Brown, and Terry McLaurin would not participate in any on-field work during their respective teams' offseason programs. All three wideouts bring a unique skill set to their current franchise. Each receiver presents their argument on why they deserve the type of compensation that they are seeking.
But for this post, we will focus our attention on Washington Commanders' wideout Terry McLaurin. The former Ohio State standout is the Commanders primary target in the passing game. Over the past three seasons, McLaurin has the stats that validate why he should be paid as an upper-echelon talent. Despite having numerous changes at the quarterback position, McLaurin has remained consistent in production.
He has recorded back-to-back 1,000-yard seasons and is the absolute best player at a position that lacks talent. With the draft only a week away, rumors have circulated that McLaurin could be traded in exchange for picks. But, according to team officials such as head coach Ron Rivera, McLaurin will not be moved. "I think the biggest thing is just (telling) everybody patience," Washington coach Rivera started last month's owners' meeting.
In theory, it would make sense for the Commanders to move McLaurin since the NFL Draft is right around the corner. At pick no.11, they are in a good position to select a top talent at wide receiver. Washington can trade McLaurin for an extra first-round pick and another area of need.
However, would it make sense to keep McLaurin and select another receiver to pair with him? In the current landscape of the NFL, you need more than one wideout to dominate an opponent. Pairing McLaurin with a reliable rookie WR can open up the Commanders' offense and would make life a lot easier for new quarterback Carson Wentz.
Also, trading McLaurin should not be Washington's first option to deal with, not extending him. Instead, Washington can apply the franchise tag to McLaurin, estimated to be around $20 million. While the franchise tag is not an extension, it will keep the star receiver off the market until 2024.
With a new quarterback under center in Carson Wentz, the Commanders must extend McLaurin. He's their best player on offense and is a key leader on the team right now.
We have seen what Wentz looks like when there's a void of talent at the receiver; it's not good. In 2022 the NFC will be weak as it has been in years. The Commanders are in a position to compete for a playoff berth and could win the NFC East. However, it will not happen without the club's best player on offense in McLaurin. They are a better football team when his presence is on the field.
Show Your Support
Support the Strike 7 Sports platform's growth by heading to Fanatics.com and purchasing officially licensed gear from the National Football League. Each purchase made through the text link below goes into the funding of the Strike 7 Sports brand. To proceed, click on the link below and enjoy shopping over at Fanatics.