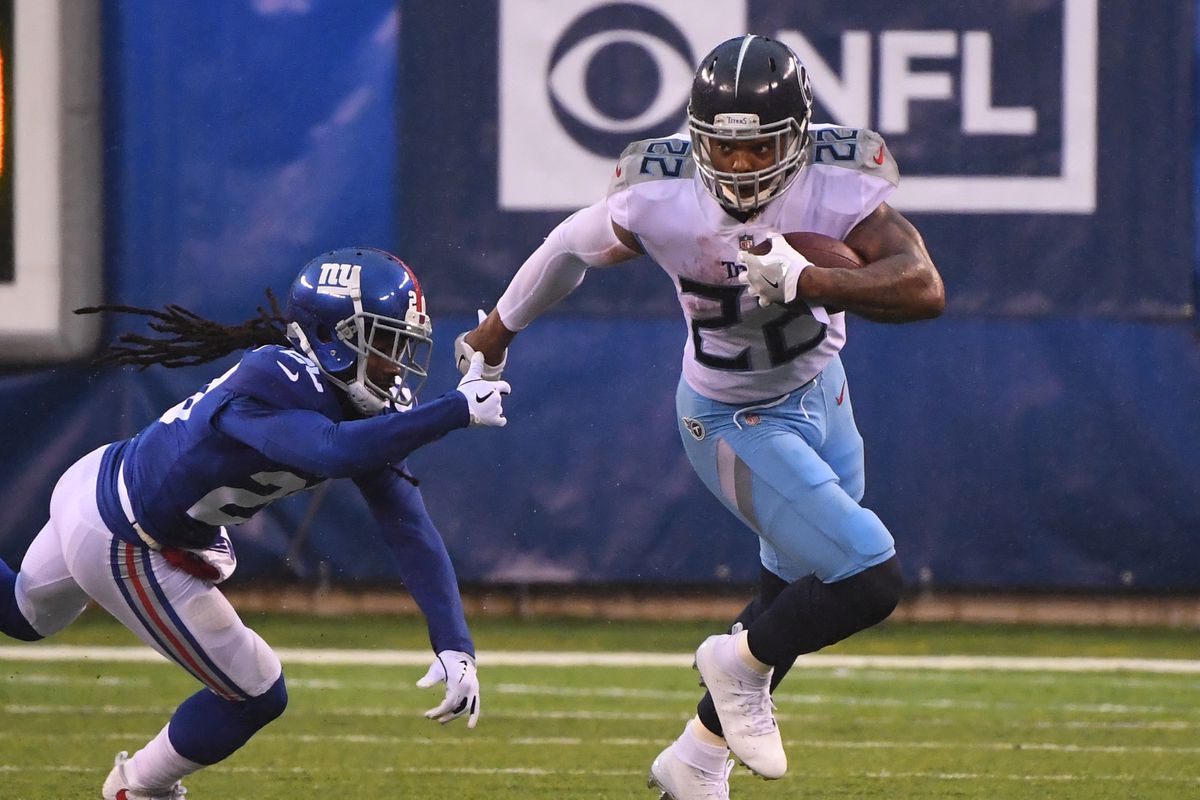 The Tennessee Titans open their 2022 season at home against the New York Giants. Tennessee went through an offseason that witnessed the departure of star receiver A.J. Brown and many new faces that will be a part of the offense. Tennessee's offense will feature veteran wideout Robert Woods and tight end Austin Hooper. Rookie WR Treylon Burks is another intriguing name to pay attention to this season.
The Titans selected him after the team decided to trade Brown to the Philadelphia Eagles. Two-time rushing champion Derrick Henry will be eager to pick up where he left off as the NFL's top running back. His 2021 season was cut short after suffering a foot injury against the Indianapolis Colts. Tennessee won the last meeting between the two teams 17-0. The overall series is tied at 6-6. Here are a few things to look out for in Sunday's Week 1 matchup.
What to Watch For
The Return of Derrick Henry
All signs point to All-Pro running back Derrick Henry being 100 percent healthy for Sunday's opener against the Giants. He was on his way to another rushing title and possibly the second 2,000-yard campaign of his career. Henry suffered a broken bone in his foot during Week 8's win over the Colts. Opening up against a Giants team in transition should be a nice test to see how his production could look as we advance through the season.
The Progress of the Rebuilt WR Group
One of the biggest questions on everyone's mind heading into the season is how the new wide receiver group will mesh with QB Ryan Tannehill. After a contract dispute with former receiver A.J. Brown, the Titans decided to move him to the Philadelphia Eagles. In return, the Titans received the Eagles' 18th pick, moved up in the draft, and selected Treylon Burks out of Arkansas. The Titans also traded for talented receiver Robert Woods, a Los Angeles Rams member. Woods is coming off a torn ACL injury from a practice session with the Rams. The duo will face a New York secondary that is nowhere near one of the league's better groups. If the production of Burks and Woods is exceptional on Sunday, it could put those worries about the unit to rest.
The Containment of Saquon Barkley
Giants running back Saquon Barkley has been adamant about his return to being a Pro Bowl-level running back this season. "I just want to kill, just go crazy," Barkley said, per SNY. "I'm tired of the BS that is said about me or this team, and I want to go out there and prove to this organization that the player they drafted is still there." When Barkley is healthy, he is one of the league's most potent weapons on offense. His skill set is similar to what you see in running backs such as Alvin Kamara and Christian McCaffrey. Now that Harold Landry is out, it will be interesting to see how the Titans plan to contain Barkley as a weapon on Sunday. The best remedy for defending a back like Barkley is to have a linebacker that can go from sideline to sideline.