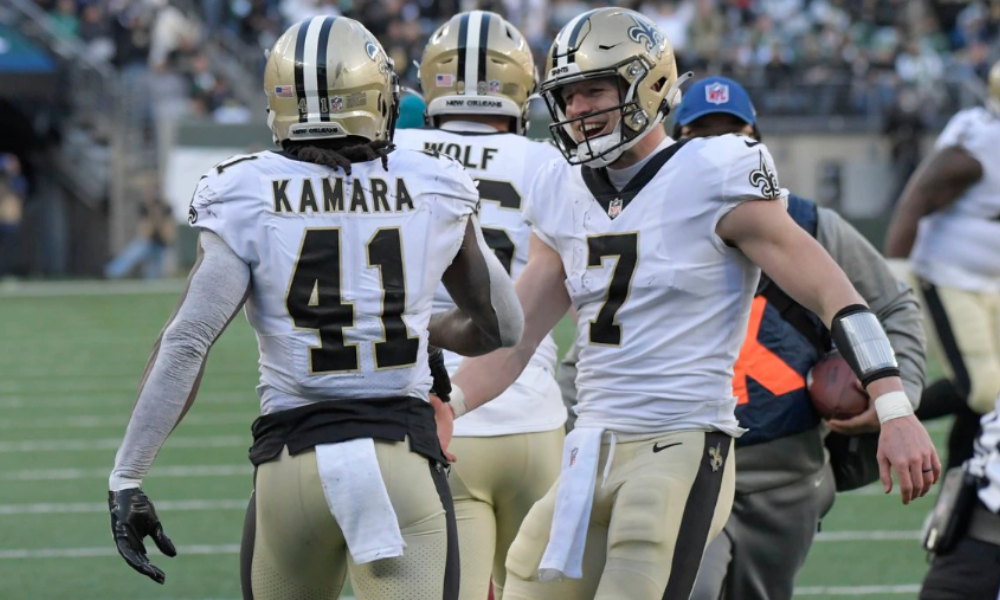 The post-Sean Payton era is off to a shaky start. The Saints missed the playoffs for a second-straight year and recorded their first-ever double-digit losing record since 2005. With Coach Payton at the helm, the most games the Saints ever lost was nine. New head coach Dennis Allen has fans wondering if he can right the ship in one year. What frustrates the New Orleans fanbase the most is that the team had numerous opportunities to win what looked to be an awful division, the NFC South.
With Allen as head coach, the Saints performed like an undisciplined team that needed more situational awareness. There's also a lot of intrigue on how New Orleans will handle the ongoing situation with their former head coach. It has been reported that five teams have contacted the Saints about interviewing the Super Bowl-winning head coach.
The expectation among fans is that the Saints could receive a potentially high draft choice from a team like the Houston Texans or the Arizona Cardinals. While others believe that notion is wishful thinking.
As of right now, it's a fluid situation that can change on any given day. Outside of navigating where Payton could end up next, the on-the-field product must be seriously looked at. So today, we will preview the Saints' upcoming offseason and discuss what areas they need to improve immediately.
Salary Cap Space: Projected $-53,425,054
In a few weeks there will be people that do not understand how the Saints operate from salary cap standpoint say things like "the Saints are in cap hell." That's simply not the case at all. A lot of deals will be reworked as they have done in previous seasons. Some players will be back while others will no longer remain with the team. It's simple as that.
Pending Free Agents (Unrestricted)
Andy Dalton
Marcus Davenport
Jarvis Landry
Bradley Roby
David Onyemata
Kaden Ellis
Deonte Hardy
Shy Tuttle
PJ Williams
Dwayne Washington
Tanoh Kpassagnon
J.T. Gray
Daniel Sorenson
Kentavious Street
David Johnson
Justin Evans
Ethan Greenidge
The Saints unrestricted free agent class is one of the most oldest in recent memory. It is not going to take a lot to bring back a significant majority of the players that are the list, but should they? Before the season started, Davenport was expected to be the Saints top priority when it comes to re-signing. In 2022, he did not have a repeat performance from last year's nine sack campaign. He finished the season with only a half sack. According to Spotrac, Davenport's market value is at $23.2 million.
There is a chance he can return to New Orleans, but it will not be at $23.2 million. The emergence of linebacker Kaden Ellis has led many to believe that it has made Demario Davis become expendable. If the Saints can get extra draft compensation for trading the Pro Bowl linebacker, it is something they may have to consider. Dalton may re-sign on another one-year deal to act as a bridge QB while the future starter is being developed.
Saints' Team Needs for 2023
Quarterback
When news outlets reported that Andy Dalton would be the Saints starting QB for the remainder of the season, many people knew that the team would find itself in the quarterback market again. While Dalton's numbers were exceptional, he is not a quarterback that can win a game outright. He needs a lot of things to go his way to be successful. If the Saints want to get better at quarterback, they will have a few options. They can wait until Raiders QB Derek Carr is released and sign him, or they can pursue other individuals such as Lamar Jackson or Geno Smith. If the Sean Payton trade brings back a high first-round pick, the Saints will be inclined to draft a quarterback.
Running Back
From a production standpoint, running back Alvin Kamara had a down season. But it wasn't by choice. The former Tennessee Vol saw the endzone only four times in 2022. He was utilized more as a bell cow type of back instead of the all-purpose threat that was are accustomed to seeing. Kamara stated that he didn't know why he was being used in that type of way. It could be that it boils down to the Saints committing one of their biggest missteps of the 2022 offseason.
New Orleans needed to adequately address the running back position by finding a viable second option to pair with Kamara. Ingram is 33 years old and not the impact player he once was a few years ago. An argument can be made that addressing the running back position could be the second most crucial need next to finding a quarterback. Also, chances are high that Kamara will be suspended for the incident at last year's Pro Bowl event in Las Vegas. The Saints must find a running back to carry the load while Kamara is suspended.
Defensive Line
Some ugly warts were spotted for all the great things the Saints' defense accomplished during the 2022 campaign. The once-vaunted Saints' rush defense became one of the unit's biggest downfalls of the season. They allowed over 130.5 rushing yards per game, placing them near the league's bottom. Also, they still need to add a complimentary pass rusher to pair next to Cam Jordan. The Saints' defensive line contains two first-round selections in Marcus Davenport and Payton Turner. Both players have yet to show consistent results, only temporary sample sizes. It looks like Allen, Jeff Ireland, and Mickey Loomis will return to the drawing board to figure out how to address the situation.
Show Your Support
Support the great work of the Strike 7 Sports Saints Discussions Section by buying licensed NFL fan gear. Items ranged from Saints hats, jerseys, t-shirts, socks, etc. We would greatly appreciate it if you would buy these items from the text link listed below. The revenue generated from today's offer goes into the funding of the Strike 7 Sports platform. Click on the link below if you are interested.