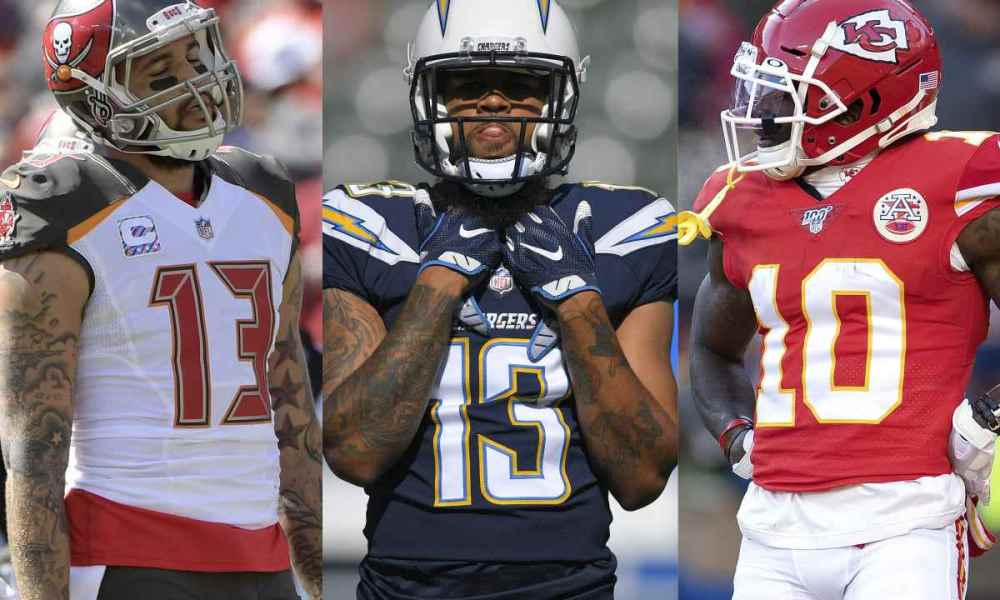 Wide receivers' position in the NFL is often called the most explosive position. That's because a talented wide receiver can make or break any game within a few seconds either by catching an almost impossible throw or catching a ball and then pausing and running down the field for 70 yards. This is the very reason the wide receivers are called the divas of the NFL.
We have compiled a list of top 10 wide receivers for the upcoming 2020 NFL season. Even though the wideouts position is tough to predict since there are lots of factors that are in play at once or separately, factors like last year's performance, quarterbacks form element, aggressive style of the team, the opposing defense, the elite cornerbacks, or many other things can play a huge role in determining the position of a wide receiver. We have made sure to include all the possible factors while compiling our list.
These are the top 10 NFL wide receivers for the year 2020, according to our experts.
1. Michael Thomas, New Orleans Saints
2019 Season Stats.
Rec: 149               Tgt: 185               TD: 9                  Yards: 1725                       Yd/Rec: 11.6
There are no surprises there. The 2019 season for Thomas was as perfect as it can be. It didn't even matter who was the starting QB. Both Brees and Bridgewater kept throwing football towards Thomas's direction, and he kept catching the football with his secure hands. Even before the start of the 2019 season, Thomas was expected to have an impactful season. He had 268 combined receptions in the last two seasons, which are the most by any receiver in NFL history in a two-season span. However, breaking Marvin Harrison's 18-year-old record has put Thomas into a whole new tier.
Going into the 2020 season, Thomas will continue to get his QB's attention. God forbid if Brees gets injured, then the backup QB is Jameis Winston, who also loves to throw deep. So, it is safe to assume that once again, Michael Thomas is going to get a lot of targets, resulting in lots of receptions which are going to result in lots of yards. Therefore, putting Thomas at number one on our list entirely does justice.
2. Julio Jones, Atlanta Falcons
2019 Season Stats.
Rec: 99                  Tgt: 157               TD: 6                     Yards: 1394                        Yd/Rec: 14.1     
 Julio Jones is often compared with Calvin Johnson. The biggest reason for such a comparison is that they both have the three best unmatchable qualities. These qualities are size, talent, and work ethics. Just like Johnson, Jones doesn't say a lot on or off the field, keeps his private life private, and shows his explosiveness on the ground. Jones had only 99 receptions in 2019 season in 15 games, but he managed to rake up almost 1400 yards. Jones is extremely talented with an outstanding football IQ, which helps him make breathtaking plays.
Jones is number two on our list. In the 2020 season, he will continue to be a dominant Falcons player who is one of the teams in NFC south, which has Drew Brees, Tom Brady, and Teddy Bridgewater as opposing QBs. So, there are predictions of games with a high number of scores where the QBs will throw a lot, and elite receivers will get most of the attention. Expect Jones to shine in the 2020 season as well.
3. Davante Adams, Green Bay Packers
2019 Season Stats:
Rec: 83                  Tgt:127                TD: 5                      Yards: 997                           Yd/Rec: 12      
Davante Adams, another talented receiver who doesn't get a lot of credit. Despite playing only 12 games in the 2019 season, Adamas managed to score 5 TD on 83 receptions. He managed to gain 997 yards through the air with an average of 12. The reason for Adams being at number three on our list is that he is the only elite receiver at Green Bay Packers at the moment. Aaron Rodgers wants to do better this season, and we are expecting Adamas to catch 12+ TD passes while going over 1400 yards.
The Packers' strength of the 2020 schedule is not too muscular, and it is being projected that Rogers will throw lots of deep throws. Davante Adams is one of the few receivers who work very hard on and off the ground. The 2020 year is expected to be the year when Rodgers/Adams's connection will dominate the league.
4. Tyreek Hill, Kansas City Chiefs
2019 Season Stats:
Rec: 58                  Tgt: 89                 TD: 7                      Yards: 860                          Yd/Rec:14.8       
Hill's 2019 regular season may not have gone as he planned, as he had in 2018 when he had almost 1500 receiving yards, 12 TD, and 17 Yd/Rec average. Still, even in 2019, Hill managed to make an impression, especially in the playoffs and eventually winning the Superbowl. Hill only played in 12 games, and even in those games, he missed a few quarters. Hill's hamstring injury prevented him from playing 100%.
In 2020 Hill is expected to be in full form. Chief's QB Pat Mahomes is playing flawlessly for the past two years and is likely to continue with the same style. Tyreek Hill happens to be Mahomes' favorite target, and we are expecting once again a massive run after catching the ball from Hill. Furthermore, Hill is a speedster, and that is the reason Hill is at number four position on our list.
5. DeAndre Hopkins, Arizona Cardinals
2019 Season Stats:
Rec: 104                               Tgt: 150                               TD: 7                     Yards1165                          Yd/Rec: 11.2
In the 2019 regular season, Hopkins was targeted 150 times, which put him at number five for the most targeted WR in the league. That shows the QB's confidence in throwing towards Hopkins. That will not be changed at Arizona Cardinals, where Kyler Murray played exceptionally well. Not only Murray rushed for 544 yards on the ground, but more importantly, he threw for 3722 yards on 549 attempts. Murray spread the ball equally towards all targets.
DeAndre Hopkins is number five on our list because he is expected to be the new favorite target of Murray. In 2020 Murray will play more comfortably in a high-volume offense, and since the past few years, the NFL is becoming a more pass-heavy league, Cardinals are expected to adopt that style as well. Hopkins will be a huge beneficiary of that style.
6. Chris Godwin, Tampa Bay Buccaneers
2019 Season Stats:
Rec: 86                  Tgt: 121                               TD: 9                      Yards: 1333                         Yd/Rec: 15.5
Godwin's had a high season last year. His 1333 yards place him at number three position behind only Michael Thomas and Julio Jones. Jameis Winston threw a lot, and Godwin benefited from it. However, the reason Godwin is at number 6 position is that he is expected to play the slot receiver role for the Bucs new quarterback Tom Brady. We all know how much Brady loves to target his slot receivers. Wes Welker and Julian Edelman are two perfect examples of Brady's love for the slot position. Godwin has everything a good receiver should have. He got the speed, secure hands, and exceptional ability to run after the catch. Brady is an intelligent quarterback, and we are expecting that Chris Godwin is going to get the most attention among all the receiving core of Buccaneers in the 2020 season.
7. Amari Cooper, Dallas Cowboys
2019 Season Stats:
Rec: 79                  Tgt: 119                               TD: 8                      Yards: 1189                         Yd/Rec: 15.1
2019 was the best season in Cooper's career. His total yards, touchdowns receptions, and yards per receptions all were his career-best in the 2019 regular season. But the best part is that Cooper had some of the best plays in the whole league, which boosted the team's performance and helped quarterback Dak Prescott in a significant way.
Cooper is at number seven position on our list going into the 2020 season. The reason is that he is expected to supersede his last year's performance. Dak Prescott, who was franchise tagged for the year 2020/2021, is looking for a long-term deal at Dallas, and he will do whatever it takes to win the games. Cooper will continue to shine with his sheer speed, and he is already Prescott's favorite target.
8. Mike Evans, Tampa Bay Buccaneers
2019 Season Stats:
Rec: 67                  Tgt: 118                               TD: 8                      Yards: 1157                         Yd/Rec: 17.3
Believe it or not, the only reason Mike Evans is not higher on our list is that the Tom Brady of 2020 is not the Tom Brady of 2010. We are not saying that Brady isn't playing well. However, over the years, Brady has gotten comfortable by getting rid of the ball quickly to the nearest available targets, whether he throws the ball towards the tight end, running back or wide receiver, Brady spreads the ball as much as he can. However, Evans is a rare talent. At a towering height of 6-5 and high speed with amazing ability to catch the ball, Brady never had such a receiver ever since he threw the ball to Randy Moss (well apart from a very brief stint with Antonio Brown).
Going into the 2020 season, we have reason to believe that Evans will get a lot of attention both from his QB and from opposing defense. Evans will also be playing two games each with Saints, Falcons, and Panthers, all of which are expected to be high score games. So, we are hoping Evans to catch deep throws at top-scoring games, especially in the second half of the games. Evans may not get a lot of targets as Gronk or Godwin, but he is expected to get a lot of attention from Brady.
9. Kenny Golladay, Detroit Lions
2019 Season Stats:
Rec: 65                  Tgt: 116                               TD: 11                   Yards: 1190                         Yd/Rec: 18.3
Ever since Matthew Stafford arrived in Detroit Lions, they remained to the pass-heavy offense when Calvin Johnson was already there. However, since the retirement of Johnson, the Lions offense seems directionless. Golladay looks like a person who's about to change that direction into the positive side. Golladay is coming off back to back two 1000+ yard performances, and his yards per reception of 18.3 in 2019 were third among all receivers. He continues to make big plays down the field. Golladay is very well built at 6-4, and he can catch the ball in the crowd, making him a quite lethal wideout.
The reason Golladay is number nine on our list is that the Lions are going to be a pass-heavy offense. Granted, Stafford didn't play in 8 games in 2019, still, Stafford is a guy who loves to throw the ball, and he has benefited from it as well. Stafford currently holds the record of reaching the fastest player to reach 25,000, 30,000, and 40,000 yards. The whole offense of the Lions is built around Stafford, who is feeling more and more comfortable throwing towards the direction of Golladay. Detroit's strength of schedule is also more comfortable towards their receivers, which will help Kenny Golladay in a big way.
10. Odell Beckham Jr.
2019 Season Stats:
Rec: 74                  Tgt: 133                               TD: 4                      Yards: 1035                         Yd/Rec: 14
The 2019 season didn't go as planned for OBJ. However, it was his very first season at the new team, and he did get considerable attention from Baker Mayfield. OBJ was targeted 133 times but managed to catch only 74 of those targets. His four touchdowns were also career low while playing the whole season.
However, the reason OBJ is on our list is that the Browns have one of the most relaxed schedules going into the 2020 season. The combined opposing defense rank for wide receivers is at 26th place, which should make it possible for Mayfield to throw the ball deep in the field, and it will also help OBJ to go down deep in the area and make big plays as he used to when he was with the Giants. Due to the Browns schedule, OBJ is expected to have a huge season. We are expecting him to finish in the top 10 in receiving yards and total touchdowns.