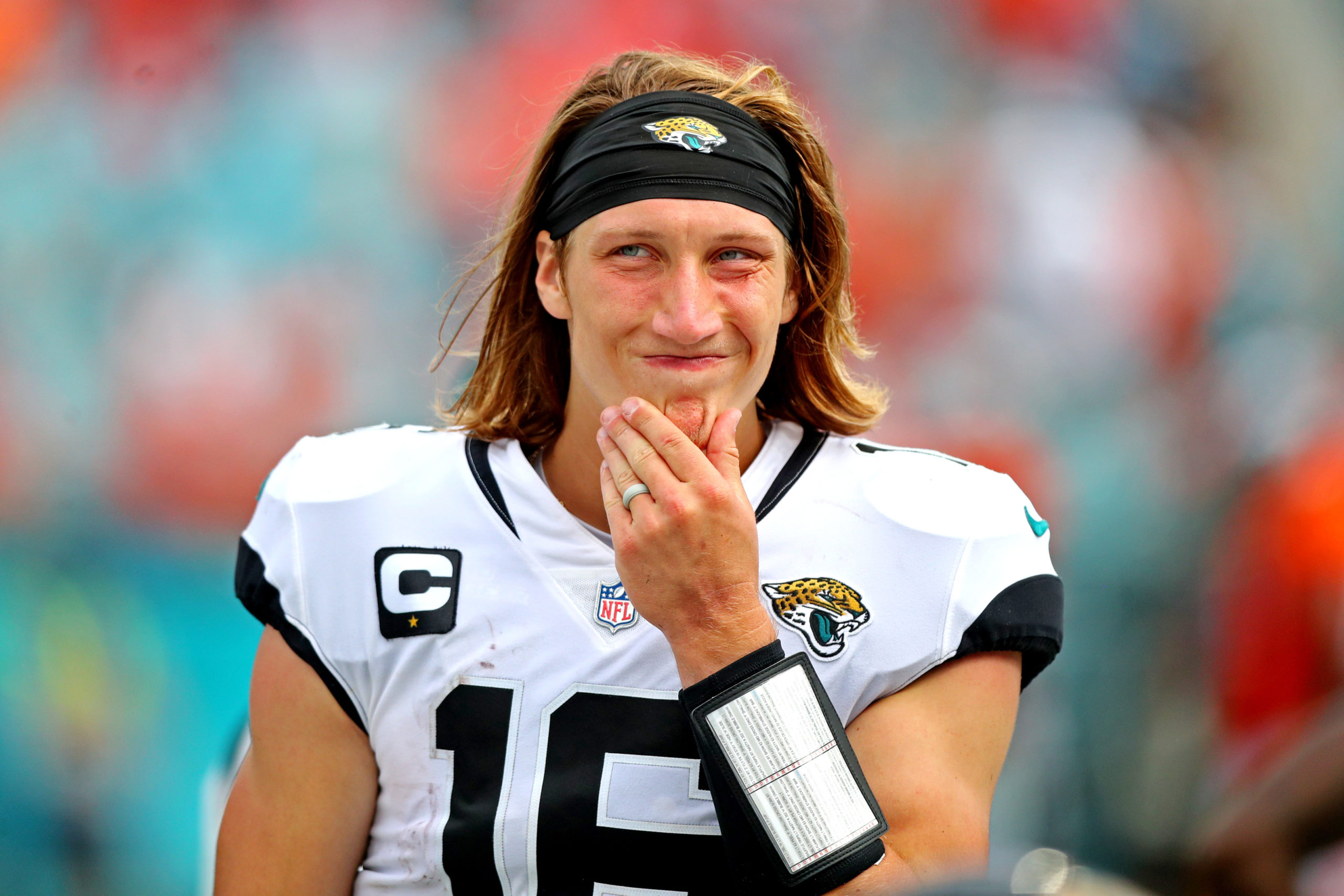 The quarterback class of 2021 was one of the best in recent memory. A generational prospect, a national champion, and a raw-yet-promising talent headlined a group of signal callers that could all be looked at as legitimate franchise changers.
Nine weeks into the 2021 season, how do they stack up?
5. Trey Lance, San Francisco 49ers
Lance has to be ranked fifth by default, but it's not because he's been poor or underachieved. He simply hasn't gotten the same opportunity as the other first rounders yet, and that's fine. Out of college, Lance was seen as the rawest of the five main quarterback prospects and he hadn't taken a live snap in 18 months due to his decision to sit out most of the 2020 season and focus on the draft.
When he did get a chance to play earlier in the season as a result of Jimmy Garoppolo's injury, we saw most of what we expected to see – some good, some bad, and lots of room to grow. In his first ever appearance (not including his one pass in the opening week against Detroit), he completed 9 of 18 passes for 157 yards and two scores against Seattle. He's still looking for that first win, but there should be no concern that he'll get it. And probably a whole lot after that, too.
4. Zach Wilson, New York Jets
Wilson walked into arguably the most difficult situation out of any first-round quarterback this season. A new head coach, a defunct offense, a lack of playmakers, and a shaky offensive line coupled with the bright lights of New York (well, New Jersey) was never going to be an easy place to put up numbers from Week 1. And while he's shown impressive spurts, he's largely underwhelmed.
Some of that is not his fault – he's consistently flushed out of the pocket and some of his interceptions have been well-placed but tipped by his receivers – but he's also definitely shown some growing pains. Some of his interceptions are a direct result of poor reads and throws into double and triple coverage, shown in his four-interception first half against the Patriots in Week 2.
The good news for Wilson is that since his injury, Robert Saleh has tweaked the offense to prioritize short passes and quick read progressions. Mike White and Josh Johnson have both excelled mightily in the new system, and there's no reason to believe Wilson can't produce at the same level.
3. Justin Fields, Chicago Bears
Like Wilson, Justin Fields has shown encouraging signs in spurts. But unlike Wilson, those signs have come more frequently and consistently as the season has progressed.
The start to Fields' career looked both concerning and painful, as success was futile in a Matt Nagy offense that drew copious amounts of criticism even before Fields took over under center. It's still far from effective, but Fields has been able to make it look more cohesive than it deserves credit for. He's thrown for a touchdown in four of his last five games and he looked fantastic in primetime against the Steelers on Monday in which he threw for 291 yards and led a go-ahead drive late in the fourth quarter. And while he possessed electrifying running ability, he hasn't been relying on it in the way the way a mobile quarterback would. He scrambles when his pocket collapses, but other than that, he's selective with when he chooses to run with the football.
A concern for Fields is his ball protection. In his last three games, he's fumbled five times and lost two of them. But that can be taught, and we've already seen Fields display some of the more important intangibles that can't be coached.
2. Trevor Lawrence, Jacksonville Jaguars
Out of all the quarterbacks named in this article, there's only one that has already surpassed his team's win total from 2020 – the first-overall pick out of Clemson.
Granted, that's not a difficult feat to achieve when your team won approximately one game a season ago (Jacksonville was drafting first overall for a reason), but tangible improvement is key with a first-year quarterback. Lawrence has started his career with some turnover issues, as his 9 interceptions is tied for fourth in the NFL. But he's also posted some impressive numbers and has grabbed wins in games they were expected to lose. Lawrence went for over 300 yards in Jacksonville's win over Miami in London, and while his performance in the Buffalo win last week wasn't nearly as impressive (15-26, 118 yards), he didn't turn the ball over against an unforgiving Bills defense that has terrorized quarterbacks all over the league this season.
Especially with a new head coach and an offense that the front office essentially had to build from scratch, patience is of utmost importance. But Lawrence has shown little reason to think he isn't Jacksonville's quarterback of the future.
1. Mac Jones, New England Patriots
The selection that quickly became a meme on draft night is the one that's panned out that best so far. Because of course it has.
Since his arrival, Jones has shown every bit why the Patriots selected him with the 15th pick in April. A comfortable pocket passer with a winning pedigree, Jones and head coach Bill Belichick are an ideal partnership. Among all first-round rookies, the former Alabama signal caller leads in passing yards, passing touchdowns, completions, yards per game, and quarterback rating. If you remove Trey Lance, who has only played a handful of snaps, Jones also leads in yards per attempt, yards per catch, and he's thrown the fewest interceptions. There's no question who the best rookie quarterback has been.
And that comes down to the system. Jones was drafted by a New England team that wasn't in a massive rebuild – something that can't be said about New York, Jacksonville or Chicago. Even San Francisco needed massive change to return to the Super Bowl stage that they were playing in just two years prior. Jones joined a team with a world-class head coach and a competent offensive unit.
Will he be the best rookie of the class? It's too early to say. But halfway through their rookie years, he's got a clear head start over the other four.