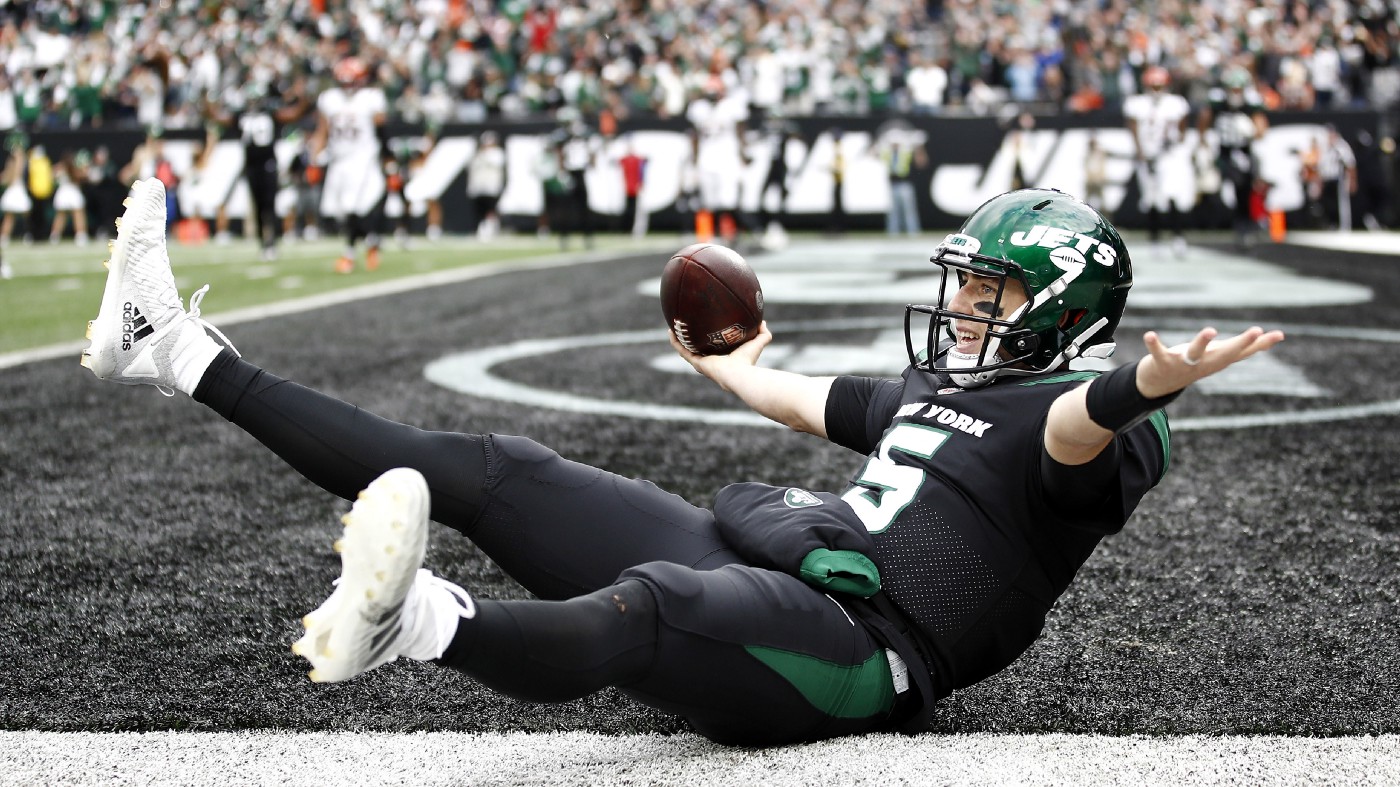 For New York Jets fans, everything about October 24, 2021, was hideous.
Trips to Gillette Stadium are never fun as a member of Gang Green. On this day more than others, optimism was even more difficult to come by. The Jets were 1-4, two weeks removed from an embarrassing loss to Atlanta in London, and playing a division rival that they hadn't beaten on the road in over ten years. Let's just go in, lose, and get out of there.
But somehow, what occurred that Sunday in Foxborough was more disappointing than even Jets fans could imagine.
New England went into halftime winning 31-7 and ended up putting up 54 points – the most by a single team in the head-to-head series since 1979 – on a Jets defense that was viewed as a strength. Mac Jones posted the best game of his young career, throwing for over 300 yards and two touchdowns, but even that paled in comparison to seeing Zach Wilson, the Jets' second overall pick and franchise quarterback hopeful, go down with what initially looked like a serious knee injury early in the second quarter. Any remaining strands of optimism within the Jets fan base were swiftly stomped out upon seeing their crown jewel leave the field injured.
And why should there have been any optimism? The team wasn't going to fight for a playoff spot. They had already been crushed by the Patriots twice and it was only Week 6. The biggest reason to watch the team at all was getting evaluated in the medical tent and it seemed certain he was about to miss significant time. Wilson's backup, Mike White, had never taken a live NFL snap before. How watchable could this team possibly be?
As it turned out, very.
White became an instant talking point in his first career start the very next week. With the Jets hosting Cincinnati – a team that many tapped as a favorite to win the top seed in the AFC – White earned AFC Offensive Player of the Week by throwing for over 400 yards and three touchdowns, leading the Jets to a thrilling come-from-behind win in front of the home fans and instantly reinvigorating a fan base that needed a reason to continue watching. Their next game, in primetime against Indianapolis on Thursday night, went from an afterthought to a must-watch.
Then, White got hurt too. And the cycle began all over again.
But Jets fans should have known that when Josh Johnson – the backup's backup – took his turn under center, he was going to produce similar numbers to his predecessor. That's because, if you watched closely, you would have seen that the offensive scheme that Mike White and Josh Johnson played in was not the same one in which Zach Wilson started his career. Robert Saleh changed it, and it led to impressive production from two quarterbacks that Jets fans hardly knew the names of in the preseason. But why?
One of the recurring themes in the Wilson-led offense was the rookie quarterback constantly being flushed out of the pocket due to the depth of his receivers and the impotence of the offensive line, so Saleh found a way to negate that for two quarterbacks that don't possess Wilson's ability to make plays off schedule. That meant virtually eliminating the deep ball and prioritizing short throws and yards after catch.
The statistical comparison shows just how different White and Johnson's offense was compared to Wilsons. In his five games under center before getting hurt against New England, Wilson averages 8.7 intended air yard per pass attempt. That means that, regardless of whether or not the ball was caught, Wilson's throws travel just under nine yards on average. With Josh Johnson, that number falls to 7.7. For White, it plummets all the way to 5.5.
It's clear that Saleh understood that White and Johnson had more limitations than Wilson, and that becomes a consistent theme in the analysis. For example, Wilson's completions travel an average of 7.3 yards (completed air yards per completion). Johnson's travel 5.9, and White's completions only average 4.3 yards. That's almost half the amount that Wilson was putting up before his injury.
And about those yards after catch? It's clear that Saleh would rather bet on his receivers making plays in the open field than his backup quarterbacks taking deep shots into tight windows. On Wilson's completions, receivers average 4 YAC yards. Johnson's receivers average 5.6 yards after catch, and White's receivers average 6.6.
One massive way that Saleh orchestrated this is by increasing the influence of his running backs in the passing game, specifically Michael Carter. Carter, a rookie out of North Carolina who Jets fans have high hopes for, saw his involvement in the offense explode once White came in for Wilson in the New England game. The stats split is night and day – in the 5+ games he played with Wilson as quarterback, Carter was targeted 14 times and hauled in 9 passes for 64 yards. In the remainder of the New England game and the entirety of the Cincinnati game a week later, games in which White was under center, Carter received 23 targets and caught 17 passes for 162 yards and a touchdown.
It's a similar story for Ty Johnson. As Zach Wilson's running back for 5 games, Johnson was targeted 15 times, caught 8 passes and had 68 receiving yards. Alongside White, he saw 11 targets and caught 9 passes for 119 yards and a score. Consistent with the overarching theme of keeping receivers closer to the line of scrimmage, Carter's ADOT (average depth of target) in the Cincinnati game was 0.1. Johnson's was -1.2. Saleh set out to make life as easy as possible for White and Johnson, and that's exactly what happened.
The most interesting thing about it is that the offensive line didn't play any better or any worse in the pass game, whether it was Wilson, White or Johnson under center. In fact, according to Pro Football Reference, all three get the exact same amount of time in the pocket – 2.4 seconds. The only difference is White and Johnson are releasing the ball quicker to receivers that are closer to the line, while Wilson was asked to extend the play and find ball-catchers further down field.
Wilson is still sidelined, meaning White will reclaim his place as the starter this weekend against Buffalo. But when Wilson does inevitably return, Jets fans should bring more of that cautious optimism that they're so used to seeing go up in flames. That's because this is not the same Jets offense that caused Wilson his early-season struggles – it's one that acknowledges the weaknesses in the offense and gives the quarterback a chance to put up big numbers.
If Saleh chooses to keep the same scheme with Wilson, that win in Foxborough may be coming. So long as the defense doesn't give up another 54 points.
Show Your Support
Support the Strike 7 Sports platform's growth by heading over to Fanatics.com and purchasing officially licensed gear from the National Football League. Each purchase made through the text link below goes into the funding of the Strike 7 Sports brand. To proceed, click on the link below and enjoy shopping over at Fanatics.