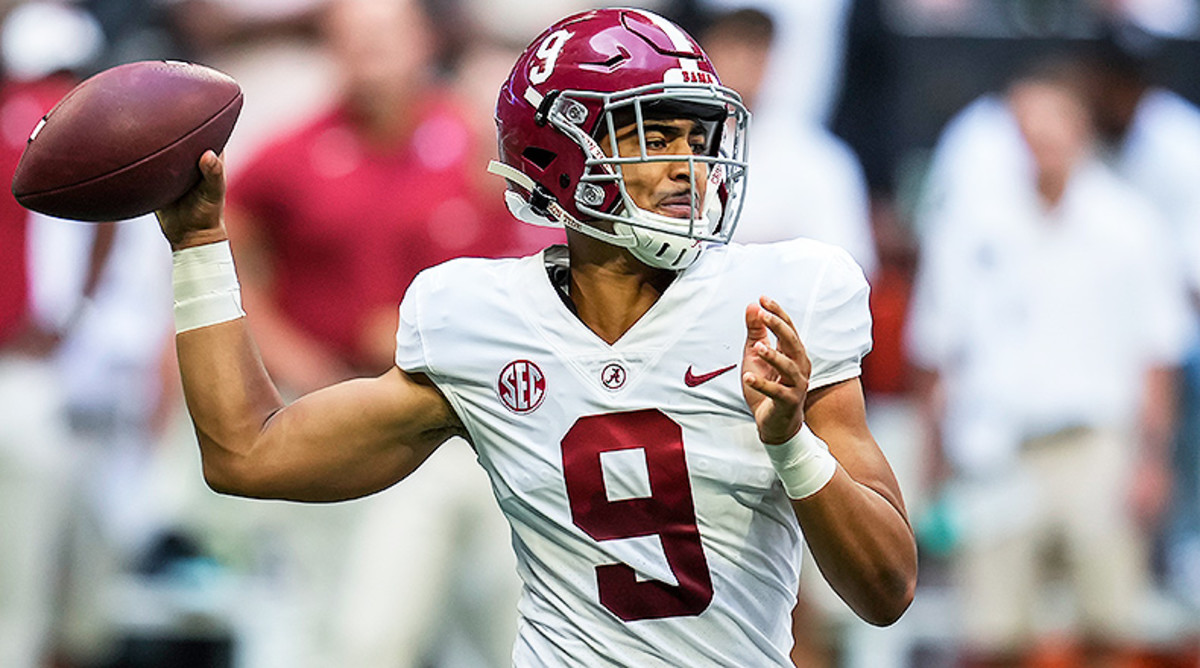 Covering the NFL Draft has become a year-round niche for some football analysts. In previous years, you would only hear guys like Mel Kiper Jr. and Todd McShay in January thru April. In today's 24/7 information cycle, McShay and Kiper are now personalities that you can now view content daily. With two days removed from the 2022 NFL Draft, CBS Sports NFL contributor Ryan Wilson wasted no time projecting who his top prospects will be for the 2023 NFL Draft.
Included with those prospects are six quarterbacks that he expects to be taken in the first round. In the 2022 draft, only one quarterback was born in the first round. The Pittsburgh Steelers selected Kenny Pickett with the 20th overall selection. So here are the top signal-callers that Wilson believes will go off the boards in the first round.
1. CJ Stroud: Ohio State 
"Who knows how this QB class ends up? A year ago, we had Sam Howell, Spencer Rattler, Kedon Slovis, and Desmond Ridder going in Round 1 and only Kenny Pickett ended up finding his way into the top 32, with none going in Round 2, and Howell falling all the way to Round 5, getting drafted after Bailey Zappe. So yeah." Landing Spot: Detroit Lions
2. Bryce Young: Alabama
"The Panthers wisely passed on a QB at the top of the '22 draft, bolstered the offensive line with Ickey Ekwonu, and were still able to get Matt Corral in Round 3. But the team also used a third-round pick on Will Grier a few years ago and he's no longer with the team. The point: We like Corral, and he may get a chance to play next season, but if the team loves any of the QBs in this class you'd have to think they'd target one." Landing Spot: Carolina Panthers
3.

Tyler Van Dyke: Miami, FL
"Is Drew Lock the answer? The Seahawks didn't take a QB in the '22 draft and if Lock balls out, the team can focus on other needs here. If not, the quarterback will be a big need and Van Dyke will be on NFL radars this fall." Landing Spot: Seattle Seahawks
4. Spencer Rattler: South Carolina
"If Tua can't make it work next season the Dolphins may look elsewhere. Rattler was in this space 12 months ago and, well, he had a forgettable '21 season at Oklahoma. He's since transferred to South Carolina and if it all clicks for him in Columbia he could be among the first QBs drafted."
Landing Spot: Miami Dolphins
5. Phil Jurkovec: Boston College
"Jurkovec returned to BC after an injury disrupted his '21 season. He's a Notre Dame transfer who layers the ball well to all levels and has a lot of the traits NFL teams look for in their signal-callers."
Landing Spot: Tampa Bay Buccaneers
6. Will Levis: Kentucky
"Ok, here we go. Daniel Jones will have the 2022 season to prove himself and if things don't work out the team will almost certainly be looking for a QB. Levis is tough and can absolutely spin it. A good campaign in the fall will have him in the first-round conversation."
Landing Spot: New York Giants
Out of the six QBs on Wilson's list, Stroud and Young are the can't miss prospects. If a team feels that one of them is a contending team's missing piece, they need to make the necessary moves to put themselves in position. A king's ransom will be required to move up and select talents like Stroud or Young.
Show Your Support
Support the Strike 7 Sports platform's growth by heading to Fanatics.com and purchasing officially licensed gear from the National Football League. Each purchase made through the text link below goes into the funding of the Strike 7 Sports brand. To proceed, click on the link below and enjoy shopping over at Fanatics.