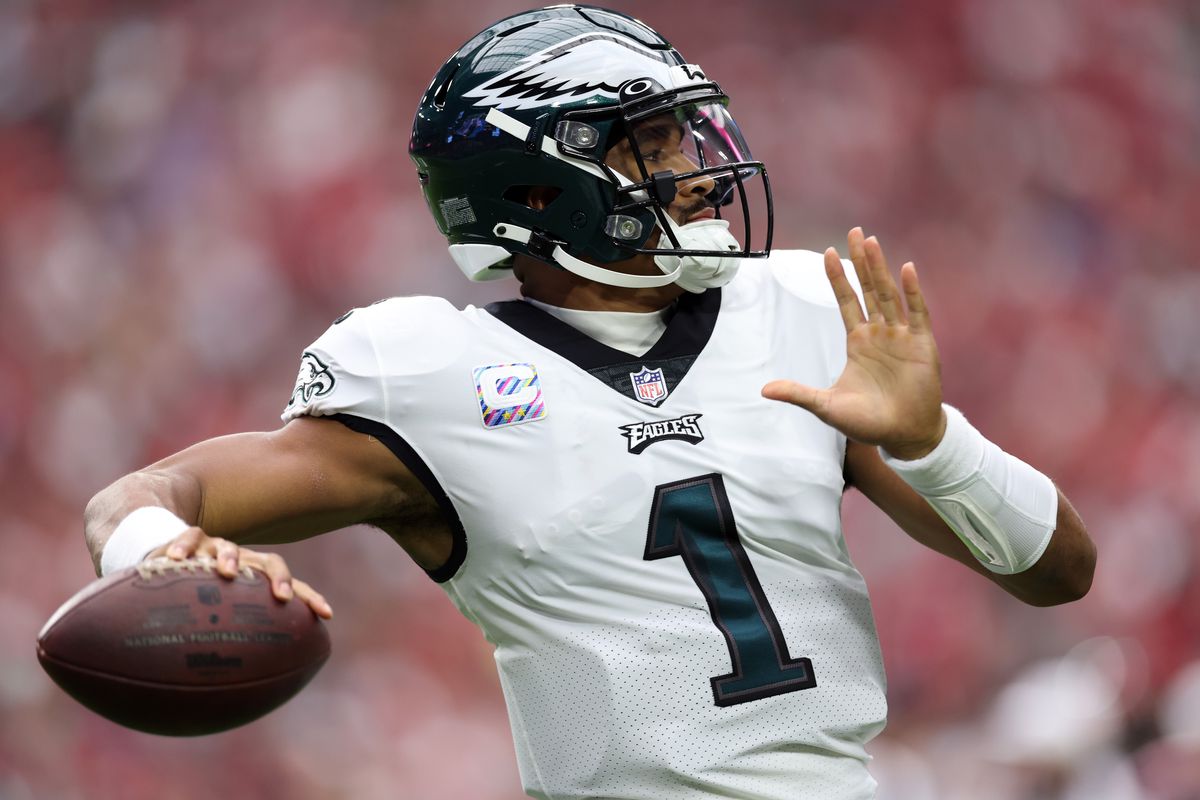 The Sunday afternoon slate in Week 9 features a significant matchup in the NFC East, with the Dallas Cowboys heading to Pennsylvania to face the Philadelphia Eagles at the Linc.
The Eagles lead the NFC East and the conference at 7-1, while the Cowboys sit in second place in the division with five wins and two losses. A win here on the road against one of the league's finest teams would not only make a statement to the rest of the division but announce the Cowboys' arrival into the conversation as a contender.
It's a critical matchup between the two rivals and part one of the yearly two-game series. Last year, these two teams split the wins, winning at home as they headed for a playoff berth. This time around, they each seem destined for the post-season again, but Sunday's matchup marks a significant event in both campaigns.
The Eagles Aerial Prowess
Philly started the season slow, passing the football, seemingly disjointed and battling the void left by Shane Steichen, who took the head coaching job in Indianapolis following last year's Super Bowl run.
A.J. Brown was quiet, and Jalen Hurts landed short of 200 passing yards against both New England and Minnesota in the first two games of the year. Since then, they've been steadily growing more comfortable, and the picture looks very different six weeks on. Brown is now the number two receiver in the league in total yardage, second only to Tyreek Hill. He's on a streak of six games with 100+ receiving yards, something that hasn't been done since Julio Jones managed it in 2018, who now also happens to be a Philadelphia Eagle.
Philly is coming into this game having had one of their best days offensively last weekend against Washington. Hurts threw for 319 passing yards, tying his season high, and tossed four touchdowns in the close contest win over the Commanders.
With A.J. Brown, DeVonta Smith, tight end Dallas Goedert, and reinforcements via Julio Jones, this offense is as dangerous through the air as any in football right now. Even D'Andre Swift and the running backs can do damage receiving the football, and covering everybody is quite the task.
The Cowboys' Secondary, Strengths and Weaknesses
The Dallas Cowboys suffered a blow two weeks into the season when All-Pro corner Trevon Diggs went down in practice. A torn ACL ended his campaign just as it was getting started, and Dallas would need young players to step into significant roles to fill the void. Stephon Gilmore occupies one side of the field, and his veteran presence is undoubtedly a strength, but its second-year talent, DaRon Bland, is making all the headlines with splash plays and interceptions so far this year.
Bland was selected in the 5th round of the 2022 draft out of Fresno State and caught five interceptions as a rookie while immediately impacting the Cowboys' defense. This year, he's picked up where he left off, playing the football aggressively and picking off another four balls through just seven games.
The sophomore's interception against Matt Stafford went back the other way for a touchdown, marking Bland's second pick-six of the season so far. He put six on the board against the Patriots, claiming a ball off Mac Jones before running it back the other way. His emergence shouldn't be understated; Dallas has got themselves a baller.
Between the four starters in the secondary, Dallas has eight picks in seven games. They're forcing takeaways and doing a great job in coverage, allowing just 178 passing yards per game this season. Those numbers are good for fourth in the league, behind only Cleveland, Kansas City, and Baltimore.
There is, however, a potential weakness in the lack of depth. Dallas can't afford any more injuries to their corners and safeties. Jourdan Lewis is the third-string corner, and behind him, there isn't anybody left that you can truly depend on. Staying healthy the rest of the way is crucial for what is considered one of the best units in the league right now.
Key Matchups to Watch
I'm looking for the one-on-ones between A.J. Brown and Stephon Gilmore, especially in the red zone, and Bland has been superb in coverage, too. Last Sunday, the Rams struggled to get separation all afternoon. That's Cooper Kupp and Puka Nacua, two of the league's most exhilarating wide receivers this season.
At the weekend, Nacua had three catches for 43 yards, while Kupp got the WR1 treatment with four catches for just 21 receiving yards. Dallas kept everything in front, didn't allow the Rams to pick up chunk plays, and held their two stars to 64 yards combined.
If they can keep A.J. Brown anywhere near that, they've got a great shot at winning the game.
Philly does boast a more threatening tight end than the Rams, though, so picking up Dallas Goedert is going to be equally important. The versatility of pass catchers like Goedert and Swift out of the backfield is one of the things that makes this team so dangerous, so how Dallas defends that is going to be very interesting to watch.
More than anything, the Cowboys need to eliminate A.J. Brown. If the Philly WR1 wins his matchups and starts punishing Dallas downfield, they could be in trouble. Keep an eye on his matchups with Gilmore and with Bland and whether the Cowboys decide to allocate help over the top with one of their safeties.
Defensive Strategies
Dan Quinn is a product of Pete Carroll, well-known for his Cover 1 and Cover 3 schemes. Quinn naturally followed suit, particularly interested in a cover 3 scheme that held offenses to short yardage completions and a lack of splash plays.
In the last few years in Dallas, Quinn has expanded his playbook, introducing a large percentage of quarters coverage and more cover 1. The extensive options he now has at his disposal make his coverages challenging to read, and those disguises often lead to players like DaRon Bland being in a position to play the football.
If it's cover 1, Dallas will need to be aware that the lone safety needs to pay attention to where A.J. Brown is at all times. The problem is that DeVonta Smith is a talented deep-ball specialist, too, and we've seen him win numerous times in single coverage down the field.
Pressure up front will be critical, and Dallas will want to see their pass rushers involve themselves in the game from the beginning. Micah Parsons and Demarcus Lawrence need to make some noise, and trying to disrupt the alignment of the offensive line by moving guys like Parsons around could be a factor in the game.
I expect to see some quarters defense against the Eagles, particularly with Philly running a lot of RPO concepts in their offensive scheme. Zone coverages offer soft spots, which Jalen Hurts could look to exploit in play-action setups, but Dan Quinn knows what he's doing, and there's a reason this Cowboys defense ranks in the top five so far this season.
Player Interviews and Insights
While Trevon Diggs has been sidelined for the season with an injury, he's been helping his teammates in the film room. Should he be healthy, Diggs would find himself assigned to A.J. Brown, just as he was last year.
In the matchup at the Linc back in October 2022, A.J. Brown was held to five catches for 67 yards, which, in the grand scheme of things, is a relatively quiet day for the dangerous Eagles wideout.
"You just have to play your game," said Diggs. "He's a really good player. Be patient with him, physical with him, and you've got to bring your A-game. We've got guys that are physical and technically sound, so I think we'll be alright."
Micah Parsons is hoping to have a major influence on the game, too, returning to the state he grew up in to face the Eagles. When he was asked about the game and what the Cowboys could be doing better, he said:
"We just can't beat ourselves," Parsons said. "A lot of people said that San Francisco was so much better than us; I didn't think so. I thought we beat ourselves and put ourselves in bad opportunities. We didn't get off the field; we gave up big plays that we usually wouldn't give up."
Parsons will be out there on Sunday, and while Trevon Diggs won't, the support he's been providing in the film room certainly will be. It's certainly a test for DaRon Bland, who's been moved from a nickel role to a boundary corner in Trevon's absence, but if he can hold up against A.J. Brown, you might as well send him to the Pro Bowl right now.
Predictions and Expectations
These are two of the top three scoring offenses in football right now. Dallas is averaging 28.1 points per game, while the Eagles are putting up exactly 28 per.
I expect to see a fair amount of points, but if Dallas can force Philly off the field on a couple of occasions during the matchup, that could prove to be the difference.
This is the sort of game where a turnover might seal it, and losing that turnover battle could prove fatal. Dak Prescott needs to take care of the football on the road, and as Micah Parsons said, the whole roster could perform better when traveling away from AT&T.
I think we see A.J. Brown have a solid day; it's nearly impossible to keep him under 50 yards. But, if you can hold him to less than 100, you're heading in the right direction, and covering him in the red zone while also catering to the threat of Dallas Goedert will be a major storyline in Sunday's game.
Jalen Hurts has hit the 270+ passing yard mark in every game since Week 2. Will Dallas be the team to break that streak?
Conclusion
This matchup will majorly influence this game between a diverse group of Eagles pass catchers and the mix of veteran experience and youth in the Cowboys secondary.
This is, without a doubt, the biggest and most important challenge of some of the team's young players' careers, especially DaRon Bland. Philly has proven that when you commit too much focus to one of their receivers, the others can do significant damage.
When A.J. Brown was held to 29 yards against the Vikings in Week 2, DeVonta Smith posted 131 and a touchdown. Dallas will need to be wary of that potential.
It's a critical game for both teams. A win for Philly puts them three games out in front in the NFC East, while a win for Dallas brings the gap between the two back to one game.
Dallas would then, in theory, go into the home game against the Eagles with the opportunity to either draw level or go ahead of them in the race for the division, depending on other results between now and that game in early December.
Either way, it will be a thrilling contest that the neutrals will be hooked on for all four quarters.
Show Your Support
Support the great work of Strike 7 Sports by buying licensed Dallas Cowboys NFL fan gear. Items ranged from Cowboys hats, jerseys, t-shirts, socks, etc. We would greatly appreciate it if you would buy these items from the text link listed below. The revenue generated from today's offer goes into the funding of the Strike 7 Sports platform. Click on the link below if you are interested.
Dallas Cowboys Fan Gear Offers at Fanatics