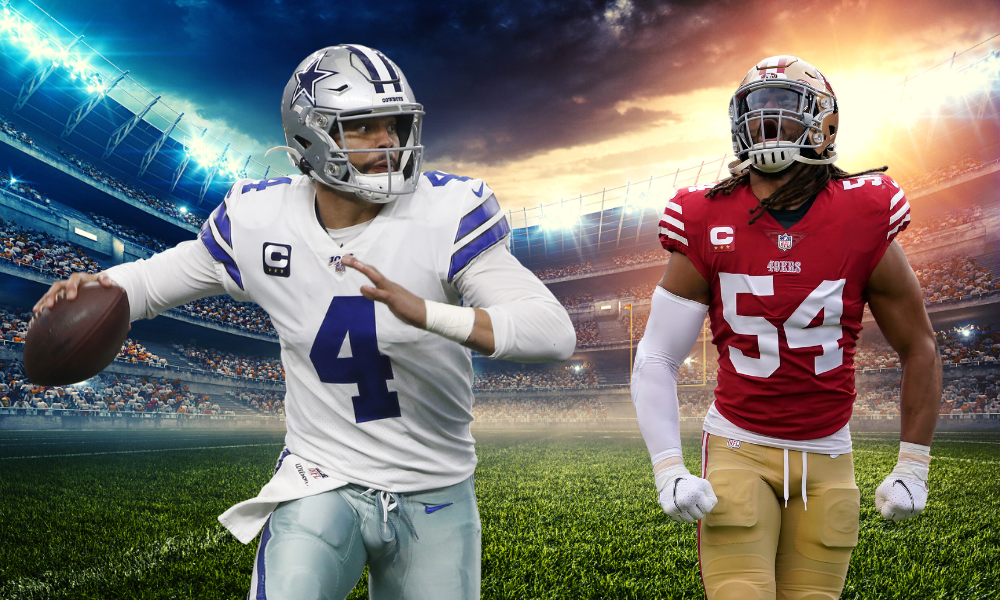 This Sunday, Levi's Stadium will host what could be the biggest game of the regular season as the Dallas Cowboys face off against the San Francisco 49ers. The implications of this game are huge. Despite being only Week 5 and still early in the NFL season, the winner will send a powerful statement to the rest of the league, asserting themselves as the best team in the NFC.
The Dallas Cowboys faced a setback against the Arizona Cardinals in week 3, losing 28-16. This loss served as a wake-up call for them as they demolished the New England Patriots 38-3, leaving them with a 3-1 record for the season. In this game, Dak Prescott threw for 261 yards and a touchdown, while DaRon Bland emerged as the standout player, intercepting Mac Jones twice, including a remarkable 64-yard touchdown return.
The critical factor in all the Cowboy's wins so far has been the performance of their defense, although they faltered against the Cardinals. Rest assured, they will be determined this does not happen again, and are gearing up for a must-win game at Levi's Stadium.
The 49ers, meanwhile, will be looking to extend their undefeated run to 5-0. However, this will be their most brutal matchup yet and the most challenging test for Brock Purdy since he faced the Philadelphia Eagles in last year's NFC Championship Game.
Last Sunday, some questions were going into the game about the health of Brandon Aiyuk and Deebo Samuel, both recovering from minor knocks. Aiyuk showed 49er fans there was no reason to worry, amassing 148 yards. Surprisingly, though, Deebo Samuel, despite being active, didn't receive a target. This was perhaps a strategic move by the 49ers in preparation for the upcoming Dallas game. Regardless, it was Christian McCaffery's four-touchdown spectacle that stole the spotlight.
Why The Cowboys Will Win?
 For the Cowboys to win, they will rely heavily on their defense, widely considered one of the best in the NFL. Micah Parsons, Leighton Vander Esch, and DeMarcus Lawrence must all perform to contain Christian McCaffery, who is undoubtedly the standout player on the 49ers' roster.
When the Cowboys' defense is in top form, they can nullify even the best run games. This was shown in their games against the Pats and Jets, where they held them to 53 and 64 rushing yards, respectively, two teams with prolific and explosive running backs.
However, it does not stop there. The Dallas defense is also well-equipped to manage the passing game. The most yards they have allowed to an opposition quarterback all season is 189, which was to Joshua Dobbs. They've also only allowed two passing touchdowns all season, which is quite an outstanding achievement. Brock Purdy has looked good for the 49ers this season, throwing five touchdowns already, but he will remember their divisional playoff round matchup from last season, where he could not throw a touchdown and threw for just 214 yards.
If the Cowboys do their job like we know they can, they should have enough talent on offense to win this game. Dak Prescott has had his fair share of criticism, especially after the Cardinals game, but he bounced back in a big way against the Patriots. He was the #2 quarterback on the week with an 88.0 passer rating, completing 28 out of his 34 pass attempts for 260 yards and a touchdown.
Dak will, therefore, be critical to the Cowboys getting this win. If he can perform like he did last week, he'll be able to get the ball into the hands of Lamb and Pollard, the players in this Cowboys offense that can make something special happen. With Jake Ferguson and Michael Gallup getting more involved every week, it'll be hard for the 49ers to predict what the Cowboys will do offensively.
Why the 49ers Will Win?
 The 49ers' path to victory hinges on Christian McCaffery's shoulders. Not only is he the league's top running back, leading in rushing yards by over 100, but he also shares the lead with six rushing touchdowns. McCaffery has proven he can do it all – he can run, catch, and even throw a touchdown last year. He is the beating heart of the 49ers offense and will be crucial if they want to emerge victorious this Sunday.
The 49ers defense will also play a part here; they're the PFF's No.1 ranked defense right now, leading the NFL in tackles and pass rush. We've seen that Dak can crumble if put under pressure, and that's precisely what the 49ers and Nick Bosa will aim to do. Bosa was last year's Defensive Player of The Year and has started gunning for back-to-back titles this season. He's currently leading all defensive positions with a PFF 93.8 defensive rating. Dak has chinks in his armor, and Bosa can exploit it.
What is Going to Happen?
In closing, this Dallas defense is outstanding. They've neutralized some of the best running backs in the league so far and shouldn't have a problem doing the same to McCaffery. The last time McCaffery faced the Dallas defense, he rushed ten times for just 35 yards; they know how to stop him. The 49ers strength is also their defense. There's no doubt that this game is shaping up to be a defensive battle, with Nick Bosa relentlessly pressuring Dak Prescott all night.
In the quarterback position, Dak has more experience than Brock Purdy and the ability to manage a close encounter like this. It's currently unknown with Purdy how he handles difficult situations, as he's not had to pilot a team when it's not running smoothly. It will be interesting to see how Purdy deals with one of the best pass rushes in the league. Dak's been there and done it before, and he also has four or five elite weapons surrounding him that can bail him out if he's struggling.
Purdy may lose Brandon Aiyuk to Dallas's No.2 ranked defense in pass coverage, and Deebo may still be banged up as he recovers from a knee issue. If this happens, Purdy will struggle for options to pass to.
Most of the time, the odds will favor the home team, which is happening in this case, with the 49ers coming into the game as slight favorites. Sunday Night Football has had its fair share of upsets, and the Cowboys should have the edge in what's set to be an exciting defensive battle.
Final Score: Cowboys 24, 49ers 21
Show Your Support
Support the Strike 7 Sports platform's growth by heading over to Fanatics.com and purchasing officially licensed gear from the National Football League. Each purchase made through the text link below goes into the funding of the Strike 7 Sports brand. To proceed, click on the link below and enjoy shopping over at Fanatics.
Sports Betting
Are you going to place a bet on any sporting events happening today or throughout the week? If so, then you need to check out BetUs. BetUs is the ultimate destination for online betting, sports betting, live betting, racebooks, etc. If you are interested, click on the text link BetUs and you will be redirected to their website. We shall receive compensation if you decide to sign up through our affiliate link below.