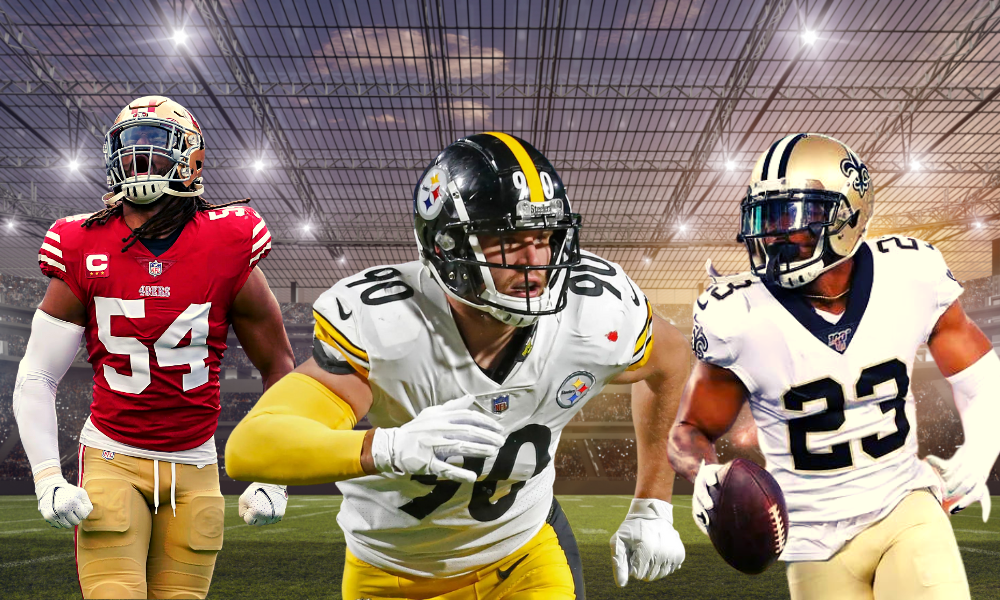 A lot of football fans focus their attention on offense. The majority of exciting plays happen on this side of the ball; most of the league's marketable stars play offense, and these days, people watch the NFL with fantasy sports interests in mind –– which only tends to mean more focus on offensive achievements. As much as the intrigue of good offense drives interest, the importance of having a stout defense in the NFL cannot be overstated.
Over the last five years, 15 of the 20 teams that have made it to the Conference Championship round ranked in the top 15 of the league in team defense. Ten of these teams –– 50% of all conference championship participants in the last five years –– were top-10 defenses. It remains the case that top-tier offenses sometimes break through without the support of elite defense. For instance, the 2022 Chiefs won the Super Bowl with only the 16th-ranked defense in the league, and the 2021 Rams did it while ranked 15th. By and large, though, it is clear that having a defense in the top third of the league gives a team the best chance of a deep playoff run.
With this in mind, here's a ranking of all 32 NFL defenses as they look for the 2023 season.
1. San Francisco 49ers
2022 Stats: 277 points allowed; 5,110 yards allowed; 30 takeaways; 44 sacks
The 49ers had arguably the NFL's most well-rounded defense in 2022. They allowed the fewest points in the league, tied with the Titans in allowing the fewest rushing yards per attempt, and finished 13th in passing yards allowed per attempt. They also had the second-most takeaways (30) and 10th-most sacks (44).
San Francisco has not experienced significant roster changes concerning its core defensive unit. The team will, however, be counting on full health from star DE Nick Bosa (who dominated in 2022 despite some nagging injuries) and DE Arik Armstead, who dealt with a hairline ankle fracture last season. With these two at full strength and the addition of DT Javon Hargrave from Philadelphia, the Niners could improve their 2022 performance.
The one wrinkle is at defensive coordinator. With DeMeco Ryans having left to become head coach of the Houston Texans, San Francisco is bringing in Steve Wilks, who last coached passing defense (and served as an interim head coach) in Carolina. Wilks has a good defensive reputation and has more than enough talent to work with to keep the 49ers on top.
2. New York Jets
2022 Stats: 316 points allowed; 5,288 yards allowed; 16 takeaways; 45 sacks
The Jets boasted the most improved defense in the league between 2021 and 2022. Cornerback Sauce Gardner, the 4th selection in the 2022 draft, was such a dominant infusion of talent that he seemed to lift the whole defense alongside him. DT Quinnen Williams and DE Carl Lawson were fearsome on the line, and DJ Reed and Michael Carter complemented Gardner wonderfully in the secondary.
The gang is all back for 2023 and should get a few boosts. One of these will come from Iowa State product Will McDonald IV, a linebacker who was picked 15th in the draft and projects as an impact player from day one. Another will come from new quarterback Aaron Rodgers, who should relieve some of the burden on the New York defense.
The Jets were one of the best defenses in the NFL in 2022 and could improve on the margins in 2023.
3. Philadelphia Eagles
2022 Stats: 344 points allowed; 5,125 yards allowed; 27 takeaways; 70 sacks
Philadelphia had one of 2022's most impressive defenses, largely on the strength of a historically excellent pass rush. The team notched 70 sacks last season, and while that may be a difficult feat to repeat, there's no reason the Eagles can't come close. They lost Javon Hargrave (11 sacks in 2022) to San Francisco but will hope to replace him with DT Jalen Carter, the 9th overall pick out of Georgia.
Aside from that change, the core of Philadelphia's defense remains largely intact, but for the loss of safety CJ Gardner-Johnson to Detroit. Defensive ends Brandon Graham and Josh Sweat (11 sacks apiece) are in place to dominate on the line; James Bradberry will head up the secondary; and star linebacker Haason Reddick isn't going anywhere.
As with San Francisco, the biggest change for the Eagles will be as defensive coordinator, where former Seattle assistant Sean Desai will take over for Jonathan Gannon. Desai has had mixed results in the past but is an experienced defensive mind with a boatload of talent to work with.
4. Dallas Cowboys
2022 Stats: 342 points allowed; 5,613 yards allowed; 33 takeaways; 54 sacks
It is easy to look at the Cowboys' defense as one that's dependent on big plays. The Cowboys' 33 takeaways led the NFL in 2022, and their 54 sacks were topped only by the Chiefs (55) and the Eagles (70). The bottom line though is that defensive coordinator Dan Quinn's schemes and the defensive talent on this roster make those big plays possible. Even if the Cowboys don't match their 2022 takeaway and sack totals, they are primed to stifle even good offenses.
A primary defensive unit anchored by superstar LB Micah Parsons and devastating CB Trevon Diggs will remain the same in 2023. In fact, the only changes of note are additions. First and foremost, Dallas brought in veteran CB Stephon Gilmore –– just two seasons removed from a Pro Bowl appearance –– to play opposite Diggs. Additionally, Dallas drafted a DT out of Michigan named Mazi Smith, who should start and improve the run defense.
5. New England Patriots
2022 Stats: 347 points allowed; 5,474 yards allowed; 30 takeaways; 54 sacks
Patriots head coach Bill Belichick is usually his own defensive coordinator, either formally or informally. This leads to a certain level of consistency in New England's defense from one season to the next, which bodes well for 2023. The 2022 Patriots were among the league leaders in points allowed, takeaways, sacks, and assorted advanced defensive metrics, and there's no reason to expect them to decline this season.
The main change for New England in 2023 will be the addition of Christian Gonzalez. A CB out of Oregon, Gonzalez is being viewed by many as the perfect complement to Jack Jones and Kyle Dugger in the Patriots' secondary. Gonzalez may not be Sauce Gardner, but he can take this defense to the next level.
6. Washington Commanders
2022 Stats: 343 points allowed; 5,178 yards allowed; 18 takeaways; 43 sacks
The Commanders had an up-and-down defense in 2022, but a strong second half ultimately had them looking like one of the league's better units. This improvement came across the board and was boosted in the final weeks by the return of star DE Chase Young, who spent most of the season wrapping up rehab from a torn ACL.
With Young presumably back to full force in 2023, the ceiling for the Commanders' defense is considerably higher. Throw in rookie CBs Emmanuel Forbes and Jartavius Martin, whom Washington drafted from Mississippi State and Illinois in the first and second rounds, respectively, and the Commanders have a chance to piece together one of the NFL's best units. Either Forbes or Martin will need to assert himself opposite Kendall Fuller, but if that happens, Washington has all the pieces it needs.
7. Pittsburgh Steelers
2022 Stats: 346 points allowed; 5,617 yards allowed; 23 takeaways; 40 sacks
The Steelers' defense fell well short of expectations in 2022, finishing 23rd in points allowed, 19th in yards allowed, and struggling particularly with passing defense. In large part, however, the Steelers' struggles can be explained away by injuries that will no longer be a problem in 2022. Pittsburgh saw LB TJ Watt, S Minkah Fitzpatrick, and CB Ahkello Witherspoon all miss time, with Witherspoon managing only four games. Witherspoon has since joined the Los Angeles Rams, but Watt and Fitzpatrick will be healthy and starting in Week 1.
The Steelers also used the offseason to make up for the loss of Witherspoon and then some. In signing veteran CB Patrick Peterson away from Minnesota and drafting Penn State CB Joey Porter Jr., Pittsburgh gave itself the personnel to improve its passing defense. Nose tackle Rookie NT Keeanu Benton, selected 49th out of Wisconsin, will also provide a boost on the line and, by extension, the pass rush.
8. New Orleans Saints
2022 Stats: 345 points allowed; 5,352 yards allowed; 14 takeaways; 48 sacks
The New Orleans Saints have a defense in the early stages of a transition. The Saints boast a crop of stars in DE Cameron Jordan, S Tyrann Mathieu, and LB Demario Davis. These players are all on the wrong side of their respective primes. The challenge for head coach Dennis Allen and new Saints defensive coordinator Joe Woods (hired from Cleveland) will, therefore, be to try to get the most he can out of this aging core while integrating rookies Bryan Bresee, a DT out of Clemson, and Isaiah Foskey, a DE out of Notre Dame.
At the very least, Bresee and Foskey provide depth to back up the New Orleans veterans. That depth should shore up the Saints' defensive line. Elsewhere, the team will be counting on consistency from Mathieu and a rebound from CB Marshon Lattimore –– who suffered a kidney laceration and missed a chunk of 2022 –– to round out the defense. This is a high-floor, low-ceiling situation, but New Orleans will be tough to score on if all goes well.
9. Baltimore Ravens
2022 Stats: 315 points allowed; 5,513 yards allowed; 25 takeaways; 48 sacks
The Ravens are looking to build a formidable, league-leading defense, and in 2023, consistency will be the key. Mike Macdonald is in his second season as the Baltimore coordinator, and the team already showed that it was adjusting to his style over the course of year one. Now, the defensive unit for Baltimore could be primed for a breakout.
Star 26-year-old LB Roquan Smith and a sturdy defensive line should ensure that a Ravens rush defense that allowed the third-fewest yards per game remains stingy. Second-year safety Kyle Hamilton will lead a secondary that looks poised to improve across the board. And Rock Ya-Sin, a CB brought in from Las Vegas, is by all accounts looking the part of a core contributor in that same secondary.
On top of the expected improvement on the defensive side of the ball, the Ravens may also have a better offense and thus relieve some pressure from their defenders. Virtually everyone projecting teams and players for 2023 is calling for a massive season for QB Lamar Jackson, and the additions of Odell Beckham Jr. and rookie WR Zay Flowers won't hurt.
10. Buffalo Bills
2022 Stats: 286 points allowed; 5,106 yards allowed; 27 takeaways; 40 sacks
The Bills aren't far removed from having one of the most fearsome defenses in the NFL. Unfortunately for the Buffalo faithful, however, things appear to be taking a turn for the worse. The loss of superstar DE Von Miller to a torn ACL crippled this unit in 2022 and could have ongoing ramifications, with the timing and nature of Miller's return still up in the air. Meanwhile, the Bills also lost LB Tremaine Edmunds, who signed a $72 million deal to join the Chicago Bears.
Every bit as troubling is that the Bills did little to adjust to the fact that they were consistently torched by opposing wide receivers in 2022. A secondary core of S Jordan Poyer, S Micah Hyde, CB Kaiir Elam, and CB Tre'Davious White looks to be unchanged.
To be sure, there is still talent on this Bills defense, and Miller could return to provide a boost sooner than expected. The Bills also retain an explosive offense, which makes everyone's job easier. Nevertheless, the Buffalo defense looks a little weaker in 2023.
11. Miami Dolphins
2022 Stats: 399 points allowed; 5,743 yards allowed; 14 takeaways; 40 sacks
Not long ago, the Miami Dolphins looked like candidates for the league's most-improved defense. The unit was somewhat underwhelming in 2022 but made two major additions: defensive coordinator Vic Fangio, an experienced coach with a proven track record of success, and Jalen Ramsey, a dominant CB Miami acquired via trade with the Rams. Fangio should bring stability and tactics to the defense, and Ramsey was meant to transform a secondary responsible for many of the Dolphins' defensive woes.
Unfortunately for Miami, Ramsey injured his meniscus during summer workouts and is expected to miss a significant portion of the season. This caused the team to scramble somewhat, signing talented CB Eli Apple to a one-year deal. Now, it will be up to Apple, Xavien Howard, and Fangio to rig up an improved secondary. If they can do so, a pass rush anchored by LBs Bradley Chubb, Jaelan Phillps, and DE Emmanuel Ogbah (who missed a portion of 2022 due to injury) should keep Miami strong on defense.
12. Denver Broncos
2022 Stats: 359 points allowed; 5,440 yards allowed; 23 takeaways; 36 sacks
The Broncos' defense in 2022 was a tale of two units, ultimately resulting in somewhat average results across the board. On the one hand, Denver had a rock-solid secondary that made life difficult on opposing pass catchers and prevented big runs. Conversely, a shaky defensive line made for very little quarterback pressure (Denver was 23rd in sacks and 26th in QB hits), which kept the defense from dominating as it otherwise may have.
Whether or not the issues have been solved remains to be seen. Former head coach Vance Joseph is back as defensive coordinator and will have newly acquired LB Frank Clark and rookie LB Drew Sanders in place to –– ideally –– provide more pressure. However, Denver's secondary remains strong enough to merit this number-12 ranking. Pro Bowl CB Pat Surtain II and FS Justin Simmons will lead the way.
13. Cincinnati Bengals
2022 Stats: 322 points allowed; 5,371 yards allowed; 24 takeaways; 30 sacks
The Bengals worked hard to improve their defense in 2022, and their moves paid off. DE Trey Hendrickson and DT DJ Reader were signed before the 2021 season, significantly improving the offensive line. Cam Taylor-Britt was drafted into the secondary and looked like a strong piece opposite Chidobe Awuzie.
Despite these moves in the right direction, there are hurdles to overcome. First and foremost, Awuzie is still rehabbing a repaired ACL, making his status for 2023 uncertain. Additionally, the Bengals lost a pair of safeties in Vonn Bell and Jessie Bates III, each of whom started 16 games in 2022. Nick Scott, coming off a solid season with the Rams, and Daxton Hill, a backup in 2022, will fill in for Bell and Bates. Time will tell if this is enough for maestro defensive coordinator Lou Anarumo to work with to repeat 2022's success.
14. Carolina Panthers
2022 Stats: 374 points allowed; 5,953 yards allowed; 17 takeaways; 35 sacks
The main change for the Panthers in 2023 will be as defensive coordinator. The team let go of Phil Snow in the middle of the 2022 season and subsequently moved on from defense-first interim head coach Steve Wilks. It has since brought aboard Ejiro Evero, who most recently helped the Denver Broncos to an above-average defense.
The talent is in place for Evero to help the Panthers make strides in 2023. DE Derrick Brown and LBs Brian Burns, Shaq Thompson, and Frankie Luvu anchor what should be a versatile and energetic unit. The secondary is somewhat unproven but not without promise; newly acquired Vonn Bell should provide a boost at safety, and CB Jaycee Horn has star potential in his third year.
The Panthers' offense may be able to do more to make the defensive players' lives easier as well if top-pick QB Bryce Young hits the ground running. All of this should add up to at least a modest improvement for a defense that was already quite strong at times in 2022.
15. Kansas City Chiefs
2022 Stats: 369 points allowed; 5,579 yards allowed; 20 takeaways; 55 sacks
The Chiefs were essentially a middle-of-the-pack defense in 2022, with decent strength against the run and vulnerabilities against passing attacks. In 2023 they'll largely be counting on what was mostly a young set of defenders to take positive steps.
Specifically, Kansas City will look to its youthful secondary trio of CBs Trent McDuffie, Jaylen Watson, and S Bryan Cook to make strides. All three remain in their early 20s and are talented, but youth and minor injuries have kept them from reaching their full potential. The good news for the Chiefs is that superstar DT Chris Jones remains in his prime even if this defensive backfield requires more growing pains. Few men in the NFL can singlehandedly hold a defense to a league-average floor, but Jones is one of them.
16. Los Angeles Chargers
2022 Stats: 384 points allowed; 5,884 yards allowed; 24 takeaways; 40 sacks
The Chargers have a legitimate chance to piece together one of the best passing defenses in the league in 2023. Last season they allowed the second-fewest completions and seventh-fewest passing yards in football –– and they did it with S Derwin James, CB J.C. Jackson, and star DE Joey Bosa all missing time. With those three all healthy in 2023, both the pass rush and secondary look to be improved. Los Angeles should be very difficult to throw against.
The question marks lie with the rush defense, which was far less successful in 2022. Bosa's return to full strength should also help in this regard, and the team also signed LB Eric Kendricks to shore up the middle of the field. Time will tell whether this is enough to make the Chargers' defense more complete.
17. Cleveland Browns
2022 Stats: 381 points allowed; 5,631 yards allowed; 20 takeaways; 34 sacks
The Cleveland Browns will roll out a transformed defense in 2023 and potentially an improved one. John Johnson started in 17 games at safety in 2022 and has since joined the Rams; DT Taven Bryan started in 16 games and now plays for the Colts; Jadeveon Clowney started ten games at DE and then moved on to Baltimore; and CB Martin Emerson looks like he'll come off the bench after starting for a chunk of 2022.
Ex-Chief Juan Thornhill will join Grant Delpit to comprise the Browns' safety unit, and Dalvin Tomlinson will step into Taven Bryan's spot as a clear improvement. The major upgrade, though, will come in the form of Za'Darius Smith, an ex-Minnesota DE who should complement Browns star Myles Garrett perfectly. The two of them on the line –– if they can stay healthy –– could take the Cleveland defense to new heights and potentially top-10 status in 2023.
18. Tennessee Titans
2022 Stats: 359 points allowed; 5,978 yards allowed; 20 takeaways; 39 sacks
The Titans' defense in 2022 was easy to sum up: They were the best against the rush (allowing the fewest total yards and yards per attempt) and the worst against the pass (allowing the most total yards and completions).
The rush defense looks every bit as good in 2023. A star line of Jeffery Simmons, Denico Autry, and NT Teair Tart comprise a formidable force, and LB Harold Landry III's return from a torn ACL will only make things tougher on opposing runners. On the other hand, the Titans somewhat bafflingly did nothing to improve a porous secondary.
It's fair to expect more of the same from Tennessee in 2023. An elite rush defense and questionable pass coverage should balance to a mid-tier overall defense. However, one wrinkle to consider is that Tennessee will play four divisional games against rookie quarterbacks Houston's CJ Stroud and Indianapolis's Anthony Richardson. That could give the Titans' secondary a few chances to overperform.
19. Green Bay Packers
2022 Stats: 371 points allowed; 5,721 yards allowed; 24 takeaways; 34 sacks
While the divide wasn't quite as stark as in Tennessee, the Packers were more or less the opposite of the Titans in 2022: excellent against the pass and weak against the run.
The pass defense should be fairly stifling once more. Jaire Alexander is among the NFL's best CBs and will get some help from Eric Stokes returning from leg injuries. DE Kenny Clark anchors a reliable pass rush, and De'Vondre Campbell will be a soon-to-be-healthy contributor along with Rashan Gary to make up a formidable linebacker duo. The Packers are well-equipped to pressure quarterbacks, cover the middle of the field, and smother talented receivers.
Unfortunately, the line still has its weaknesses, and the safety duo of Jonathan Owens and Darnell Savage looks like a vulnerability. It's possible that the run remains a problem and keeps the Packers from reaching their full defensive potential.
20. Tampa Bay Buccaneers
2022 Stats: 358 points allowed; 5,513 yards allowed; 20 takeaways; 45 sacks
Despite boasting great talent in the form of NT Vita Vea, LB Lavonte David, and more, the Tampa Bay defense slid backward in 2022. The team finished slightly below average against both the run and the pass and did little to improve over the offseason. The team will continue to operate without a designated defensive coordinator and may have even gotten weaker at its less-than-strong safety position, with Keanu Neal and Mike Edwards moving on to new teams.
The one spot of improvement for Tampa may come at linebacker, where Shaquil Barrett appears poised to return. Barrett missed time due to an Achilles injury and the tragic loss of his young daughter, but all signs point to his suiting up in 2023. That could give Tampa a jolt, though this still looks like a defense in mild decline.
21. Detroit Lions
2022 Stats: 427 points allowed; 6,670 yards allowed; 22 takeaways; 39 sacks
There may not be a more difficult defense to project in 2023 than that of the Detroit Lions. The team didn't finish with very impressive numbers in 2022 but did improve over the course of the season. Furthermore, Detroit loudly prioritized its defense during the offseason, which should lead to meaningful on-field improvement.
First, the Lions signed CBs Emmanuel Moseley (from San Francisco) and Cameron Sutton (from Pittsburgh). Moseley may start the season on the injured list, but together these two should ultimately shore up a secondary that wasn't half bad in the latter half of 2022. Additionally, the Lions drafted a promising linebacker in Iowa's Jack Campbell. Campbell will be relied upon to help with a rush defense that was thinner than Detroit's pass coverage last season.
Ultimately, there are pieces for clever defensive coordinator Aaron Glenn to work with here, but there's also a long way to go for Detroit to piece together a top-tier defense.
22. New York Giants
2022 Stats: 371 points allowed; 6,089 yards allowed; 19 takeaways; 41 sacks
Don Martindale's defense in New York in 2022 was titanic in some respects and weak in others. The positives were on the line, where the trio of DE Leonard Williams, NT Dexter Lawrence, and high-pressure LB Kayvon Thibodeaux all played like stars. Those three remain in place in 2023 and can be relied upon to pressure opposing quarterbacks consistently.
New York's problems, meanwhile, were twofold. First, they struggled to stop the run, allowing the second-most yards per attempt in the NFL on the season. Second, the Giants' secondary struggled with coverage when opposing quarterbacks could get passes off. It's unclear if New York is prepared to address these problems. First-round draft pick Deonte Banks, a CB out of Maryland, could boost the backfield opposite Adoree' Jackson. But right now, the Giants' ability to cover receivers and tackle in space remains a question mark. Despite its dominant stars up front, this puts a cap on the team's defense.
23. Atlanta Falcons
2022 Stats: 386 points allowed; 6,156 yards allowed; 17 takeaways; 21 sacks
The Falcons have struggled on defense for years. In 2022, they allowed the eighth-most passing yards per game and the 10th-most rushing yards per game. Atlanta may not be poised to make significant leaps in either category overnight, but it did at least spend the offseason remodeling its defense.
That remodel started with hiring Ryan Nielsen, a successful defensive line coach, as the new defensive coordinator. The Falcons also went out and got Nielsen some valuable players for his line, including veteran DE Calais Campbell and NT David Onyemata. Those two and DE Grady Jarrett should shore up the pass rush. Ex-Cincinnati safety Jessie Bates III and Detroit CB Jeff Okudah are also aboard to boost the backfield. It also has to be noted that Atlanta drafted a generational offensive talent in RB Bijan Robinson, who should lengthen drives and improve scoring to take pressure off the defense.
The Falcons' defense still isn't overflowing with talent, but it's significantly upgraded. If all goes well, Atlanta could creep up toward the middle of the pack.
24. Seattle Seahawks
2022 Stats: 401 points allowed; 6,149 yards allowed; 25 takeaways; 45 sacks
Seattle had a middling pass defense and a weak rush defense in 2022. This was due to a combination of poor injury luck and gaps in personnel. Over the course of the offseason, though, the Seahawks made enough changes to give themselves a chance at a major rebound.
It starts at the linebacker position, where the Seahawks were able to bring back veteran star Bobby Wagner to pair with Jordyn Brooks. The secondary also got significant boosts, however. Seattle signed S Julian Love away from the Giants and expects to line him up alongside S Jamal Adams, who missed the 2022 season with a quad injury. Finally, the team also used the fifth overall pick in the NFL Draft on Illinois CB Devon Witherspoon, who should be able to make an impact from day one.
The Seahawks would merit a higher ranking if not for a suspect defensive line and questionable pass-rush potential.
25. Jacksonville Jaguars
2022 Stats: 350 points allowed; 6,006 yards allowed; 27 takeaways; 35 sacks
Jacksonville showed some early glimpses of a competitive defense in 2022. In fact, they finished with the 12th-fewest points allowed. This was largely thanks to the relative strength of the rush defense, with LB Josh Allen leading the charge and Foyesade Oluokun contributing nicely. The secondary for Jacksonville was less convincing, but they saw at least an emerging star in CB Tyson Campbell.
The Jaguars will need a few more names to pop if they are to make major strides on defense. What they do have going for them, though, is continuity. Jacksonville will likely have all of its regular starters back on the field in Week 1, and there's something to be said for a whole defensive unit getting that kind of season-to-season time to develop. Nevertheless, there is a slight dearth of high-upside talent beyond Allen and Campbell.
26. Minnesota Vikings
2022 Stats: 427 points allowed; 6,608 yards allowed; 25 takeaways; 38 sacks
Minnesota has a lot of work to do on defense. The team allowed the third-most points in the NFL in 2022, let up the second-most passing yards, and didn't fare all that much better against the rush. The Vikings also lost some of their best defensive talent in Patrick Peterson (now with the Steelers), Dalvin Tomlinson, and Za'Darius Smith (both with the Browns).
Because of the need for comprehensive upgrades on defense, Minnesota looked to the coordinator role first. There, the team did about as well as it could in hiring defensive guru Brian Flores. Where on-field personnel are concerned, though, the Vikings have done relatively little to upgrade their talent. Ex-New Orleans LB Marcus Davenport could help fill the gap left by Smith, and rookie CB Mekhi Blackmon out of USC has strong potential. However, this project is still tricky for Flores without any true standouts left on defense.
27. Houston Texans
2022 Stats: 420 points allowed; 6,452 yards allowed; 27 takeaways; 39 sacks
The Texans almost look like a team starting from scratch on the defensive side of the ball. A competent pass defense took a few hits in the offseason when Ogbonnia Okoronkwo, a key part of the pass rush, departed in free agency. Houston's rush defense, meanwhile, was abysmal, and there's little reason to believe in a quick turnaround.
That said, if a team is going to start from scratch, the Texans have some talent with which to do so. Maliek Collins will anchor the line; Derek Stingley Jr., the third overall pick in the 2022 draft, could soon develop into a high-end CB; and Will Anderson Jr., the Alabama linebacker Houston took third overall in 2023, maybe a superstar in waiting. Turning these players over to former 49ers defensive coach DeMeco Ryans is a good start, though there may not be enough talent on this unit for meaningful upside this season.
28. Indianapolis Colts
2022 Stats: 427 points allowed; 5,678 yards allowed; 21 takeaways; 44 sacks
Unlike Houston, Indianapolis is coming off a poor defensive season and is in the early stages of a rebuild. They're starting the process with meaningful talent on board as well. LB Shaquille Leonard and DT DeForest Buckner would be impact players for any team in the league. Third-year DE Kwity Paye has starring seasons in his future, and a pair of newly drafted CBs, Julius Brents and Darius Rush, will look to lay the foundation for a youthful and talented backfield.
That's not a bad core to build on. At the same time, though, there remain glaring weaknesses. Brents and Rush won't be up to speed right away, which leaves the Indianapolis secondary vulnerable. Buckner is nursing a foot injury. And it must be remembered that despite some promise, this defense let up the fifth-most points in the league a season ago. Expect marginal improvement at best this year.
29. Chicago Bears
2022 Stats: 463 points allowed; 6,390 yards allowed; 23 takeaways; 20 sacks
The Bears may have a history of elite defenses, but they were dreadful in 2022. The team was futile against the run and pass alike, with few bright spots to speak of. Free safety Eddie Jackson put together a nice season with 59 tackles and four interceptions in just 12 games but has virtually no help in the Chicago secondary; Trevis Gipson had three sacks, and 11 QB hits off the line but doesn't project as a starter in 2023.
Chicago is beginning to prioritize a defensive rebuild. The team signed LB Tremaine Edmunds away from the Bills and LB TJ Edwards from Philadelphia. Those two will certainly help raise the level of the rush defense. The Bears also drafted two tackles in Gervon Dexter and Zacch Pickens out of Florida and South Carolina, respectively, adding Miami CB Tyrique Stevenson in between. These are the players Chicago will look to for defensive improvement, though not much should be expected in year one with them all aboard.
30. Las Vegas Raiders
2022 Stats: 418 points allowed; 6,216 yards allowed; 13 takeaways; 27 sacks
The Las Vegas Raiders may have had the most baffling offseason in the NFL with respect to defense. The team was poor on this side of the ball in 2022 but had its strengths, most notably in the form of defensive ends Maxx Crosby and Chandler Jones, as well as, to a lesser extent, young CB Nate Hobbs. Rather than looking to build around these players though, the Raiders spent the offseason chasing help on offense –– ultimately landing QB Jimmy Garoppolo, WR Jakobi Meyers, and TE Austin Hooper.
The draft was a different story. Vegas picked DE Tyree Wilson out of Texas Tech with the 7th overall pick, then Alabama DT Byron Young. The team also selected a CB in Maryland's Jakorian Bennett and Georgia S Christopher Smith II. Perhaps these draft selections ultimately comprise pieces of a new core. It's hard to expect much improvement in 2023, though.
31. Arizona Cardinals
2022 Stats: 449 points allowed; 5,931 yards allowed; 20 takeaways; 36 sacks
The Arizona Cardinals had one of the league's weakest defenses in 2022, thanks mostly to an inability to stop opposing passing attacks. That was with star JJ Watt at DE before his retirement. The 2022 Cardinals also had LB Markus Golden (now with Pittsburgh) leading a decent rush defense and Zach Allen (now with Denver) playing with Watt on the line.
That those three couldn't bring about much success for the Cardinals' defense speaks volumes. Without them, it's hard to find much upside at all for this unit. Rookie DE BJ Ojulari, out of LSU, will get a chance to assert himself, as will third-round pick Garrett Williams, a CB out of Syracuse. Team success on defense, however, is incredibly difficult to envision for these Cardinals.
32. Los Angeles Rams
2022 Stats: 384 points allowed; 5,798 yards allowed; 22 takeaways; 38 sacks
The 2022 Rams ranked just a little below average against the run, the pass, and where general team defense is concerned. That would seem to be indicative of a team that could make some strides this coming season. The bottom line is that the Rams have essentially forfeited their short-term defense for long-term team building.
What this means for 2023 is that the likes of Bobby Wagner, Jalen Ramsey, Taylor Rapp, and others have been let go. Superstar tackle Aaron Donald remains in Los Angeles and is one of very few defensive players in the league who can essentially win the occasional game by himself. By and large, though, this unit has been sapped of talent. The Rams will likely have the league's worst defense in 2023.