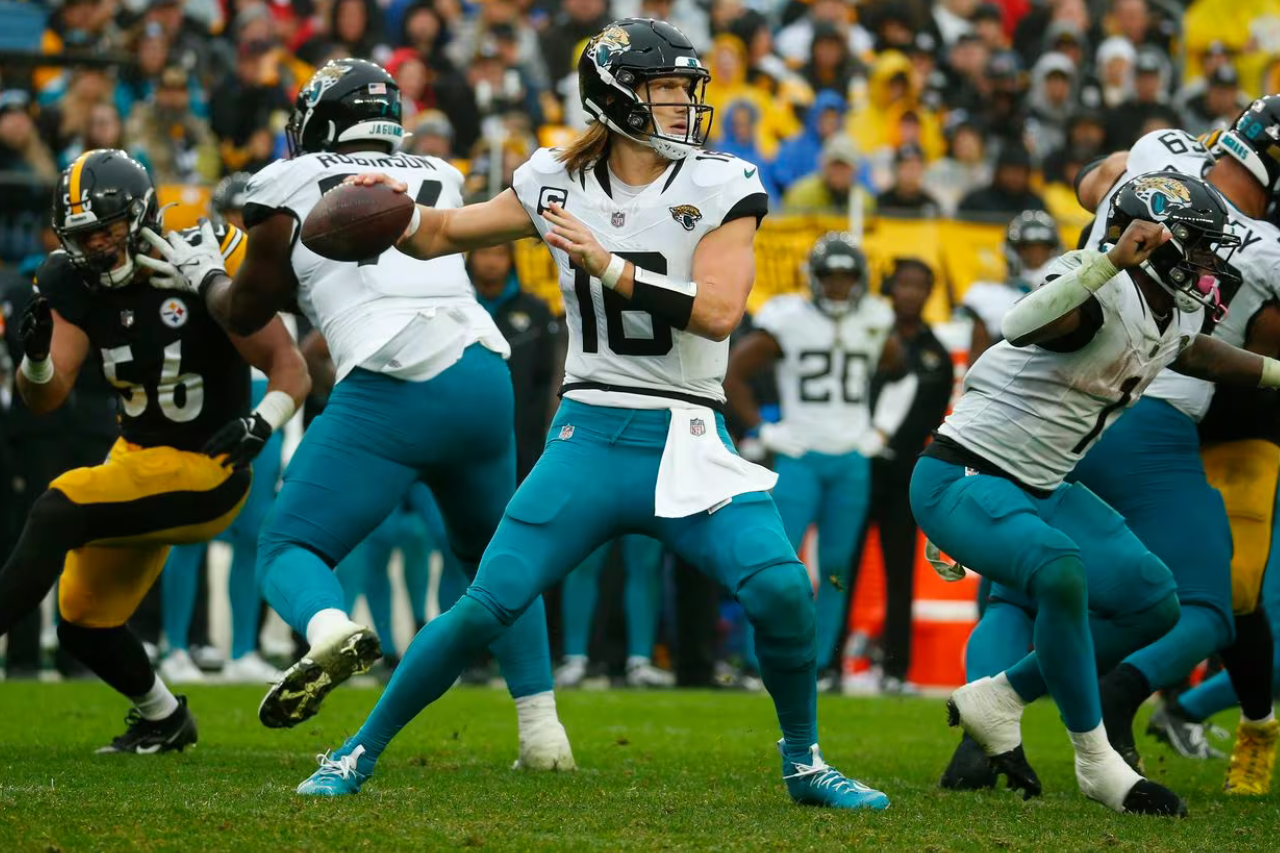 The Jacksonville Jaguars might have started the season slow, but their recent form has forced the rest of the NFL to pay attention. The franchise has gone from a 1-2 start to the season and a disappointing loss against the Houston Texans to winning five games in a row and ranking third in the AFC.
When the Jags hired Super Bowl-winning head coach Doug Pederson, there was a buzz in the air that brighter days might lay ahead. They'd drafted one of the hottest prospects out of college to take over as the franchise quarterback, and now just needed to find the right way to have everybody working in unison.
While we've been paying attention to Kansas City and Cincinnati, plus the Dolphins, Bills, Ravens, and whoever else, Jacksonville has been building in the background. They're ready to stake their claim as a Super Bowl contender.
Building a Strong Foundation
Becoming a consistent Super Bowl contender starts with building the foundations of a winning program, and that takes time. While the fans might not like it, which might mean a couple of hard-fought years in an extremely competitive league, the eventual return can set up your franchise for a decade.
Jacksonville started this process long ago, beginning to rebuild their roster after the 'Sacksonville' unit was torn down in 2018.
That 2017 season had been one of the best in the franchise's history, with Calais Campbell, Malik Jackson, and Yannick Ngakoue leading the way on the defensive line, supported by talented linebackers Myles Jack and Telvin Smith. Had Myles Jack not been ruled down in the AFC Championship game against the Patriots, they likely would have gone to the Super Bowl that year, but instead, the roster quickly fell apart.
All those players and talent like Jalen Ramsey and A.J. Bouye in the secondary moved on, and the Jaguars began rebuilding. Josh Allen was drafted in the first round of the 2019 NFL Draft, and he signaled the beginning of a new era of Jacksonville Jaguars football.
When you look at this team and the core of the team, it's astounding how young they are and how many of their key starters are still in their early years as pros. Trevor Lawrence and Travis Etienne came out in 2021, along with offensive guard Walker Little and two current starters in the secondary in corner Tyson Campbell and safety Andre Cisco. That's five starters in the first three rounds of the 2021 NFL draft.
The following year, they added Travon Walker and linebacker Devin Lloyd to the front seven on defense. You have an extremely well-put-together roster when you combine that young core with veteran additions in free agency. Jacksonville has gone and traded for Calvin Ridley while adding all of their pass catchers in free agency, including Christian Kirk, Zay Jones, and tight end Evan Engram.
The foundations are well and truly laid, and the future looks bright for this young Jacksonville team.
The Trevor Lawrence factor
People quickly forget what a player has accomplished in high school and college when they reach the NFL. Many believe it doesn't matter all that much and that the NFL presents a unique challenge that surprises many talented athletes no matter how good they were in their younger years.
Trevor Lawrence was about as good as they come. The NFL had been watching him since his freshman year, expecting great things from a talented quarterback with the tools to lead an NFL franchise.
Lawrence had won it all, from two state championships in high school to the college football National Championship at Clemson. He was a First Team All-American and the ACC Athlete of the Year, and his draft stock was off the charts by the time the 2021 NFL draft came around.
While sometimes there is a debate about who a team should take at number one, that was never a question with Trevor Lawrence. He was the guy; whoever was lucky enough to land the pick would take him. When you have the chance to draft a quarterback like that, who was picking up comparisons to the likes of Andrew Luck and Peyton Manning, you don't flinch, and the Jaguars didn't flinch when they landed the number one pick.
Trevor had a pretty rough ride in his rookie season, dejected by the hire of Urban Meyer, which will go down as one of the worst head coaching hires in the history of the NFL. With all the controversy surrounding the franchise and its woeful 3-14 record, the hype surrounding Trevor Lawrence faded fast.
Fast forward to 2023, and Trevor has a great coach who can coach quarterbacks. The Jags went out and spent a ton of money and draft capital on offensive weapons to support their franchise quarterback, and it's all coming together in 2023.
Trevor Lawrence can make every throw in this league with his eyes closed. He's got a great arm, the perfect prototypical size of a pro quarterback, and has an underappreciated level of mobility that allows him to make plays in space. With a QB like that suiting up for your franchise every Sunday, you always have a shot.
Coaching and Leadership
Super Bowl-winning NFL head coaches are hard to find and even harder to sign to your franchise. When Doug Pederson ran the table in the 2017-2018 season as the head coach of the Philadelphia Eagles, despite losing his starting quarterback late in the year, he announced himself as one of the best head coaches of the last decade.
Eventually, the wheels fell off in Philly, and after taking a year out, Doug Pederson returned to coaching. He's an offensive-minded coach who stems from Andy Reid's coaching tree, having initially connected with him as an assistant in Philadelphia before he served as his offensive coordinator in Kansas City.
General manager Trent Baalke has previously talked about Pederson's ability to lead and how his players gravitate toward him in the locker room;
"When you have someone at the top that's as steady as Doug is, as fearless as he is, and really as authentic. Those are three things I think of when I think of the way Doug's led this organization and this football team that really stand out, and people get behind that. When you're authentic, you're the same guy every day, and you're fearless as a leader, people—players, staff, fan bases—it's encouraging, and it's engaging."
Doug Pederson certainly knows how to lead a team to battle and has the relentless respect of his players as a result. He leads from the front and sets a great example. It must be easier for the players to follow his lead, knowing he has already accomplished Super Bowl success with his methodology at another franchise.
Andy Reid has spoken about the things he's noticed in Doug Pederson, too, who has clearly taken some of the things he learned while working with Reid and applied them to his coaching practices in recent years.
Key Positional Upgrades
One of the most impressive pieces of this new-look Jaguars team is running back Travis Etienne. As a college teammate of Trevor Lawrence, it was cool to see the Jaguars draft them both together and bring them to the Jaguars; however, since then, Etienne has far surpassed all expectations as one of the league's best running backs.
Etienne is not only a high-volume ball carrier with speed and burst-to-break runs for big yardage but also one of the most consistent pass-catching backs in the NFL. This year, Etienne has been the key influence for the offense when they've stalled and is one of the most valuable assets on the team as they look to challenge in the AFC.
We've already touched on the weapons, too, but it was clear after Trevor Lawrence's rookie season that they needed to significantly upgrade their offensive skill set.
Marvin Jones had led the team with 832 receiving yards and four touchdowns, followed by Laviska Shenault with 619 yards but no TDs. The Jags responded by signing Christian Kirk to a mega deal in free agency and adding Zay Jones and Evan Engram.
The three led the team the following year, with Kirk out in front with 1,108 receiving yards and eight touchdown catches. Zay Jones's 823 and five TDs was good for second, and Evan Engram had a resurgent year at tight end with another 766 yards and four touchdowns. The offense had taken a monumental step forward, and Trent Baalke and the front office deserve much credit for making that happen.
Defensively, Foyesade Oluokun stands out as their biggest pickup. They have a very young defense, full of early draft picks and fresh legs, but Oluokun has come in as one of the league's best middle linebackers and a guy who is consistently putting up some of the biggest tackle numbers in the league. Having a guy like that patrolling the middle of the field for your defensive unit is crucial, and the Jags got a good one.
Challenges on the Road Ahead
The AFC South division is now the Jacksonville Jaguars to win in 2023. While C.J. Stroud will undoubtedly present a challenge and set up some superb duels in the division in the coming years, the Texans are not quite there yet as a franchise.
Jacksonville should be able to claim the division and, therefore, a home game in the playoffs, and that's when we'll really see just how good this team is. They had a miraculous playoff win last season, coming back from a hideous first-half performance to stun the Los Angeles Chargers, and to their credit, they went into Arrowhead Stadium and held their own against Kansas City, too.
This year, there's no reason they can't take on teams like the Chiefs, the Bills, or the Bengals; they just need to prove it.
The Jags will face the Cincinnati Bengals and the Baltimore Ravens in December when we really get to see what these teams might look like closer to the postseason. If Jacksonville wins those games, the hype will get really loud, and what a matchup it would be to see Trevor Lawrence face Patrick Mahomes again in the playoffs.
Conclusion
So, can the Jacksonville Jaguars go on and make a run in the playoffs this season? Absolutely. This team is starting to come together, as proven by the five straight wins they've managed recently.
Over the last few years, the Jags have rebuilt the trenches and spent their draft picks extremely well. Drafting five starters in the first three rounds of the 2021 draft is really impressive and does wonders for the coming years in Jacksonville. The roster is in great shape when they pair that with money well spent and not wasted in free agency.
When Trevor Lawrence is playing at his best, the sky's the limit for this team. They have some play-calling issues to straighten out, but they're getting better and better as the season progresses, which is always a sign of a playoff challenger.
This team is young, talented, and set to be great for years to come. If the Jaguars can challenge now, with such a young core, the rest of the league could be in trouble over the next couple of years. They only lost to Kansas City in last year's playoffs by seven points on the road. They were in that game all the way, so keep an eye on this Jacksonville Jaguars team. They're not to be slept on and can upset anybody in a playoff game.
Be sure to stick around for future content about the Jags. We're expecting to cover the franchise in great detail going forward.