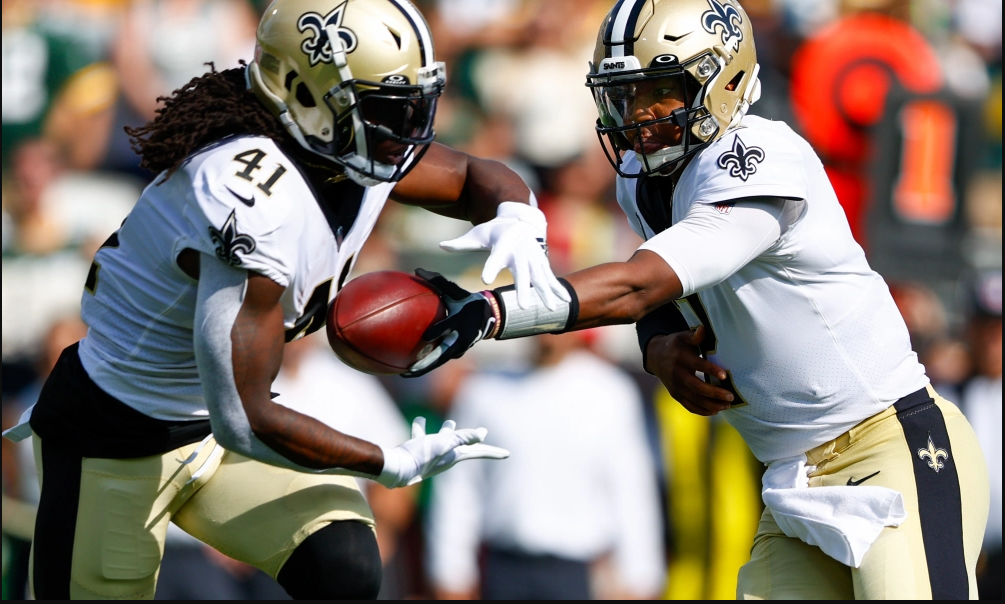 You can honestly say that the 2022 NFL regular season is right around the corner. Training camp for the New Orleans Saints starts on July 19 for rookies and July 26 for veterans. Also going on around this time is the start of fantasy football drafts, season previews, and projected statistical numbers for numerous players. Today, Saints Discussions provides projected stats for players such as Alvin Kamara, Jameis Winston, Michael Thomas, Jarvis Landry, and rookie Chris Olave.
Jameis Winston: QB
Before the season-ending injury against his former team, the Tampa Bay Buccaneers, Winston was on pace for having his best season as an NFL quarterback. On the day of the injury, 1,170 yards, 14 TDs, three interceptions, and a QBR of 102.8. Those numbers were far removed from the infamous "30 for 30" narrative. With the new talent on the roster, such as Jarvis Landry and rookie Chris Olave, Winston's ceiling as Saints' starting QB is through the roof. Also, All-Pro wideout Michael Thomas's return will be crucial.
Projected Stats for 2022: 4,232 YDS, 34 TDs, 13 INTs, 101.7 QBR
Michael Thomas: WR
After battling back-to-back seasons with an ankle injury, Michael Thomas will return to the Saints lineup at full strength. If you are a fantasy owner, do not expect the 2019 version of Thomas to show up immediately; it's going to take some time. However, his presence on the field will pay enormous dividends for the Saints' offense. With Thomas on the field, players like Marquez Callaway can return to their usual roles and become impact players for the New Orleans offense. While it will not be a repeat of his 2019 season, Thomas' comeback season will be exceptional.
Projected Stats for 2022: 1,318 REC YDS, 101 RECEPTIONS, 10 TDS
Alvin Kamara: RB
Yes, I know there's a chance Alvin Kamara could be suspended for his alleged involvement in an altercation that took place at the Pro Bowl in February. But that does not mean he will not have another stellar season. A potential suspension could be a blessing in disguise for both Kamara and the Saints. A well-rested Kamara can come in just in time for a possible deep playoff run.
Projected Stats for 2022: 725 Rushing YDS, 8 Rush TDs, 680 REC YDS, 7 TDS, 75 RECEPTIONS
Jarvis Landry: WR
The addition of Jarvis Landry adds another viable option in the Saints passing offense not named Michael Thomas or Alvin Kamara. His primary role has always been a slot receiver, but he can also be placed on the outside. You can expect Landry to be productive in whatever he is in regarding the Saints' offense. If Thomas suffers another setback in his recovery, Landry will be the guy that will play on the outside. If that happens, his stock will rise in many fantasy leagues.
Projected Stats for 2022: 911 REC YDS, 91 RECEPTIONS, 9 TDS
Chris Olave: WR
Rookie wideout Chris Olave brings an element to the Saints' offense they have not seen in almost a decade. Olave is a player that can take the top off of opposing defenses with his dynamic speed. But he's liable to hit pay dirt once he gets behind a defender. According to Pro Football Network's
Oliver Hodgkinson, "the former Ohio State standout also displays excellent body control to adjust to the ball and secure the catch. He possesses reliable hands and is a concentrated pass catcher with a relatively low number of dropped balls in the games analyzed, especially when in space." Having Olave, Landry, and Thomas on the field at once will be exciting to see.
Projected Stats for 2022: 1,076 REC YDS, 82 RECEPTIONS, 11 TDS
Show Your Support
Support the great work of the Strike 7 Sports Saints Discussions Section by purchasing licensed NFL fan gear. Items ranged from Saints hats, jerseys, t-shirts, socks, and so much more. We would greatly appreciate it if you would purchase these items from the text link below. The revenue generated from today's offer goes into the funding of the Strike 7 Sports platform. Click on the link below if you are interested.