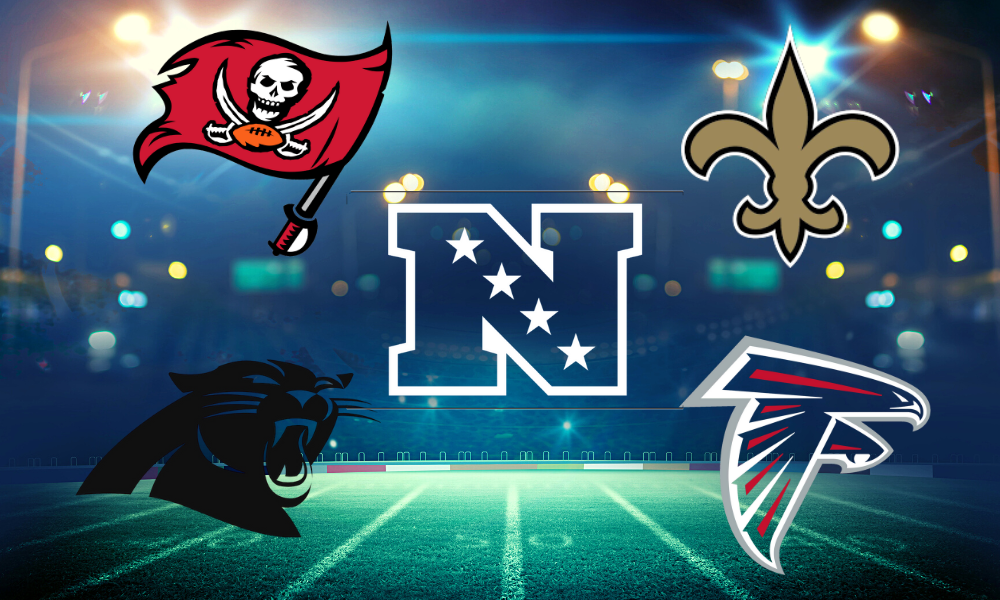 In the month of December, Saints Discussions posted an article titled "Projecting the Future Outlook of the NFC South." The story is an in-depth piece on each team's future in the division. The content analyzed team cap space, position needs, and their projected outlook from a competitive standpoint.
Now that we are two weeks into the league's 2023 free agency period, we look at each team's current status and how they have made strides to improve their roster. The post will also provide a grade for each team in the division that has performed so far.
Tampa Bay Buccaneers: 2022 Record, 8-9
Free Agent Signings
RB Chase Edmonds
QB Baker Mayfield
Re-Signings 
CB Jamel Dean
OLB Cam Gill
OLB Anthony Nelson
DL Patrick O'Connor
G Aaron Stinnie
Departures: Players Released, Traded, and/or Signed by Other Teams
S Mike Edwards
G Shaq Mason
CB Sean Murphy-Bunting
DL Rakeem Nunez-Roches
T Donovan Smith
Analysis 
We kick things off with the two-time NFC South champions, the Tampa Bay Buccaneers. 2022 signaled the end of the Tom Brady era in Tampa. The future Hall of Fame QB retired after a wild card playoff loss to the Dallas Cowboys. With Brady finally out of the fold, the Buccaneers have decided to take it slow regarding free agency. They released players such as running back Leonard Fournette and offensive tackle Donavon Smith and traded guard Shaq Mason to the Houston Texans.
Even with the departures, core players like Mike Evans, Chris Godwin, Lavonte David, Devin White, and Jamel Dean remain with the team. If Baker Mayfield is named the starting QB and cannot get it done with this roster, Tampa will be in a prime position to select USC QB Caleb Williams. The team no longer has the edge that it once had under Brady. The cracks started to show last season.
Free Agency Grade: C
Carolina Panthers: 2022 Record, 7-10
Free Agent Signings
WR Adam Thielen
RB Miles Sanders
QB Andy Dalton
TE Hayden Hurst
DT DeShawn Williams
DT Shy Tuttle
S Vonn Bell
G Justin McCray
Departures: Players Released, Traded, and/or Signed by Other Teams
WR DJ Moore
C Pat Elflein
Analysis 
It will be a roster full of fresh faces when the Carolina Panthers take the field for 2023, especially at the quarterback position. Carolina moved up to the first pick in the 2023 draft after switching places with the Chicago Bears. In return, according to ESPN's Adam Schefter, the Bears received two future first-and second-round draft picks and the Panthers' wide receiver DJ Moore.
Reports have stated that Carolina will select a quarterback at no.1, or they could trade the pick again and still draft a signal-caller. Either way, the team will need a viable option at the most critical position. Dalton is a solid bridge option at QB but will not elevate this team further. The Panthers' free agency period has been a success so far.
Free Agency Grade: B
New Orleans Saints: 2022 Record, 7-10
Free Agent Signings
QB Derek Carr
RB Jamaal Williams
DT Nathan Sheperd
DT Khalen Saunders
OT Storm Norton
S Ugo Amati
S Lonnie Johnson
S Johnathan Abram
Re-Signings
P Blake Gilliken
TE Juwan Johnson
DT Malcolm Roach
DE Tanoh Kpassagnon
Departures: Players Released, Traded, and/or Signed by Other Teams
DT Shy Tuttle
DT David Onyemata
LB Kaden Elliss
DE Marcus Davenport
WR Deonte Hardy
S Justin Evans
QB Andy Dalton
Analysis 
The New Orleans Saints went into an entirely different path regarding addressing their free agency needs. In previous years, the Saints usually waited until the second or third week to sign players they were interested in. But for 2023, the action started a little early for New Orleans. But to be fair, they had to move swiftly to address departures on the defensive line and a potential hole at running back. They can now go into the NFL Draft, select players based on the best talents available, and not force a move based on a need.
Free Agency Grade: B
Atlanta Falcons: 2022 Record, 7-10
Free Agent Signings 
OT Kaleb McGary
S Jessie Bates
QB Taylor Heinicke
DT David Onyemata
LB Kaden Elliss
WR Mack Hollins
CB Mike Hughes
DT Eddie Goldman
Re-Signings
OT Germain Ifedi
CB Cornell Armstrong
P Bradley Pinion
FB Keith Smith
DE Lorenzo Carter
Departures: Players Released, Traded, and/or Signed by Other Teams
QB Marcus Mariota
Analysis 
Recently, a social media post had a graphic stating that the Atlanta Falcons had turned into the New Orleans Saints East. That's mainly because Atlanta now has a general manager and a defensive coordinator that were once members of the Saints organization. And apparently, a few free agents playing with the Saints have noticed. The Falcons were able to sign New Orleans unrestricted free agents David Onyemata and Kaden Elliss. But their most significant acquisition of the free agency period was signing former Bengals safety Jessie Bates lll.
With defensive coordinator Ryan Nielsen installing a new scheme in Atlanta, Bates will be expected to become an impact player for the defense. Regarding their quarterback situation, they have decided to remain committed to second-year starter Desmond Ridder. However, that can always change with the ongoing Lamar Jackson saga. On the day that Baltimore placed the non-exclusive tag on Jackson, the Falcons stated they were not interested in signing the 2019 MVP to an offer sheet.
Free Agency Grade: B
2023 Outlook
Back in December, optics indicated that the NFC South was on the verge of becoming one of the worst divisions in football once again. The division did not have one team above .500 for the season. And that's with a team with the great Tom Brady as their starting QB. Right now, from a roster perspective, the Saints are the best team in the division. They have significantly upgraded the quarterback position by signing Derek Carr. That transaction alone can put New Orleans over the top in the South. Division opponents such as the Falcons and the Panthers are far better than they were in compared to 2022. If either team can get sufficient production out of their QBs, it can lead to a shot at the division title or even a wild card playoff berth. Overall, the NFC South is much clearer heading into the 2023 season.
Show Your Support
Looking for the ultimate sports streaming experience? Look no further than ESPN+! As a proud affiliate of Strike 7 Sports, ESPN+ provides exclusive access to top-tier sports content, including live events, original programming, and on-demand replays. And with every subscription, a portion of the proceeds goes directly to supporting the Strike 7 Sports brand.
That means by signing up for ESPN+, you're getting the best in sports entertainment and investing in the growth and success of your favorite sports brand. So why wait? Join the millions of sports fans already enjoying ESPN+ and support Strike 7 Sports at the same time. Sign up today!