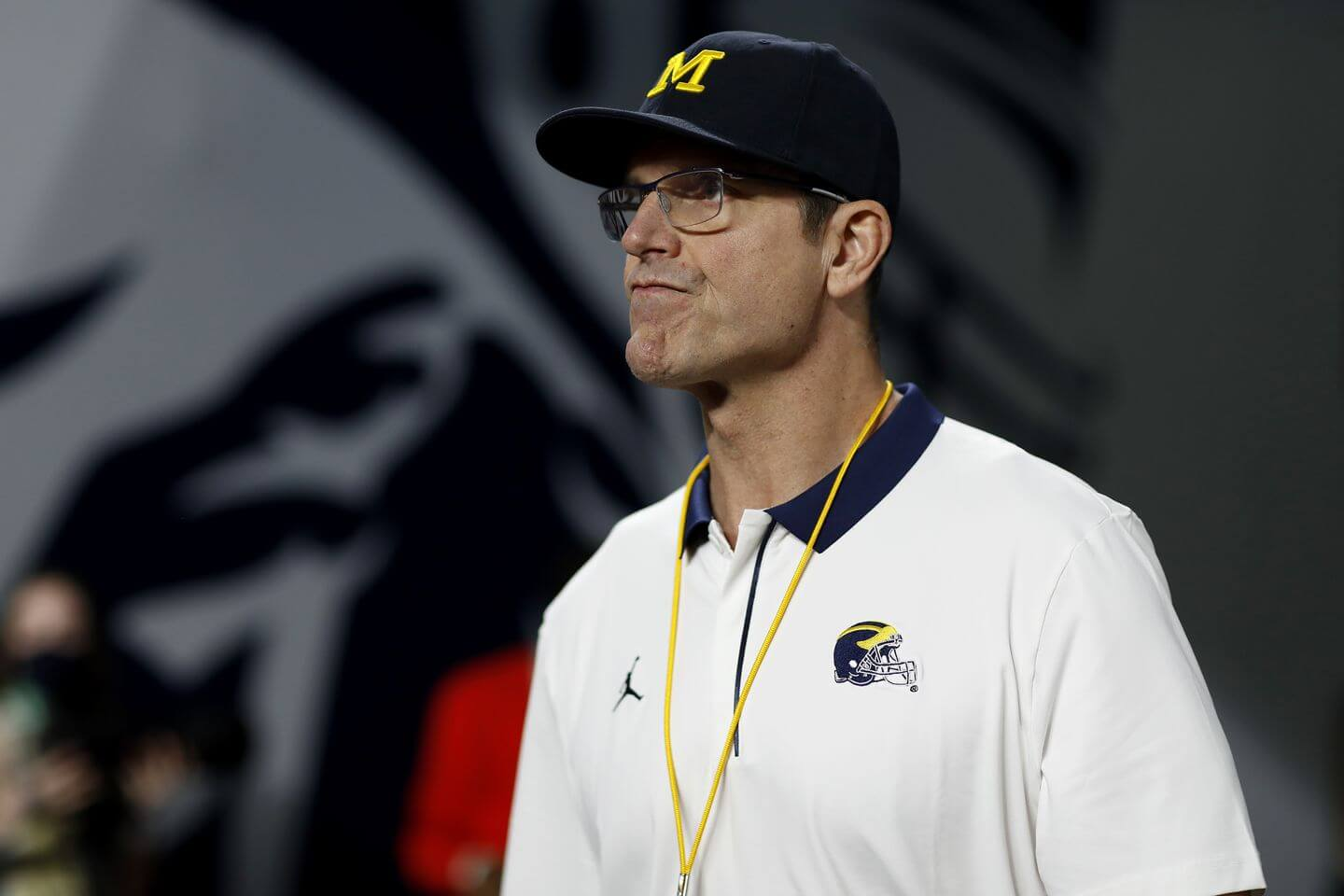 The coaching carousel in the NFL is about to get wild. Based on the recent transactions, six head coach openings are now available. Teams such as the Vikings, Dolphins, Bears, Broncos, Jaguars, and the Raiders will hire a new head coach in 2022. There is one name that continues to garner some attention. That is Jim Harbaugh, the current coach of the Michigan Wolverines.
2022 would be the perfect time to return to the National Football League. Harbaugh is coming off his best season at Michigan. Under his watch, the Wolverines qualified for their first ever playoff berth since the new format was introduced in 2014. He is probably not going to have a season this great again for at least a few years, so he should capitalize on this by getting an extension or going to the NFL and getting paid a good salary.
The job he did with the San Francisco 49ers was incredible. They had eight consecutive losing seasons before he arrived in the Bay Area. He completely changed the culture. He took them to the NFC championship game in his first season and a Super Bowl appearance in his second. He does a great job of getting the best out of what he has. General managers will always be attracted to head coaches that can quickly turn around the fortunes of an NFL franchise. Based on Harbaugh's resume, it's one of his more vital traits as a former NFL head coach.
One thing that could lure him back to the NFL besides a lot of money is the chance to win a Super Bowl versus a national championship. There are more playoff spots in the NFL than in college football. That means you have a better chance to make the playoffs and win a Super Bowl. As good as Michigan was this year, they had a slim chance of winning the national championship. He may have reached his ceiling at Michigan.
A recruit asked him if he would consider leaving for the NFL.
"He said that he'll entertain (it)," Clemons' father Larry told The Michigan Insider. "He was upfront with us about that. I had Coach Harbaugh speak to my pastor. They had a good conversation. Our pastor asked him about that, and that's just that's the (reply) that he gave him."
It is very interesting for Harbaugh to have this type of comment. He could have easily denied it as he has done before, but he did not. This shows that he may leave if the right opportunity comes and he does not get an extension and is paid what he is worth.
A lot of teams want to take chances when they make NFL hires. If a team decides to hire Jim Harbaugh, they will get a really good coach who has won everywhere he has been.
Show Your Support
Support the Strike 7 Sports platform's growth by heading to Fanatics.com and purchasing officially licensed gear from the National Football League. Each purchase made through the text link below goes into the funding of the Strike 7 Sports brand. To proceed, click on the link below and enjoy shopping over at Fanatics.