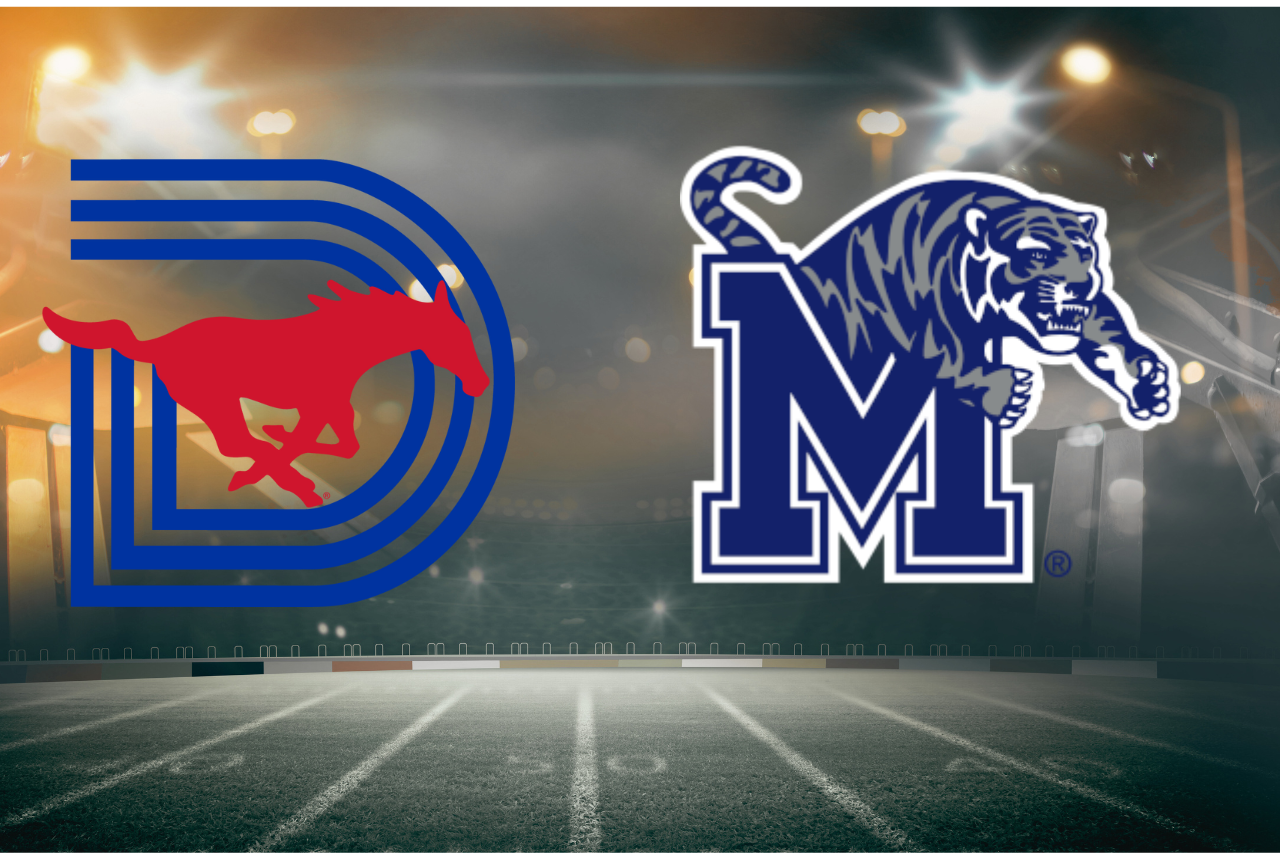 Three weeks ago, we signaled the importance of winning the four games leading up to the SMU game for the Memphis Tigers program. The 10-point loss against Tulane had left a bitter taste in the mouths of the Tigers fans, and the program could have quickly headed down a troubled path in the following weeks.
Instead, Memphis did as they needed to, beating UAB, North Texas, South Florida, and Charlotte on their way to a critical matchup against SMU, one of the AAC Conference's most impressive programs.
In all likely cases, the winner of this game will go on to play Tulane or UTSA in the AAC conference championship game, with both teams currently standing at 8-2, making this a title game before the title game for the Memphis Tigers.
SMU vs. Memphis Game Preview
The Memphis Tigers story is a complex one this season. Ryan Silverfield needed to put together a string of wins to retain the program's confidence in him as the head coach. He's done that, but those wins have been far from comfortable for the Tigers when they might have been more convincing.
They were able to cover a 7.5-point spread in the first of those four games against the UAB Blazers, but since then, they have featured in close games with three opponents they were favored against, including a nail-biting overtime win against the Charlotte 49ers last time out.
Seth Henigan has been playing a lead role for this team, and his experience at the college level has undoubtedly helped to pull the team through close games. He put together the game-winning drive against North Texas with less than a minute on the clock, finding Koby Drake on the sideline before stepping up in the pocket and turning loose a 33-yard touchdown pass to Joseph Scates.
The Tigers had to call on him again against the Charlotte 49ers, too, and Henigan responded with 329 passing yards, two touchdowns, and one pick, and the lead role he played in bringing Memphis back into the game and forcing overtime. Henigan led the team back from 10 points behind with only minutes to play, and Blake Watson put the game on ice by finding the endzone in overtime.
Watson has been just as important to this Memphis team as his quarterback has, now just 80 yards shy of a 1,000-yard rushing season in his first year with the team. His experience at Old Dominion is clear, and he's been a shining light for this Tigers program all season. Not only is he likely to clear 1,000 yards on the ground, but his 43 receptions for another 391 receiving yards have given the Tigers another outlet on offense when they needed one.
This weekend, the Tigers will need everyone at their best, facing an SMU team that has been one of the most convincing in the AAC all year. While Memphis has struggled to put teams away, the Mustangs have not, and they come into this one as 8.5-point favorites.
They played under the Friday night lights last weekend, taking down North Texas in an impressive 45-21 win, a team which the Tigers struggled to beat by three. SMU's defense did a great job against the North Texas defense, carrying the football for 318 rushing yards on their way to a big win.
The combination of LJ Johnson Jr. and lead back Jaylan Knighton was too much for North Texas, and quarterback Preston Stone only needed to throw 11 completions to reach 234 passing yards and two touchdowns.
SMU's defense has been highly stubborn all season, allowing just 16.4 points per game through the first ten games of the season. That total ranks them in the top 10 nationally, where they also rank offensively. SMU's 40.5 points per game on offense is good for 7th in the country, meaning they are one of just three teams in college football to rank inside the top 10 both in offensive and defensive scoring. The only two teams that share that achievement are the Ohio State Buckeyes and the Georgia Bulldogs. Elite company.
SMU has looked pretty comfortable in the AAC this season but has not faced Tulane or Memphis. We've not seen this Mustangs team have to fight through a close game, while that's all we've seen from the Memphis Tigers so far this year.
The Tigers' defense won't be able to isolate one critical threat within this Mustangs offense, with the approaching leaning more towards spreading the football around. Seven guys with multiple touchdowns, led by tight end RJ Maryland, have caught six this year. He's not a big yardage guy, but at six-foot-four, he's a threat in the red zone and seems to have great chemistry with Preston Stone at QB.
Please make no mistake: this will be a tough game for the Memphis Tigers. They need to keep it close and avoid falling behind because playing uphill against this SMU defense is not a position you want to find yourselves in. The Tigers have come out far too slow on multiple occasions this season, forcing themselves to play from behind and try to work their way back into the game. You can't do that against SMU.
They don't have a weakness you can exploit, and their top-ten defense deserves its ranking. Even against teams like TCU and Oklahoma, the Mustangs refuse to give up big points, and putting Henigan under pressure to try and find points from behind could end in disaster. A strong start to the game will be crucial.
Watch out for Elijah Roberts on the defensive line, too. He leads the Mustangs with 11 sacks on the season, seven of which have come in his last four games. The former Miami Hurricane transferred over before the season and has now showcased his talents before the 2024 NFL draft.
Memphis vs. SMU: Score Prediction
SMU has been the more efficient team this season and looks far more potent as a unit than the Memphis Tigers. It's hard to ignore the Tigers' formula this season in failing to start games well and often needing last-minute scores to keep themselves alive.
If the Mustangs get 17 points out in front in this game, I don't see a way for the Memphis Tigers to fight back. They're sticky in coverage and can force quarterbacks into mistakes, with a premium pass rusher up front to apply unwanted pressure.
If Memphis can start well and keep the game close throughout, they'll have a shot, but ultimately, it's SMU who have the playmakers to pull off the win. I think we see them take the lead, and despite their best efforts, the Tigers' comeback will fall just short on this occasion.
Score Prediction: SMU 56, Memphis 49
Show Your Support
Support the great work of the Strike 7 Sports Memphis Tigers Section by purchasing licensed NCAA fan gear. Items ranged from Memphis hats, jerseys, t-shirts, socks, and more. We would greatly appreciate it if you would buy these items from the text link below. The revenue generated from today's offer goes into the funding of the Strike 7 Sports platform. Click on the link below if you are interested.