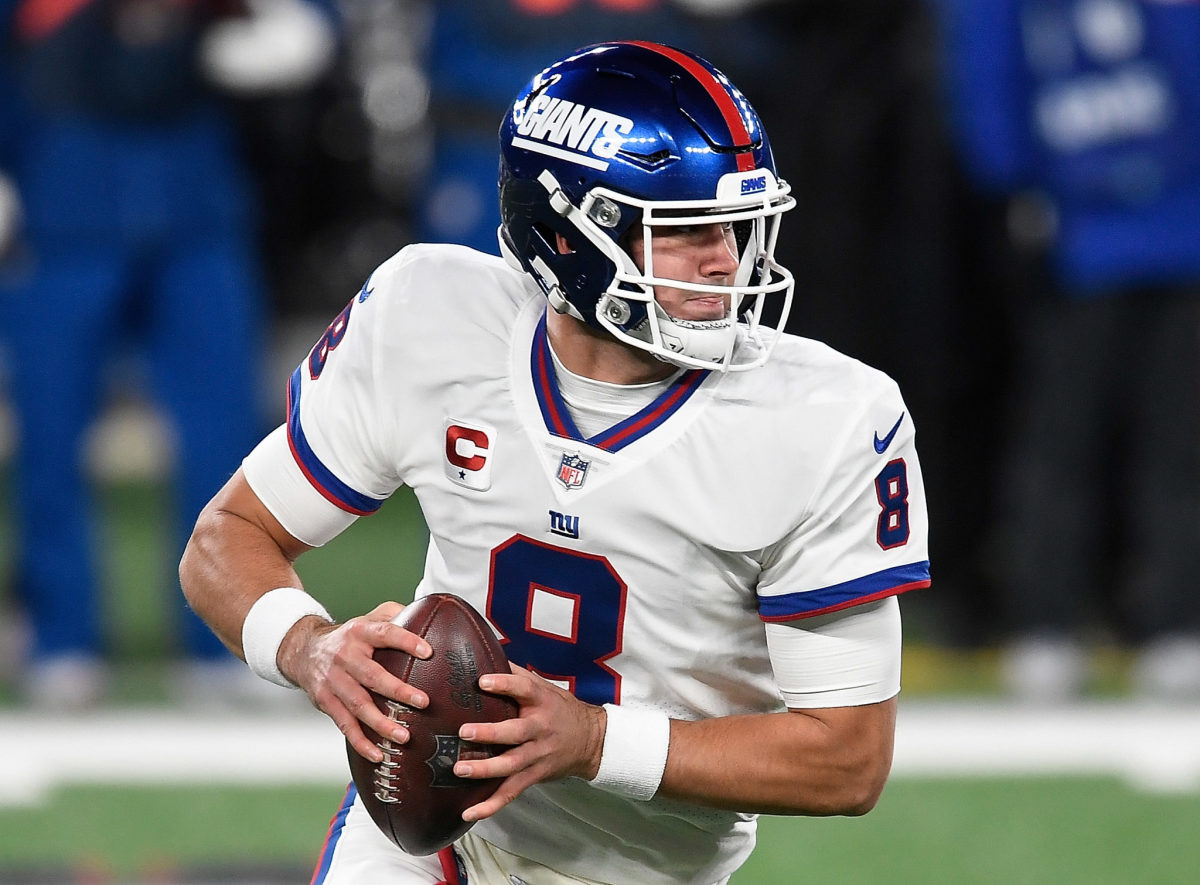 Before the start of training camp last year, we published an article listing the quarterbacks under the most pressure to succeed in 2021. At the top of the list was Giants quarterback Daniel Jones. If we came out with another post listing the QBs under the most pressure in 2022, Jones would be at the top of the list again. However, many NFL pundits have viewed the decision as a reach since the Giants selected Jones with the sixth overall pick in 2019. Everyone knew Jones was a raw talent coming out of Duke with tremendous upside, but not as a QB being taken that high in the draft.
As for now, the Giants must deal with the decision that was made by a previous regime. The former first-round selection took over for Eli Manning during the 2019 season. New York missed the playoffs in both seasons that Jones was the starter. He has the intangibles needed to become a successful quarterback in today's NFL, but as we all know, players must put those attributes into action on the football field.
The new Giants regime has made it clear that 2022 could be Jones's final season with the organization if things are not turned around. Therefore, the front office decided not to pick up his fifth-year option. The option would have paid Jones close to $22.4 million in 2023. With a quarterback class that is expected to be loaded in 2023, Jones will need to make a significant impression to remain in New York past this season.
Can New HC Brian Daboll Turn Daniel Jones Into Josh Allen?
It will be a tall task for Daboll to turn Jones into a version of Josh Allen, but it's not a far fetch idea. Under Daboll's guidance, Allen emerged as a top-five quarterback and perennial MVP candidate. His expertise as a developer of quarterbacks is what lured new Giants general manager Joe Schoen to hire Daboll as the team's new head coach. However, from the day he was hired, Daboll has shown support for Jones as the team's starting quarterback.
"I think that's important to get input from the quarterback in terms of what he feels comfortable with, while at the same time, showing him some new things that maybe can help him," Daboll said via the team website. "At the end of the day, the offense is obviously going to go through our quarterback, and there's got to be good give and take with that between the head coach, the coordinator, and the quarterback. That's, I'd say, a pretty special relationship between the three of those guys."
Both Allen and Jones have identical skillsets as quarterbacks. Both players are capable of making things happen with their legs and can become dynamic passers through the air. What separates the two right now is that Allen is a more accurate passer and plays with an organization committed to his development as a franchise quarterback. Given that Daboll did not select Jones, he could have moved on from him this season if he felt that there was a player that he viewed as a franchise quarterback in the 2022 draft.
But instead, he decided to keep Jones under center but not pick up his fifth-year option. On paper, the Giants have a roster on offense that can make things interesting in the NFC East. Jones will finally have a healthy version of running back Saquon Barkley and four viable options in the passing game, such as Kedarious Toney, Kenny Golladay, Sterling Shepard, and Darius Slayton. The Giants also added potential cornerstone players when they selected offensive tackle Evan Neal and linebacker Kevon Thibodeaux in the 2022 draft.
However, New York's success will depend on how well Jones has mastered the system's nuances that Daboll and new offensive coordinator Mike Kafka have inserted into the team. Not saying that Jones has to lead the Giants to a postseason berth, but there must be significant improvements within his game that will extend his stay in New York beyond 2022.