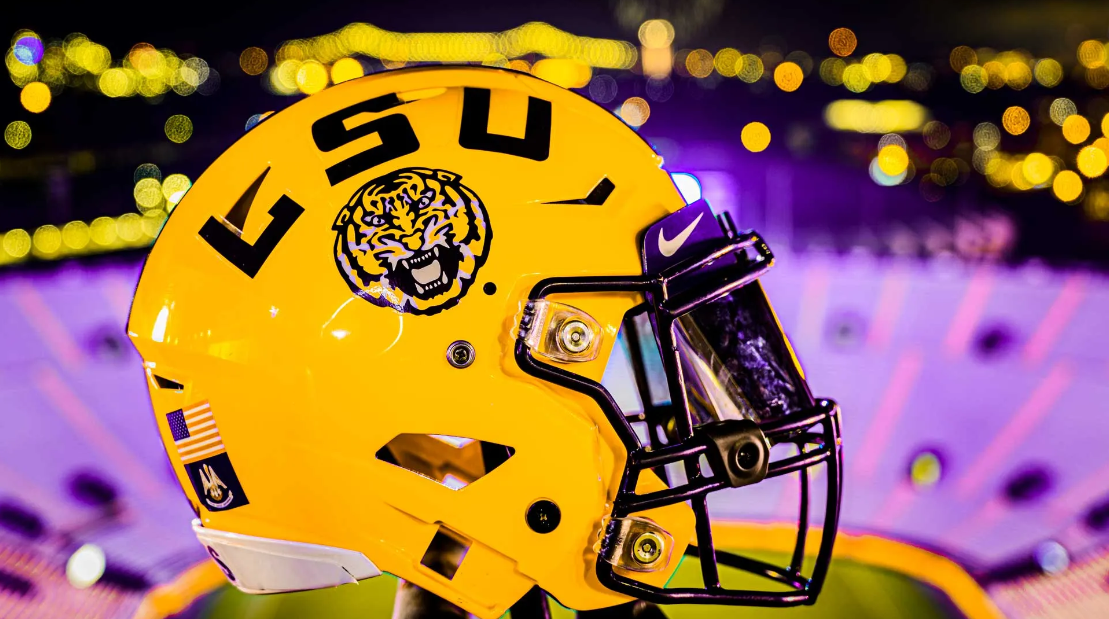 Two years after fielding one of the greatest college football teams in the game's history, the LSU Tigers showed its architect, former head coach Ed Orgeron, the exit door as the team limped to a 6-6 finish for the 2021 regular season. Rebuilding – instead of reloading for a second national title run – and multiple off-the-field embarrassing issues earned the Louisiana native an unceremonious sendoff.
A week later, LSU landed their man by hiring Notre Dame's head coach Brian Kelly. The 32-year veteran coach inherited his school's lofty aspirations of a second national title sooner rather than later. And while the cupboard isn't bare, LSU has numerous positions with unproven talent on both sides of the field. Coupled with the Tigers playing in the gauntlet known as the SEC West, Kelly has quite a job ahead of him in his first season at LSU.
Previewing the LSU Tigers Offense
A three-way quarterback competition narrowed down less than three weeks before LSU opens its season against Florida State. Former Arizona State starting quarterback Jayden Daniels is battling for the starting role against redshirt freshman Garrett Nussmeier, a Louisiana native that played sparingly in four games last year. One-time starter and sixth-year senior Myles Brennan, who hasn't taken a snap since 2020, decided to leave the program Monday when it became clear he would not win the competition.
While the Tigers' quarterback debate remains unsettled, who the quarterback will target is almost guaranteed. Wide Receiver Kayshon Boutte will return from a knee injury that cut short his sophomore campaign. Despite playing in just six games last season, Boutte led LSU in receiving yards (509) and touchdowns (9). The Tigers will also rely on senior Jaray Jenkins and sophomore Jack Bech to keep defenses from keying in on Boutte in 2022.
Beyond the QB battle, the biggest remaining mystery for the Tigers will be its offensive line. Transfer Will Campbell will highlight this talented group that did not gel last season. New LSU Offensive Coordinator Mike Denbrock came from a Cincinnati Bearcats offense that fired on all cylinders and was rugged in the trenches. How quickly the offensive line responds to Denbrock will determine how successful this offense will be in 2022.
Previewing the LSU Tigers Defense
This season, a retooled roster and new defensive philosophy should breathe new life into the Tigers' defense. LSU Defensive Coordinator Matt House is tasked with improving a defense that finished 65th in the NCAA last season after allowing 45 TDs in 13 games. Only Vanderbilt finished worse than the Tigers' defense in the SEC, allowing more yards and TDs per game than LSU.
The defensive line will once again be the strength of the LSU defense. The Tigers have future stars Jaquelin Roy and BJ Ojulari – both juniors are projected as first-round draft picks next year – anchoring this unit. Joining Roy and Ojulari will be last season's break-out freshman Maason Smith and veteran Ali Gaye in the trenches. These four linemen combined for 23 TFL and 15 sacks in 2021.
The back seven will be comprised mostly of players from the transfer portal in 2022. Outside of safety Jay Ward, who ranked third last season with 70 tackles, most of the back seven will be new faces from familiar places for LSU. The backfield will be manned by a pair of Arkansas transfers, Greg Brooks and Joe Foucha, along with corners Jarrick Bernard-Converse (Oklahoma State) and Sevyn Banks (Ohio State).
Important Games
Florida State: Sept 4 (New Orleans)
Florida: Oct 15
Ole Miss: Oct 22
Alabama: Nov 5
Texas A&M: Nov 26
Win-Loss Projections: 9-3 (Possible NY6 Bowl)
LSU has the potential to run the table in the first half of its season with three non-conference games against overwhelmed opponents – sorry, Florida State fans. However, the back half of the schedule takes the Tigers into the Swamp to play Florida, home for back-to-back games against Ole Miss and Alabama. And then on the road two more times to face Arkansas and Texas A&M. Winning two of those five games against some of the best teams, the SEC has to offer a tall task, especially for a first-year coach and questions surrounding the quarterback position. Nevertheless, tiger fans should be excited as this season could be a springboard to bigger things, helping LSU dive back into the national title conversation in 2023.